'The Walking Dead': Just 10 Gifs of King Ezekiel Being Majestic AF
Published on May 16th, 2018 | Updated on May 17th, 2018 | By FanFest
On this day it is Khary Payton's birthday!
Birthday lunch with the crazy kids who brought me into the world. My mom looked at me in that loving way that only a mama can. "What's your dream, Khary?" "I'm living it, ma." Thanks for another amazing trip around the sun, everyone. pic.twitter.com/Fm9HYJ3AiY

— Khary Payton (@kharypayton) May 16, 2018
It seemed like the perfect opportunity to pay homage to one of our favorite Khary Payton characters, King Ezekiel from The Walking Dead! So, without further ado here are 10 perfect gifs of Zeke being majestic AF!
1. When he had the coolest introductory line ever while sitting on an actual throne.
2. When he casually chilled next to his PET tiger.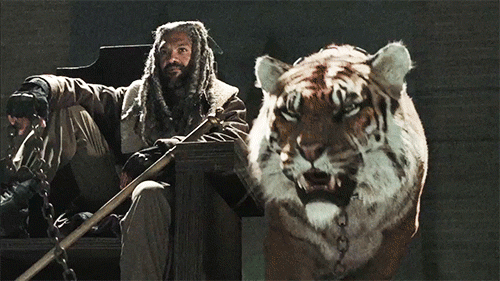 3. That time he took the Evil Witch's signature move but made it look totally normal and not threatening at all.
4. When he stopped mid-battle to make this badass proclamation.
5. Basically, any time he speaks it's majestic. It's like a free show!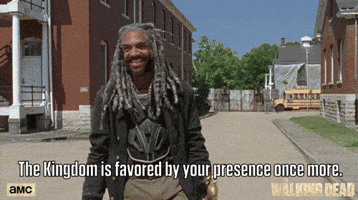 6. Especially to Jerry.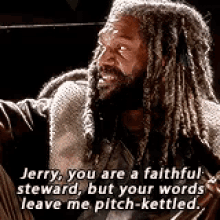 7. When he layed down the law:
8. And followed it with this look and you're like "Yea, you right."
9. When he fought alongside his people:
10. And every time he smiles:
Happy Birthday, Khary!
All gifs courtesy of AMC.
Having studied Media & Writing at James Madison University, I always knew that I wanted to do some type of creative writing, but being able to write about zombies, Starks, and superheroes on a daily basis for Fan Fest is my actual dream. While I probably shouldn't be as proud as I am to be so similar to Nick Miller, I do hope to one day write my own "Pepperwood Chronicles'.