The Walking Dead is Ranked the Biggest Show on Social Media
Published on June 7th, 2017 | Updated on June 8th, 2017 | By FanFest
It really comes as no surprise, but on June 7th, it was revealed that The Walking Dead is the biggest show on social media.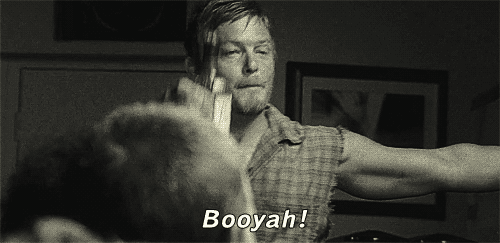 Now, one might think that during a show about the apocalypse, it'd be hard to keep up with social media too, but multitasking is necessary for survival when zombies are taking over the world, so we've totally got this handled.
This isn't the first season that The Walking Dead has come out on top, it's actually the third, and this time around it gathered over 2 million social interactions on both Facebook and Twitter platforms.
This is how the information was gathered. (via Daily Mail)
Nielsen had launched its Social Content Ratings (SCR) in September 2016, which ran until May 2017.
The report was the first time that social TV insights across Facebook and Twitter were measured with a standardized, third-party methodology and shared with the industry.
Those working on the project sifted through Facebook and Twitter looking for activity related to televisions shows – both three hours before the program started and three hours after it finished.
Other shows that were listed are Empire, The Bachelor, and This Is Us.
Nielsen also looked at what fans were posting and 15% of them were tagging Chandler Riggs directly while 14% were interacting with the official platforms for the series.
While some fans were on the fence about season 7, either due to the violence being too graphic or some believing that the start of the season was too slow (after that first episode) and that some episodes were too focused on individual characters; it's evident that the show didn't suffer.
Only time will tell if the show will rank number 1 for the fourth season in a row but we're sure, with what the actors have said so far about season 8, that it'll once again be on top.
Are you looking forward to The Walking Dead's return? What are you most hoping to see in episode 100? Let us know.