'The Walking Dead': Did You Catch the Heartbreaking Carol Easter Egg
Published on December 1st, 2017 | Updated on December 1st, 2017 | By FanFest
Aside from being a total badass, there is one that that rings certain about Carol Peletier – her maternal instincts completely radiate off of her. No matter how cold or harsh she tries to be, she just can't seem to shake some new little kid that's looking to her for guidance. First, there was Lizzie and Mika, the two girls from the prison that ended up with Carol and Tyrese after the Governor's attack on the prison – we all know how that turned out.
Then there was little Sam in Alexandria who just wanted Carol to bake him some cookies, but instead received a threatening speech when he found her in the armory without permission. Poor kid.
"You can never tell anybody. Especially your mom. Because if you do… one morning you'll wake up… and you won't be in your bed. You'll be outside the walls far, far away tied to a tree. And you'll scream and scream because you'll be so afraid. No one will come to help because no one will hear you. Well, something will hear you. The monsters will come. The ones out there. And you won't be able to run away when they come for you. And they will tear you apart and eat you up all while you're still alive. All while you can still feel it. And then afterwards, no one will ever know what happened to you. Or you can promise not to ever tell anyone what you saw here and then nothing will happen. And you will get cookies. Lots of cookies."
And now she's dealing with Henry, the younger brother of the fallen Benjamin, who is looking to get a foot in the All Out War and seek revenge for his brother's death. When she finds Henry out in the woods trying to take on some walkers, to say that she's a little annoyed would be an understatement.
"Do you know what happens to kids when they go wandering around in the woods? They never get seen again, and if they do, they're monsters."
Fans of The Walking Dead immediately knew that this wasn't just some truth bomb, this was a truth bomb layered with heartbreak and painful memories. Back in season 2, Carol watched as her daughter Sophia took off into the woods as a herd of walkers approached them on the highway. After her disappearance, the group spent a ton of time and resources searching for her to no avail. Eventually, in the season's devastating midseason finale Sophia would walk out of Hershel's barn as a walker…a monster.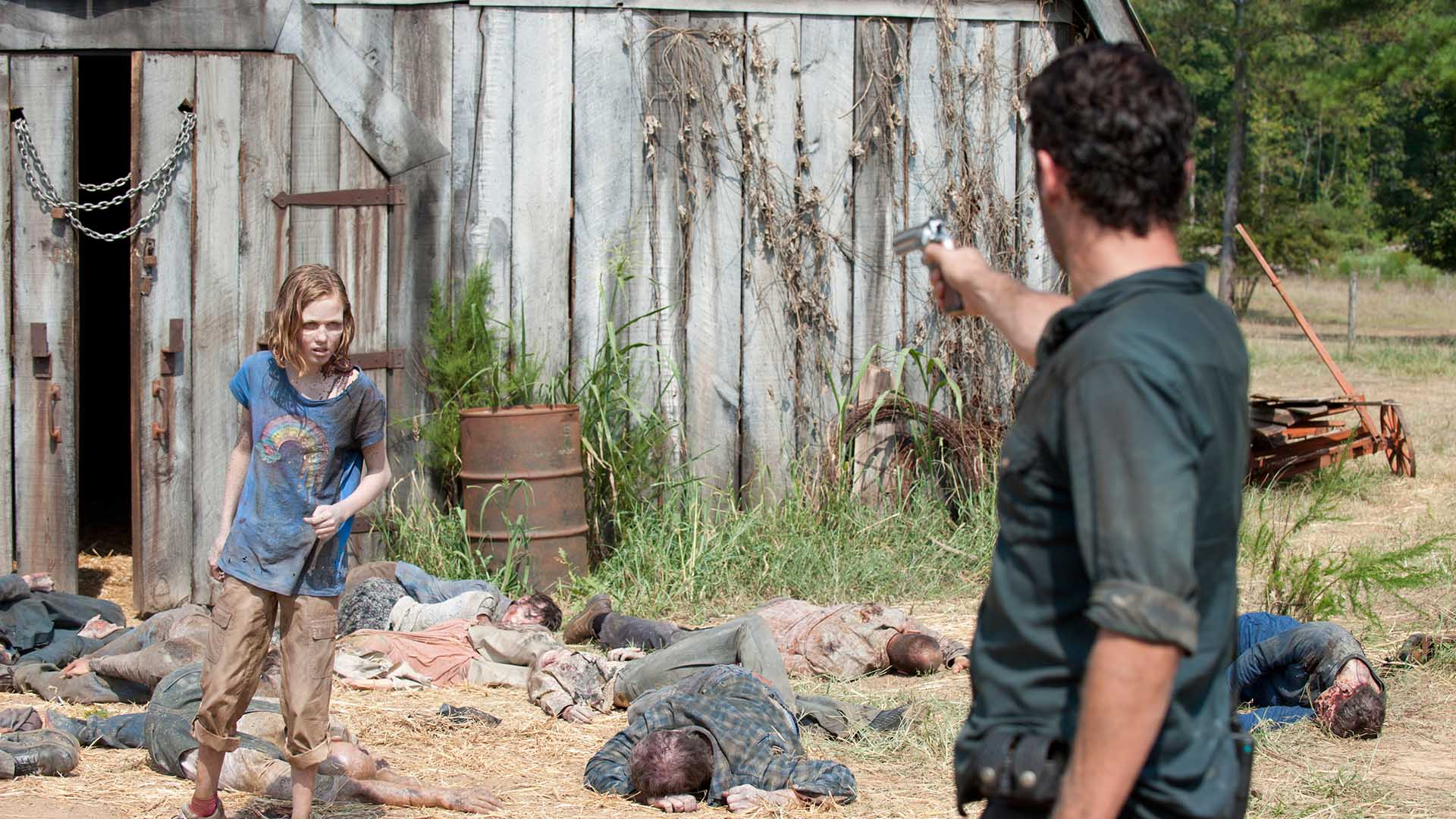 However, this moment goes from heartbreaking to touching when you learn that the little boy who plays Henry, Macsen Lintz, is actually the little brother of Madison Lintz, the actress who played Sophia.
While on Talking Dead, Melissa McBride briefly touched on what it's like working with Macsen:
"I can't do a scene with him and not see her."
Madison Lintz also sat down with The Huffington Post after the episode and spoke about how much the entire scene spoke to her:
I was just really touched that they're still tying back to my character who was all the way back in Season 2. I thought it was really, really cool that Macsen, my brother, got to be in that scene and be a part of it. I think it's so weird, and I love hearing about everything he's doing on set. I'm super proud of him.
Did you catch this Sophia reference in the episode? What do you think is going to happen with Henry now that Carol has given him a gun? Sound off below!
Related:
What Does the Letter 'A' Mean for 'The Walking Dead'?
'The Walking Dead': The Best Tweets from "The King, the Widow, and Rick"
'The Walking Dead' Review: The King, the Widow, and Rick
Having studied Media & Writing at James Madison University, I always knew that I wanted to do some type of creative writing, but being able to write about zombies, Starks, and superheroes on a daily basis for Fan Fest is my actual dream. While I probably shouldn't be as proud as I am to be so similar to Nick Miller, I do hope to one day write my own "Pepperwood Chronicles'.