'The Walking Dead' Brings a Familiar Face From the Pilot Back for Season 9
Published on August 9th, 2018 | Updated on August 30th, 2018 | By FanFest
For the past few months both the cast and creators of The Walking Dead have been saying that the upcoming season 9 will head back to its roots, featuring a lot of callbacks to the early seasons of the zombie drama, specifically the pilot. We already know that Jon Bernthal will be returning in some capacity, but now fans have learned that another iconic character will be making a triumphant return (from the dead) – Rick's horse!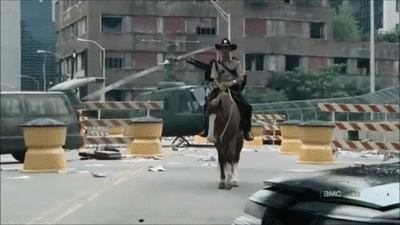 In one of the most memorable shots of the series, Rick rode the horse into downtown Atlanta where he ultimately met Glenn and this story we all love officially began. Unfortunately, the horse didn't make it out alive (another epic shot) but that hasn't stopped the noble steed from coming back to play a different horse ridden by Tara in the upcoming season. The fun Easter Egg for long-time fans was announced during The Walking Dead's season 9 Preview Special last weekend. He may look a little older, but you can check out the comparison below, which came courtesy of Skybound.
During a taped segment in the preview special Andrew Lincoln, who will be exiting the series midway through, recounted how this season is reminiscent of what made him put that sheriff's hat on in the first place.
[row]"It feels like the show I fell in love with nine years ago. It feels like we're making that version again."[/row]
He also spoke with Comicbook.com at San Diego Comic-Con, where he made his official departure announcement to fans, and said that specifically, fans would enjoy the callbacks to the pilot in the season premiere.
"I think there was a lot of the pilot episode that was reminiscent of this opening episode and also a couple of other episodes, too. We have a few surprises as we both know, but we're not allowed to talk about."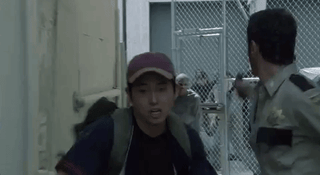 These refreshed and excited reflections about the upcoming season from the cast feel different than they have in the past. You can tell that the everyone is truly enthusiastic and looking forward to season nine, despite the major changes it will undergo, and a lot of them say we have new showrunner Angela Kang to thank.
[row]"We have to talk about Angela Kang if we talk about this season because she is the creative force this season. She's been on the show since Season Two and I think she's breathed new life into it and given us a collaborative feel on set and also just an energy. A real positive energy. It feels like the show that I always thought we would get to when I shot the pilot in Atlanta nine years ago."[/row]
We can't wait to look for all of the other Easter eggs Kang and her writing team have included in the upcoming season and are so happy that Rick's horse gets to make a second Walking Dead debut! Are you excited to see that the show is going back to its roots? What are you most looking forward to?
The Walking Dead will return for season 9 on Sunday, October 7th on AMC.
Having studied Media & Writing at James Madison University, I always knew that I wanted to do some type of creative writing, but being able to write about zombies, Starks, and superheroes on a daily basis for Fan Fest is my actual dream. While I probably shouldn't be as proud as I am to be so similar to Nick Miller, I do hope to one day write my own "Pepperwood Chronicles'.