'The Walking Dead': 9×05 Clip Previews a Maggie/Michonne Confrontation
Published on October 29th, 2018 | Updated on October 29th, 2018 | By FanFest
Next Sunday marks Andrew Lincon's final episode as Rick Grimes, and while the promo looks incredible, that doesn't mean that the rest of season nine's drama will be put on hold. Maggie Green-Rhee is heading to Alexandria to end Negan once and for all, and a new sneak peek for the episode reveals that she's going to have to get through Michonne (and a whole lot of guilt) in order to complete her mission.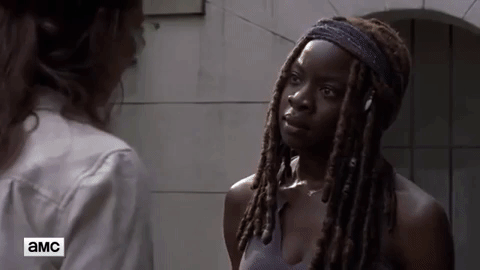 The Negan debate is a tricky one. Maggie wants him dead to avenge Glenn's murder, which is a completely fair request. On the other hand, Rick wants to keep him alive in order to honor Carl's final plea for peace, which again…fair. However, asking Maggie to be okay with his decision is a hefty thing to demand. In the clip, Michonne attempts to plead with her by bringing up Glenn, but through her rage, Maggie simply doesn't want to hear it. At one point she even flips the table on Michonne and points out that if it had been Rick who Negan killed instead, Michonne would have already killed him herself.
Michonne: "You think Glenn would want this? For you to go through me to get to him?"
Maggie: "I don't know what he'd want. I don't know because I never got to say goodbye."
Cohan and Gurira are two of the series strongest actors and watching them go head to head in this scene makes for one powerhouse minute of television. You can check out the brief clip below.
Which side of the debate do you stand on when it comes to Negan? Are you Team Maggie (kill Negan) or Team Rick (imprison Negan)? Let us know! Be sure to tune in next Sunday to not only see what happens with these two but just how Rick Grimes exits the show. We don't know how yet, but we do know that we aren't ready.
Having studied Media & Writing at James Madison University, I always knew that I wanted to do some type of creative writing, but being able to write about zombies, Starks, and superheroes on a daily basis for Fan Fest is my actual dream. While I probably shouldn't be as proud as I am to be so similar to Nick Miller, I do hope to one day write my own "Pepperwood Chronicles'.