The Trailer for 'New Girl's' Final Season Has Arrived!
Published on March 26th, 2018 | Updated on April 12th, 2018 | By FanFest
Gather 'round True Americans! Everyone's favorite band of misfit loft mates are back and better than ever in the new trailer for New Girl's seventh and final season.
While we always hoped to never have to say goodbye to Jess, Nick, Schmidt, Winston, and Cece, the time has finally come, but we are eternally grateful that the season was given these eight final episodes to put that perfect bow on a perfect show about love, friendship, and douchebag jars.
Season 7 will take place three years after the season six finale and everything's changing for the gang. Schmidt and Cece's daughter Ruth has been born, Winston and Aly have a little one of their own on the way, and Nick and Jess are returning from a huge book tour. However, even though they've grown up a tad – the trailer promises a final game of True American and all is right in the world!
The cast and writers have promised that season 7 will be filled with plenty of callbacks from over the years and we can already spy a couple in the trailer alone. On top of that, fan-favorite guest stars such as Damon Wayans Jr. (yay, Coach!), Dermot Mulroney, Jamie Lee Curtis, Rob Reiner, David Walton, and Nelson Franklin are set to make appearances.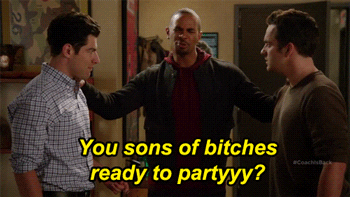 So, without further ado – check out the trailer for New Girl's final season below!
https://youtu.be/6s7GkBYOcYU
Season 7 airs Tuesday, April 10 at 9:30/8:30c on FOX!
Having studied Media & Writing at James Madison University, I always knew that I wanted to do some type of creative writing, but being able to write about zombies, Starks, and superheroes on a daily basis for Fan Fest is my actual dream. While I probably shouldn't be as proud as I am to be so similar to Nick Miller, I do hope to one day write my own "Pepperwood Chronicles'.