The Russo Brothers Want Okoye to Have a Bigger Role in 'Avengers 4'
Published on August 2nd, 2018 | Updated on August 2nd, 2018 | By FanFest
By now everyone is aware of the fact that Avengers: Infinity War was "the most ambitious crossover in cinematic history." It brought ten year's worth of heroes and narratives together to fight the biggest villain the MCU had ever seen – Thanos. Unfortunately for them, in order to have a chance at defeating him they had to let him have all the power first, which resulted in him fulfilling his Gauntlet, snapping his fingers and wiping out nearly half of the heroes.
While it was devastating to watch, it actually makes for an exciting follow-up come Avengers 4, giving directors Joe and Anthony Russo the opportunity to give other characters a bigger role. Are there any in particular you might ask? Why, yes. There's one wig-throwing Okoye, played by The Walking Dead's Danai Gurira that certainly impressed them.

[row]"It's unfortunate because half of them are gone now, but of the ones that are left?Danai [Gurira] did, I thought, amazing work in Infinity War. And I think that that character is very powerful and super compelling and I think there's a lot of places to go with that character, Joe told Entertainment Tonight."[/row]
I think it goes without saying that as T'Challa's noble right-hand, Okoye was one of the most loyal and fierce warriors on that Wakandan battlefield, and her performance both in Black Panther and Infinity War deserves even more of the spotlight.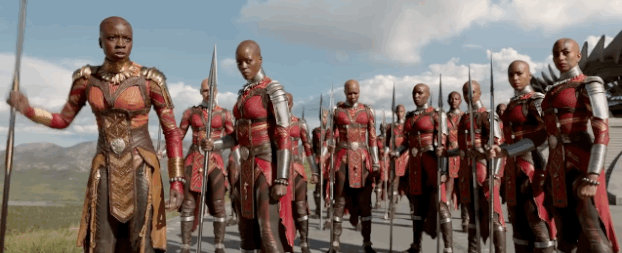 Since Okoye's mission is to always protect her King, it's safe to say that she will stop at nothing to help the Avenger's defeat Thanos and hopefully bring back the heroes that were lost, and we can't wait to watch her do her thing.
In addition to her role in the MCU, Danai Gurira is best known for being the badass katana wielding Michonne on The Walking Dead. She has been on the series since season 2 and will reprise her role in the upcoming ninth season, premiering on AMC this October.
Would you like to see Okoye have a bigger role in Avengers 4?
Having studied Media & Writing at James Madison University, I always knew that I wanted to do some type of creative writing, but being able to write about zombies, Starks, and superheroes on a daily basis for Fan Fest is my actual dream. While I probably shouldn't be as proud as I am to be so similar to Nick Miller, I do hope to one day write my own "Pepperwood Chronicles'.