The Pull List 6/8/16
Published on June 8th, 2016 | Updated on June 8th, 2016 | By FanFest
As I sit in front of my lap top, with my S.T.A.R. Lab t-shirt on (p.s. my t-shirt game is strong y'all) I can't help but think how Wednesday might be my favorite day of the week. Yes logical thinking would say that Friday should be the best day of the week as it means the weekend is here and work is over. That's all well and great unless you work Saturdays in which case…who cares about Friday because it clearly doesn't mean anything to you. But Wednesday. Wednesday is the day that gives you hope. It tells you "hey buddy, you're doing great! Weeks almost over and you're half way there. You can do this. It's Wednesday. It's hump day. As a reward I present to you new comic books for your eyeholes", and suddenly the week has a new hope (not the Star Wars movie. I mean the actual feeling of hope). If you guys are anything like me you woke up like this today: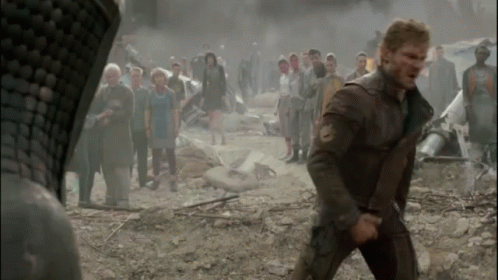 I live alone so some of you might think it's kind of strange to randomly bust out dancing, and you may be right. Doesn't stop me though. While I may be the Star Lord role in this gif my cat (Hudson the Cat) is definitely in the roll of Ronan as he lays in bed and not so quietly judges me. It's that whole cats are way more superior than humans thing. Plus I'm kind of a strange guy who throws one man dance parties because it's New Comic Book Day.
So, what are the books that had me breaking out my sweet, sweet dance moves? Why don't you keep reading and find out. Download them, buy them, read them. It's a party for your eyeholes and every one of you have my invite!
1. Flash Rebirth– This is my go to book of the week, and not because it's the only one I've read so far. After my dance party and morning walk I had enough time before work to read this, and morning comics are becoming the best ritual ever. I digress. Last time we saw Flash he was bringing Wally West back into the DC timeline through the power of remembrance, and Flash Rebirth wants to take you through the events that both lead and followed it. This is also the first Rebirth book to directly acknowledge the ending events of the one shot issue where we learn that Dr. Manhattan was behind the New 52 (the blue, non underwear wearing, bastard!). It looks like the Flash is going to have an important part to play in the unfolding of this story (shhhh I'm trying to stay spoiler free here) as seeds get planted to how we're going to move forward. Plus the art is super cool and if you haven't read a Flash comic but love the show (like me…hiiiiii) this is a terrific jumping on point for you. The price is right, the read is great, I'm not entirely sure why you haven't started reading this yet.
2. Spider-Man Civil War II #1– The tie-ins are coming! The tie-ins are coming! Civil War II is just starting up, and after last weeks surprising deaths, it makes sense that we get excited for this Spider-Man tie-in especially when you consider how big of a roll Spidey had in the original Civil War. Tony and Peter have not been on the best of terms as of late (please see Amazing Spider-Man for proof that I'm not lying) so it looks like Pete's going with Captain Marvel on this one. If history has anything to say about it though there's a chance that might necessarily be a permanent fixture. I find it interesting that Dan Slott won't be writing this tie-in. I suppose he's prepping himself for Dead No More.
3. Injustice: Gods Among Us Year Five #25– That title is a lot to type out! Having always been a Marvel kid (outside of Batman) my DC universe knowledge was a bit limited. While Injustice is an alternate universe it has still helped break down the DC universe for me and leading to me having a much better grasp on things. Who are you kidding, DC books are mad confusing. On top of that I've never been a fan of Superman (yeah I said it! He's over rated people! Over. Rated!) and seeing him put in the villain role has been fantastic for me. If I'm going to read a Superman story than he's got to be the bad guy otherwise I just keep moving. Year five is a little past the half way point as the events of the game draw closer. Here's hoping that a new series will pop up to go with the sequel of the game. What?! Did you guys no know there was going to be a sequel? Did you not see this trailer that has a voice over from Heisenberg himself (that's Bryan Cranston for those of you not in the know… get in the know. Thank me later)? Well allow me to be the one to introduce you to this then. The Pull List… the gift that keeps on giving.
5. Daredevil #8– After wrapping up a very brief Elektra arch last month (seriously?! Two issues?! That's all we get?), Daredevil looks to transition into a new story arch that sees Matt Murdock doing a little traveling and a wee bit of gambling. This books has been stellar since the writing team change, and I've been pretty hooked after a healthy binge reading fest. I believe that there are a number of stories that are going to collide together here, and with this beautiful art work I'm looking forward to seeing how it plays out. Not to mention the idea of Daredevil playing poker kind of intrigues me. How?
6. Wonder Woman Rebirth– With the ending of the Darkseid War it would be safe to say that Wonder Woman's world has been kind of flipped-turned upside down (yeah that's right). There were a lot of revelations coming out of the Darkseid War and Wonder Woman has to figure out what is reality and what's a bunch of lies when it comes to her past. Throw in the fact that Greg Rucka has returned to DC and you start to get the bigger picture here. This is a book you should be reading.
7. Darth Vader #21– This book is rapidly closing in on it's ending (insert sad face emoji) and has been one of Marvel's best Star Wars books out there. I love the cover here with C-3PO staring in like a creeper but I've got just one thing to make you pick up this book. Careful because it could be a spoiler… Darth Vader vs a Rancor. Yup. Money well spent.
There you have it Geeklings, my suggestions for your reading list this week. There are plenty of books I left out (like the Wicked + Divine and Guardians of the Galaxy) but it doesn't mean you shouldn't be reading them. Be sure to sound off in the comments below with what's on your pull list this week, and if you're still digging the new format. See everyone next week! Happy reading!
Images from DC and Marvel and Marvel Studios
Trailer from WB Games
Kevin Carey is an
unapologetic geek who strongly
believes his mind works much like an episode of
Community. Has a strong love for pop culture that focuses on
TV, comics, movies,
and books. Kevin also enjoys writing fiction and has self published a short
story to
Amazon. While awaiting his Hogwarts acceptance letter, Kevin lives on
Long Island with his cat and extensive
Pop Vinyl collection. You can find him here on Fan Fest, at his blog I Am Geek, or the I Am Geek Podcast spreading geekiness to all.