The Pull List 6/29/16
Published on June 29th, 2016 | Updated on June 29th, 2016 | By FanFest
Welcome back Geeklings to a very special edition of The Pull List. Well, special might be a little bit deceiving. Today happens to be a big day for me (and other east coasters) and not just because it's New Comic Book Day. Granted that is plenty of reason to wake up and want to take on the day. Come on, how much better are work days when you know you have new comic books waiting for you at home? Work schmerk, I've got comics to read suckers! For me I've got that New Comic Book Day excitement mixed in with the nervousness that accompanies New York City Comic Con tickets going on sale. Insert fearful emoji here.
That's right Geeklings, after months and months of waiting, NYC Comic Con tickets finally go on sale today and my mentality could best be summed up like this…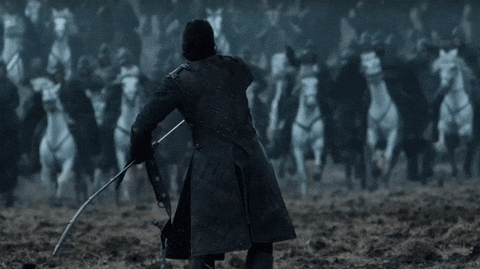 Bring it! I'm on vacation and should be sitting outside soaking in the sun (get that vitamin D ya'll) but I'm inside prepping my many internet capable devices as I prepare to get my tickets on. So, while I sit here and sweat internally why don't I distract myself a bit and break down this weeks comics you should be buying. It's an interesting week as it looks like Rebirth, which has been dominating comic book sales, has taken the week off. Maybe they're trying to get Comic Con tickets too? Either way that leaves a lot of room for Marvel to do some explaining, and what better way to start than with…
1. Captain America: Steve Rogers #2– Remember last month when Steve Rogers revealed himself to be a Hydra agent and the interwebs lost their face?! I do. I was a face loser. The whole thing didn't make much sense to me and seemed like an attention grabber, plus it felt sort of disrespectful to Cap considering this year is his 75th birthday. Come on Marvel. Well, after countless interweb memes and a long wait, we finally get the second issue of this series where we might get a little insight on how Cap was hiding this secret for so long. Or how it happened. Or maybe Marvel will introduce a way that this can be erased from continuity. You know, to make the interwebs happy again.
2. DK III: Master Race #5- Yes this series is still going (yay delays, he said sarcastically). DC really doesn't have a lot going on this week as Rebirth takes a breather, so DK III seemed like the logical book to promote from the company. While this series has been kind of hit and miss, that first issue was fantastic but the others have been filled with so many twist and turns that they've become slightly exhausting and make it hard to feel much of anything, issue #5 looks to bring the ruckus as Superman returns from his underwater prison. And if the cover gives any indication, him and Bats aren't going to be getting a long. Seems like a common theme for 2016… Marthaaaaaaaaaaaa!!! (never gets old)
3. Black Panther #3– Captain America: Civil War introduced the world to the awesome that is Black Panther, but this monthly series has been showing us why he is such an important character to the Marvel universe. This book isn't afraid to take on deep rooted political topics and present a story that has so many layers that you almost need to read through twice to get the overall picture (like an onion). Black Panther is completely worthy of your time and money and helps you keep up with everyone's favorite scene stealer why we patiently wait for his solo film to drop. One day. A couple of years from now. Sigh
4. Jupiter's Legacy 2 #1– The first Mark Millar book I read was Kick-Ass and it was all types of crazy town banana pants, and I've been a fan since. Jupiter's Legacy is a series about the responsibilities of being the child of super heroes and… legacy obviously. The second volume of that story drops today and if you know anything about Millar it's sure to include some fantastic story telling mixed in with some shock and awe. Oh, and violence. Tons of violence.
5. Spider-Man #5– Finally. It feels like forever since the last Miles Morales Spider-Man book was released. With his minimum role in Civil War II, thus far, I'm looking forward to seeing Miles in action again and man is he in trouble. Coming to the main Marvel U has been a tough transition for Miles so far, and looking to make that transition even less fun is Black Cat. Not to mention his best friend just outed his secret identity to a former X-Men and his grandmother is out to scare him straight. Hoping this issue satisfies that Miles Morales itch and helps catapult him into a bigger narrative in Civil War II. What? I can be greedy. It's my column.
There you have it Geeklings. These are the books you should be paying attention to this week. There are others of course. Like a Grayson annual, a new issue of Spider-Man/Deadpool, and a new issue of East of West, but these are the books I chose to focus on. If you're trying to get NYC Comic Con tickets today, good luck, but don't be stealing mine or I'll have to get all Jon Snow on you. Seriously. Don't take my tickets. If you guys have any other book suggestions feel free to sound off in the comments. Happy reading!
Images from Marvel, DC, HBO, and Image
Kevin Carey is an
unapologetic geek who strongly
believes his mind works much like an episode of
Community. Has a strong love for pop culture that focuses on
TV, comics, movies,
and books. Kevin also enjoys writing fiction and has self published a short
story to
Amazon. While awaiting his Hogwarts acceptance letter, Kevin lives on
Long Island with his cat and extensive
Pop Vinyl collection. You can find him here on Fan Fest, at his blog I Am Geek, or the I Am Geek Podcast spreading geekiness to all.