'The O.C.' Coopers Together Again: Mischa Barton Reunites with TV parents Melinda Clarke, Tate Donovan
Published on August 24th, 2022 | Updated on August 24th, 2022 | By FanFest
The original Cooper family from The O.C., minus Shailene Woodley's character of Kaitlin Cooper, have reunited in public. This has transported fans back to the early 2000s.
Tate Donovan, Melinda Clarke, and Mischa Barton all met up in Charleston, South Carolina. Clarke posted a picture of them together on Instagram and said, "SO THIS HAPPENED! Cooper family reunion!"
The three stars of the show have not been seen together since 2007. The show ended after the fourth season and Barton's character was not in it.
View this post on Instagram
"The O.C." was a success on FOX and had 27 episodes in its first season.
Barton, who was 17 when the show premiered, has been critical of the show in the past.
Last year, she said she had been bullied on the set of the show, which led to her decision to leave the hit-show.
However, following the reunion, Barton shared a photo of herself with Clarke and Donovan. In the picture were also "Gossip Girl" stars Jessica Szohr and Chace Crawford. "Gossip Girl" was produced by the same duo that did "The O.C."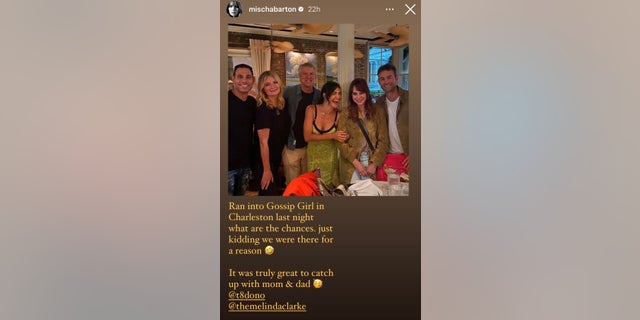 Mischa Barton wrote on her Instagram story, which also featured "Gossip Girl" actors Jessica Szohr and Chace Crawford, that "it was truly great to catch up with mom & dad," referencing Melinda Clarke and Tate Donovan. (Instagram)
Donovan has also been critical, but he has criticized the young people more. Barton was in "The O.C." with Rachel Bilson, Adam Brody, and Benjamin McKenzie. They were the main characters in the show.
Clarke and Bilson teamed up in March 2021 to start a new podcast called "Welcome to The OC Bitches." In this podcast, the two women revisit each episode of the show that made them both household names.
Donovan said that Bilson apologized to him for her behavior on set.
Donovan said Bilson was a "total sweetheart."
Donovan has appeared on Clarke and Bilson's podcast, but Barton has not. It would be a good idea for Barton to make an appearance on the podcast because it would create a lot of buzz, just like Clarke's Instagram photo of the trio did.
Covering superheroes, anything dark, horror, and more! Lead writer for Fan Fest