The Last Three Episodes of 'This Is Us' for 2017 Will Act as a Trilogy, So Stock Up on Tissues Now
Published on November 14th, 2017 | Updated on November 14th, 2017 | By FanFest
Well, this is just about the easiest way for the This Is Us team to prepare us for a doozy of a midseason finale. There are three episodes left in the first half of This Is Us' sophomore season and they will act as a trilogy with each one focusing on a member of the the Big Three. Tonight's episode will start with Kevin, on Nov. 21st we will get Kate's installment followed by the fall finale on Nov. 28, which will focus on Randall.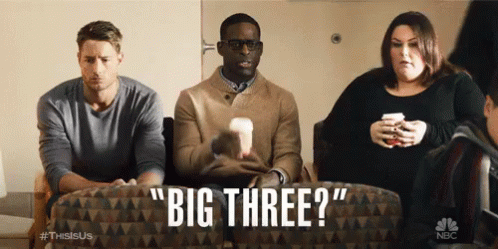 According to This Is Us EP Isaac Aptaker the three episodes will take place on the same day in the past and the same day in the present.
Ken Olin directed all three of them over 24 days, like a big movie. His hair went completely gray from doing it. It'll really reward going back into the episodes and seeing these different ways that they connect that you didn't realize the first time around. You're seeing the same moments from different characters' perspectives and realizing what you missed. It's very different from anything that we've tried on the show. It's this really big, complex three hours of interweaving stories that end up in a really exciting place to close out the first half of the season," Aptaker continued.
If you are like me and hoping that the past storyline would be taking place when the kids are much younger, you can join me in the anxious and disappointed line because the flashbacks will be high school Pearsons, which means that we will most likely be getting a huge reveal or moment revolving around Jack's death. My guess is that it will most likely be a day sometime near the night of the fire from the season's premiere.
The trilogy kicks off with Kevin, who is currently spiraling down a path of pills and alcohol, returning to his high school to received an alumni award. This commemorative evening comes about roughly one week after he ended things with Sophie.
"As you can probably imagine based on where he was at the end of episode 7, he's not exactly in the ideal head space to speak to a roomful of optimistic teenagers about their futures. It's a very loaded situation for Kevin to be entering given his headspace. It's also one of the first times that he has really come back to Pittsburgh since leaving, so there's all those feelings that brings up as well. He goes on a very, very emotional dark spiral — and Justin gives such a phenomenal performance in the episode," Aptaker said.
So, as present-day Kevin receives an alumni award for his acting career, the past storyline will find Kevin's high school football career booming as he begins being noticed by college scouts.
"But, as we know, his college dreams never come to fruition," says Aptaker, "so we're going to see the story of how Kevin gets that life-defining knee injury that really alters the entire course of his future."
If you recall in the season 2 premiere we were shown that the Pearson's house burns completely down in a terrible fire and there were a few clues provided to show us when exactly this will happen in the timeline. One of them is that Kevin has a cast on his leg from an injury that will most likely sideline him from ever playing again.
Since Kevin will most likely be getting injured in this episode it could be a safe assumption that the trilogy won't be portraying the night of the fire, but they could play around with time in the flashbacks a bit so it's too soon to breathe a sigh of relief.
"They get pretty intense. We're maybe going to top Toby crashing through that coffee table in our midseason finale of last year. It gets pretty real," Aptaker said when talking about how emotional the trilogy is going to be.
So, prepare yourselves and get the tissues out, people!
Part one of the trilogy titled "Number One" airs Tuesday, Nov. 14 at 9 p.m. ET/PT on NBC
Related:
Let's Break Down that Last Scene in 'This Is Us'
Did You Catch the 'This Is Us' Cameo in 'Stranger Things'?
10 Things You Probably Didn't Know About 'This Is Us'
Having studied Media & Writing at James Madison University, I always knew that I wanted to do some type of creative writing, but being able to write about zombies, Starks, and superheroes on a daily basis for Fan Fest is my actual dream. While I probably shouldn't be as proud as I am to be so similar to Nick Miller, I do hope to one day write my own "Pepperwood Chronicles'.