The Heartwarming Hopper Moment Cut From 'Stranger Things 2'
Published on November 14th, 2017 | Updated on November 14th, 2017 | By FanFest
If you've read past the spoiler warning then it's safe to say that you have finished watching the amazing second season of Netflix's pride and joy Stranger Things 2. It was a fantastic season of twists, turns and… father figures? First, there was Steve who had the perfect story this season of teaming up with the kids to help destroy the Upside Down and ultimately becoming a better parent to them than their real parents.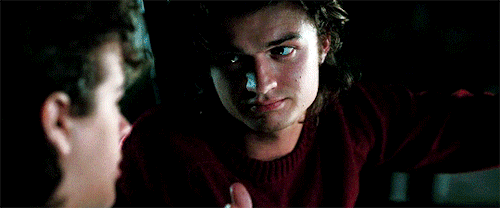 The real treat, however, was watching last season's (and some of this season's) surly and standoffish Hopper take on the role of father figure to Eleven, who he took under his wing in between seasons 1 and 2. He did everything he could to protect her and keep her safe from all of the threats of Hawkins. Swoon.
It wasn't always easy and they definitely butted heads on more than one occasion but at the end of the day, they both were able to form their own little adorable family.
He even made it official in the season finale, adopting Eleven making her Jane Hopper.
Well, David Harbour who plays Hop recently brought to our attention a heartwarming scene that was cut from the Snow Ball episode and it's enough to make your heart completely burst.
If you recall Joyce and Hop share a scene outside of the Snow Ball and one fan was able to pick up a small detail from a behind the scenes photo to open up the gate of happy tears!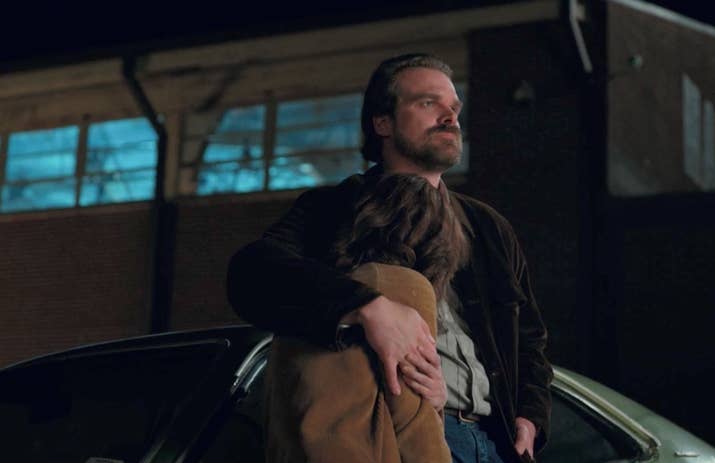 In a recent interview with Insider, Harbour explained a fan had discovered a photo of him from the Snow Ball scene but he is wearing a tie, but in the final cut, he is not.
Someone (online) caught me in an off-camera thing and I have a tie on. The idea was perhaps that Hopper even puts on a tie for the first time in 20 years to bring his adopted daughter to this dance. So I think Hopper put a lot of effort and work into it.
Here's the tweet in question:
@DavidKHarbour what happened to your tie sir pic.twitter.com/4OMAD7RZFj

— maria hopper (@julietsburke) November 5, 2017
And here's another angle of what Hop was actually wearing
To make the fact that Hopper wanted to take El to the dance even better, Harbour also answered the guy on Twitter saying that it was actually his idea. Still swooning.
The Snow Ball episode also made fans immediately emotional when they realized that is was Hop who helped El get all dressed up for the dance.
i just realized hopper helped eleven get ready for the snowball dance pic.twitter.com/vVb8XQCA2y

— joselyne (@kingtyIersus) November 7, 2017
Hi I'm just here desperately needing the scene where Hopper prepares and takes photos of Eleven for the Snow Ball dance

— kayden // spoilers (@staygoldlosers) October 29, 2017
After having lost his daughter, it was so beautiful to watch Hopper take El under his wing and be the amazing father that he already was and the amazing father that El deserves and I, for one, cannot wait to watch these two in the next season!
Related:
Stephen King Issues His Stamp of Approval to 'Stranger Things' Season 2
The 'Stranger Things' Honest Trailer is Pretty Much 'The Hangover' but with Kids
'Stranger Things' Kids Perform as Motown Group 'The Upside Downs' with James Corden
Having studied Media & Writing at James Madison University, I always knew that I wanted to do some type of creative writing, but being able to write about zombies, Starks, and superheroes on a daily basis for Fan Fest is my actual dream. While I probably shouldn't be as proud as I am to be so similar to Nick Miller, I do hope to one day write my own "Pepperwood Chronicles'.