The 16 Best Moments From the 2018 SAG Awards
Published on January 22nd, 2018 | Updated on January 23rd, 2018 | By FanFest
Kristen Bell and David Harbour had a photo shoot on the red carpet.
Can these two please team up for a movie together? Okay, thanks.
And she was the perfect host throughout the evening.
Bell was the inaugural host for the show and found the perfect balance of both humor and reverence for the events transpiring in both Hollywood and the country.
"We are living in a watershed moment in time and as we march forward with active momentum and open ears, let's make sure we are leading the charge with empathy and diligence because fear and anger never win the race,"
Veep swept a majority of the comedy categories.
The face of Veep Julia Louis-Dreyfus won the award for Best Actress in a comedy, making her the first female to ever win 5 individual SAG awards (3 for Veep and 2 for Seinfeld). Dreyfus was unable to attend the awards as she had just recently completed her chemo treatments but Connie Britton and Mandy Moore accepted the award on her behalf.
Veep also won for Best Ensemble in a Comedy Series and Matt Walsh gave a delightfully terrible speech.
"I'd like to thank HBO, whose not here, sorry. I'd like to thank Julia, of course, our leader, who is unfortunately not here, sorry about that. I'd like to thank Dave Mandel who also is not here. Anna Chlumsky is in New York doing a play, that's why she's not here … We do sincerely love that you gave us this wonderful Grammy, thank you."
Sterling K. Brown made history once again.
Brown took home the Actor for Best Actor in a Drama Series making him the first African American to win the award since the show's inception in 1995, an honor he also received at the 2018 Golden Globes.
"What an honor it is to be recognized by your peers for a job well done. This room is a source of endless inspiration for me…People call us weird and strange. The truth of the matter is, everybody is weird and strange and we just embrace ourselves for who we are."
This is Us won Best Drama.
The Handmaid's Tale. Stranger Things. Game of Thrones. These are just a few of the titles that This Is Us was up against for Best Ensemble in a Drama Series so it was quite the adorable surprise when the NBC series won. The reaction from the cast when they were announced was by far one of the highlights of the evening
Frances McDormand continued to give everyone life.
McDormand one again walked away with the Best Actress award for Three Billboards Outside Ebbing, Missouri.
Much like the Golden Globes, she continued to sass the camera any chance that she got and it was perfection.
She also called the SAG award a doorstop, so that was iconic.
"This is really great and I thank you, but there's a lot of young ones comin' up and they need doorstops too. Let's think about that," she said in her acceptance speech.
Meryl Streep.
Kristen Bell said the name Meryl Streep and the entire audience immediately stood up for a standing ovation. The best part? She wasn't even there.
Kate Hudson and Goldie Hawn Presented.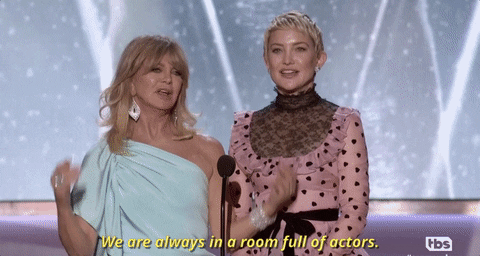 The lovely mother-daughter duo teamed up to present an award and joked that while it was special to be in a room of so many great actors, they're always in a room of actors…the living room, Thanksgiving dinner.
Nicole Kidman continued her sweep.
Kidman picked up yet another award for her role in Big Little Lies. In her speech, she chose to highlight some of the trailblazers before her and commented on how things are shifting and now women over the age of 40 are finding so many great roles, stories, and opportunities in Hollywood.
Rita Moreno's Standing Ovation.
One of the evening's best moments came when it was time for the Lifetime Achievement award. EGOT winner Rita Moreno was there to present and was completely overwhelmed by the standing ovation that she received when walking out.
"That's a lot of love," Moreno said, tearing up. "But I can take it."
Morgan Freeman Wins the Lifetime Achievement Award.
Freeman was presented with the Lifetime Achievement Award and accepted it while rocking a baseball hat because he's Morgan Freeman and he can do whatever he damn well pleases.
"These moments in life usually call for an entire litany of thank you's. I can't do that because I don't know all of your names, so I won't try. This is beyond honor. This is a place in history."
And he pointed out what was wrong with the SAG Statue.
Timothée Chalamet continued to be the highlight of audience camera pans.
Chalamet got caught in an adorable candid moment at the Golden Globes when he realized Tonya Harding was sitting behind him and it happened again last night at the SAG Awards during a bit Kristen Bell was doing with her husband Dax Shephard and Lady Bird Greta Gerwig. Chalamet was clearly having more fun than anyone in the background.
Marisa Tomei and Rosanna Arquette thanked the silence breakers.
While presenting the award for Outstanding Female Actor in a TV Movie or Limited Series, Marisa Tomei and Rosanna Arquette took a few moments to thank by name the men and woman who have spoken out during the Times Up movement.
Stranger Things may have gotten snubbed…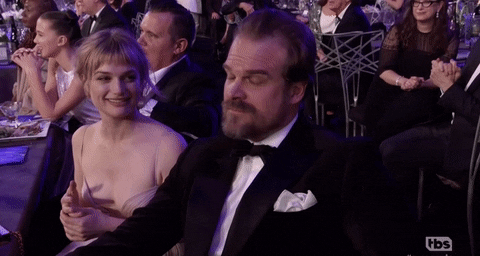 Even though the series lost Best Drama, we still had all of the great camera pans to David Harbour.
But they looked fly as hell on the red carpet
Did you tune into the SAG Awards? What was your favorite part?
'This Is Us' Wins Big at the 2018 SAG Awards
Read Kristen Bell's Inspiring SAG Awards Opening Monologue
Alexander Skarsgard wins his first Individual SAG Award
Julia Louis-Dreyfus Makes SAG Awards History After Winning Best Actress in a Comedy Series
Updating Live! All of the Winners from the 2018 SAG Awards
Kristen Bell is Ready to Take on Tonight's SAG Awards
Check Out Tonight's 2018 SAG Award Nominees!
The 30 Best Moments From the 2018 Golden Globe Awards
Having studied Media & Writing at James Madison University, I always knew that I wanted to do some type of creative writing, but being able to write about zombies, Starks, and superheroes on a daily basis for Fan Fest is my actual dream. While I probably shouldn't be as proud as I am to be so similar to Nick Miller, I do hope to one day write my own "Pepperwood Chronicles'.