Tell Us What You Think About Henry Cavill's CGI Removed Mustache in 'Justice League'
Published on November 22nd, 2017 | Updated on November 21st, 2017 | By FanFest
If you'll recall back in July, Henry Cavill caused quite a bit of a stir at Warner Bros. when he went in for his Justice League reshoots with a mustache.
Cavill had been currently in the midst of shooting Mission Impossible 6 and was told by Paramount that he would not be allowed to shave his mustache for Justice League, which resulted in them having to digitally alter it out, costing the studio approximately $25 million.
paramount not letting henry cavill shave his mustache for justice league because of mission impossible six, thus costing WB millions, is a legendary flex and i respect it so much

— ☕netw3rk (@netw3rk) November 20, 2017
paramount not letting henry cavill shave his mustache is the level of petty that i aspire to be

— MADMAX (@themihad) November 21, 2017
Well, this past weekend Justice League finally hit theaters and moviegoers were able to see just what the final product of stache-gate was. While we wait for Thanksgiving, feast your eyes on the one proven thing that could possibly ruin Henry Cavill's beautiful face – CGI removed facial hair: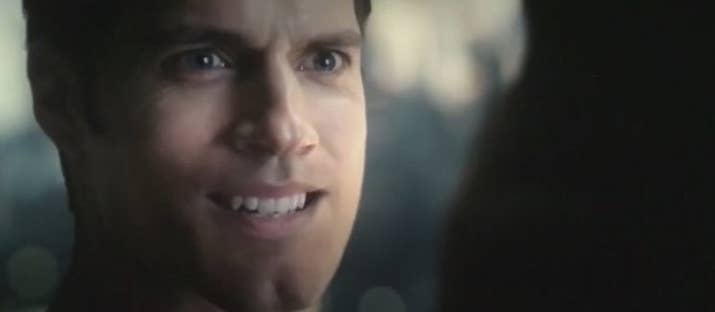 Of course, many fans noticed the difference including Fan Fest's CJ Creech who said:
Superman's reshoots involve a lot of moving and talking, which can be a computer tracking nightmare. This was the case in Justice League, as we start the film off with some of the Superman re-shoot footage as the first thing we see, and as he's talking to his cell phone interviewer, the movement of his mouth and face just seems off. It doesn't quite take you out of the movie, but if you're like me, then you probably let out a collective 'ugh' each time reshoot Superman popped up throughout the film.
Naturally, we took to Twitter to find some of the inevitable memes and jokes sure to be circulating around.
JUSTICE LEAGUE EXEC: We can just CGI Henry Cavill's mustache out it will be fine and not look weird at all
HENRY CAVILL: pic.twitter.com/Ag41j6LbPn

— Dana Schwartz (@DanaSchwartzzz) November 17, 2017
Find someone who looks at you the way Henry Cavill looks with his mustache CGI'd out pic.twitter.com/2sR8VstKPB

— Zach Heltzel (@zachheltzel) November 17, 2017
so where's the b roll of everyone in JUSTICE LEAGUE struggling to keep straight faces while acting around Henry Cavill's mustache

— Emma Stefansky (@stefabsky) November 17, 2017
I wish Justice League was just a full length documentary about how Henry Cavill had to keep a full mustache during reshoots that they had to CGI out

— Dana Schwartz (@DanaSchwartzzz) November 15, 2017
Henry Cavill's beard in Mission Impossible 6 better be the best beard ever. Seriously, it better have the mission briefing in it and then self-destruct after it gives Tom Cruise his mission. #JusticeLeague #HenryCavill

— David Green (@davidgrn) November 19, 2017
Drink every time you can spot Henry Cavill's CGI mustache mouth.

— Emma Williams (@thatemmaline) November 17, 2017
This is really disturbing. The CGI reshoots of Henry Cavill as Superman in #JusticeLeague make him look like human Shrek. pic.twitter.com/jM9kSuVDKn

— Mike Sington (@MikeSington) November 18, 2017
Henry Cavill's mustache could not be contained by mere human CGI pic.twitter.com/TnxdpbeNVT

— Zack (@Blankzilla) November 16, 2017
Truthfully, leaving the beard was probably the best option.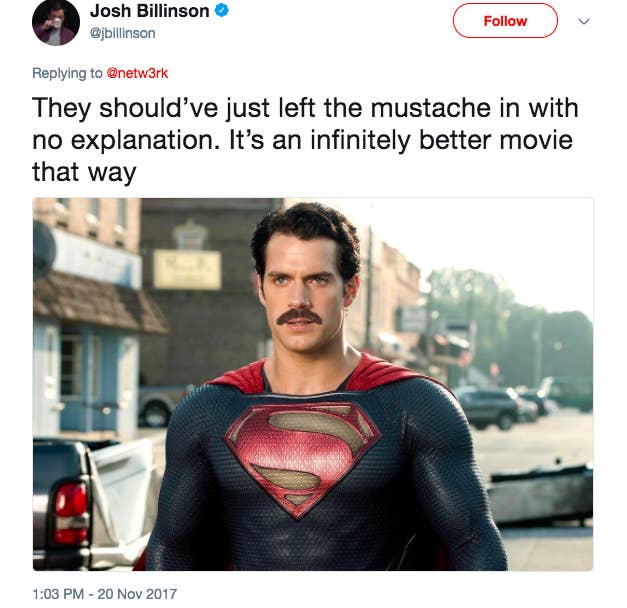 Cavill had a beard in Man of Steel. Here are pics from that and the comic, that's all they had to do, add a beard, boom. pic.twitter.com/U3qTGdHVFU

— Jason Baldini (@jasonbaldini) November 20, 2017
What did you think of the CGI removed mustache?
Related:
Wondered why Superman's face looked so weird in Justice League?
Jason Momoa Isn't Letting Negative 'Justice League' Reviews Dampen His Day
Here's What the 'Justice League' Cast Hopes Fans Walk Away Feeling After Watching the Film
Whedon, Snyder's Styles Clash In Fun But Flawed 'Justice League'
Having studied Media & Writing at James Madison University, I always knew that I wanted to do some type of creative writing, but being able to write about zombies, Starks, and superheroes on a daily basis for Fan Fest is my actual dream. While I probably shouldn't be as proud as I am to be so similar to Nick Miller, I do hope to one day write my own "Pepperwood Chronicles'.