Someone Put Billy Eichner's Voice Over Captain America and Now I Need More
Published on July 13th, 2018 | Updated on July 13th, 2018 | By FanFest
Gather round, Marvel fans because you are about to experience something totally amazing, but before we get started, let's give a little background info.

This right here is comedian/actor Billy Eichner.
He's starred on shows such as Hulu's Difficult People, American Horror Story, and my personal favorite Parks & Recreation where he played the rageful Craig with a heart of gold.
His most iconic role, however, is his TruTV series Billy on the Street, in which he runs with celebrities and other guests around the streets of New York, yelling at pedestrians and asking them random questions for a dollar. It's pure comedy gold and you absolutely need to check some of his skits out.
On the other end of the spectrum, this is Captain America, who is played by Chris Evans in the Marvel movies. He's serious, stoic and he means business 100% of the time.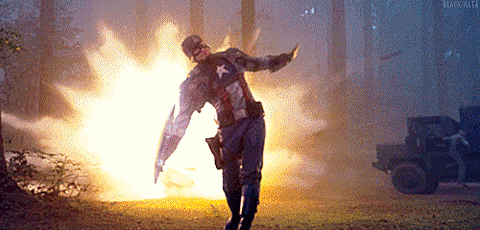 So, you can imagine my glee when I discovered that there was a video going around in which one Twitter user named @homeisarealsong had dubbed Eichner's voice over Captain America's in a brief scene from Civil War. I looked something like this:
The video takes places during the epic airplane hanger scene in which Iron Man's squad is taking on Captain America's. It shows Captain rallying up his crew as they run together.
The Billy on the Street audio comes from his episode "Lesbian Lightning Round" and during it, he yells "Let's go lesbians! Let's go let's go let's go!"
Spliced together the video one makes for one hilarious piece of content. Check it out for yourself below!
it's midnight and i'm tired so i made this pic.twitter.com/Joh59j4qxk

— lissy (@homeisarealsong) July 8, 2018
Chris Evans even tweeted the video out with his approval.
That's exactly what I was going for in that moment. I'm glad someone picked up on my inner monologue. https://t.co/NpbHb4Brie

— Chris Evans (@ChrisEvans) July 9, 2018
It doesn't stop there though! Since it's pure brilliance and hilarious when edited together even more users are finding ways to incorporate "let's go lesbians!" into other cinematic moments, like Thor. 
Guys no https://t.co/tGDLlWpqQp

— billy eichner (@billyeichner) July 12, 2018
And Rocky II
Oh God https://t.co/SCkhSIloQk

— billy eichner (@billyeichner) July 12, 2018
And Black Panther 
To much? pic.twitter.com/aDVKvCbwuF

— Levi Hott (@Stached_melons) July 13, 2018
Bottom line, I need an entire Twitter page devoted to this specific content no matter what Billy says!
This will not be my legacy!!!

— billy eichner (@billyeichner) July 12, 2018
Having studied Media & Writing at James Madison University, I always knew that I wanted to do some type of creative writing, but being able to write about zombies, Starks, and superheroes on a daily basis for Fan Fest is my actual dream. While I probably shouldn't be as proud as I am to be so similar to Nick Miller, I do hope to one day write my own "Pepperwood Chronicles'.