SDCC 2018: 'Better Call Saul' Drops New Trailer & Talks Aaron Paul Appearance
Published on July 19th, 2018 | Updated on July 19th, 2018 | By FanFest
The Breaking Bad universe is knocking on the door and taking over San Diego Comic-Con! Before the cast and creators of Breaking Bad took the SDCC stage for their commemorative 10-year anniversary panel, the Better Call Saul team, including Vince Gilligan, Peter Gould, Bob Odenkirk, Rhea Seehorn, Patrick Fabian, Michael Mando, and Giancarlo Esposito, got together for a press conference to reflect on the shocking third season as well as what fans can expect in season four.
And the cast along with Peter Gould and Vince Gilligan! #SDCC2018 #BetterCallSaul pic.twitter.com/HnAb64Np2S

— Fan Fest News (@FanFestNews) July 19, 2018
AMC had already kicked things off earlier in the day when they released the first trailer for season four, which finds Jimmy McGill (Bob Odenkirk) getting closer and closer to becoming Saul Goodman. Check out the trailer below!
Series creators Peter Gould and Vince Gilligan have confirmed that season 4 of Better Call Saul will start wading into Breaking Bad territory and with Gus Fring (Giancarlo Esposito) having such a large role in the upcoming season we can't imagine it being too much longer before the show's stories intersect completely.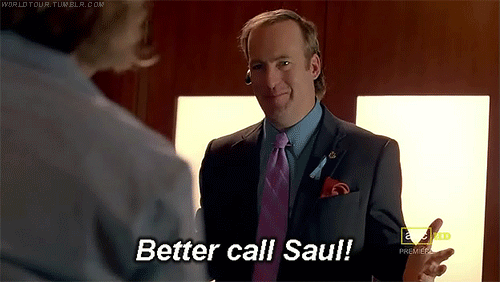 Season three found Jimmy's brother Chuck Mcgill (Chuck McGill) committing suicide, but at the Better Call Saul press conference, Bob Odenkirk admitted that he doesn't expect it to hold Jimmy back.
"For me, Jimmy's written Chuck out of his life and he's not gonna let his death weigh him down."- BobOdenkirk #SDCC2018 #bettercallsaul

— Fan Fest News (@FanFestNews) July 19, 2018
Of course, it wouldn't be a Better Call Saul panel without some Breaking Bad talk. When asked whether or not fans could expect to see Aaron Paul, who played Jesse Pinkman, master of "Bitch!" on Breaking Bad's six-season run, Odenkirk gave fans the answer they all wanted to hear.
Do you think we will ever see Aaron Paul on the show?
"I do. I'm speaking as a fan. I don't see how we don't. Here's what I know. I know that Hank knows Saul. And I think because of what Jessie says to Walt about needing a criminal lawyer." -Bob Odenkirk #SDCC #bettercallsaul

— Fan Fest News (@FanFestNews) July 19, 2018
He also spoke briefly about his sentiments toward Breaking Bad star Bryan Cranston.
"I do miss Bryan Cranston.
Bryan was the guy who dialed me into the tone of these shows." -BobOdenkirk #SDCC2018 #bettercallsaul

— Fan Fest News (@FanFestNews) July 19, 2018
Showrunner Peter Gould and executive producer Vince Gilligan also spoke to the inception of the spinoff itself, which first premiered in 2015.
[row]
"I wasn't actually expecting to survive Breaking Bad, but we did start joking about the idea of a Saul Goodman spinoff pretty early on. He was a joke at first, the first season or so, but within every joke, especially a good joke, is a  big kernel of truth, and I think the joke can perpetuate because it was a really good and exciting idea," Gilligan said.
"We were in a very unusual position, at least in my experience in show business you're begging people to make something…Here we had a situation where there was more interest from people we were working with and I was scared that we would do something that would tarnish the value or the work we did on Breaking Bad," said Gould.
[/row]
In addition to Odenkirk, Better Call Saul stars Jonathan Banks, Rhea Seehorn, Patrick Fabian, and Michael Mando.  Better Call Saul Season 4 premieres on Monday, Aug. 6 at 9/8c on AMC.
Be sure to check back to Fan Fest all weekend for all the happenings at San Diego Comic-Con!
Having studied Media & Writing at James Madison University, I always knew that I wanted to do some type of creative writing, but being able to write about zombies, Starks, and superheroes on a daily basis for Fan Fest is my actual dream. While I probably shouldn't be as proud as I am to be so similar to Nick Miller, I do hope to one day write my own "Pepperwood Chronicles'.