Ryan Murphy (sort of) Dropped Another Hint about 'American Horror Story' Season 8
Published on January 9th, 2018 | Updated on January 10th, 2018 | By FanFest
When Ryan Murphy discusses anything about American Horror Story, fans listen closely. He's famous for much more than the series, but it has a cult following of its own, and a very dedicated one at that. He's taken fans to the hotel, the murder house, Roanoke, and now, he's taking fans to the future.
Somehow. We don't know what he's got in store yet and we won't until the series debuts, but he did give another hint to what season 8 may have in store.
Now, when we say hint, we mean that he said something about the upcoming series and a specific character that has our minds turning. We're trying to figure out what he means but with such little information, it's hard to even begin to think about what road this will be. However, it doesn't stop us from picking up the breadcrumbs.
'Sarah Paulson is very excited about the dental appliances she will be wearing on the show.'
In addition, he said the season will haunt viewers. So for now, we're just going to binge watch old seasons until he leaves new hints to further confuse us with. Well played, Murphy.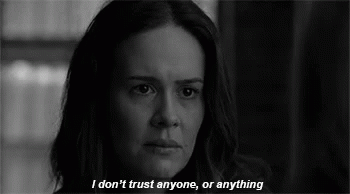 Related Posts:
'American Horror Story' Season 8 to be set in the Future
'American Horror Story: Cult' Recap & Review 7×01 "Election Night"