Raúl Esparza Says Goodbye to 'Law & Order: SVU' – Dun Dun.
Published on February 8th, 2018 | Updated on February 8th, 2018 | By FanFest
This post contains spoilers for Law & Order: SVU's most recent episode.
Law & Order: SVU fan favorite Raúl Esparaza took his final bow as ADA Rafael Barba on this weeks episode after six seasons on the long-running series. He made his first appearance in Season 14 and was promoted to series regular by Season 15 and while cast, crew, and fans were all sad to see him leave, Barba knew that it was the right time.
"I've done six seasons, I felt like it was time to go. I had explored a lot of what I thought Barba was about. I just felt it was time to move on. I was also feeling like the role has changed over the years in a way that has been an interesting experience for me. Again, I'm a theater guy, so it's like having a script in front of you that keeps changing every time you go to do it. The learning process of how roles grow over a period of time with a series has been kind of fascinating, and I just felt I had reached the end of what I wanted to explore where they were writing."
Barba's final episode saw the tumultuous outcome of his decision to cut off the life support machine of a brain dead child, which resulted in him being tried for murder. Despite being found not guilty, Barba decided that it was time to hang his hat at the D.A.'s office, and not even Law & Order alum Sam Waterston (who reprised his role as Jack McCoy for the episode) could get him to stay.
Of course, on Law & Order, unless a character actually dies it's never really goodbye, so there's always a chance that Barba could make his triumphant return at some point down the line.
"I think that Barba's become a part of the SVU family, and I think there's a life for him. I don't know necessarily, but it's possible that there's a life for him as the series goes on and I'm glad they left that door open."
The cast was certainly feeling sentimental on social media as the episode aired, taking to their various accounts to express their feelings about the departure, including Esparaza and the queen of SVU herself, Mariska Hargitay.
Goodbye Barba. Thank you. You changed my life. My squad. And you, you always, my Liv, my friend Mariska. I will always treasure my time with all of you. #SVU#BarbaOnTrial

— Raúl E. Esparza (@RaulEEsparza) February 8, 2018
One of the great honors of my life is to have shared the screen with the incredible scene partner, beautiful friend, giant heart, brilliant artist, kindest of men @RaulEEsparza. #SVU has been graced and great with you in it. Family always gets to come home… come home soon. pic.twitter.com/X5TUsdYzwI

— Mariska Hargitay (@Mariska) February 8, 2018
Chicago Justice star Peter Winchester, who plays attorney Peter Stone, will be staying on the series as a regular cast member and new Assistant District Attorney.
@RaulEEsparza Thank you for welcoming me with open arms, for having such integrity and for showing me the ropes.

— Philip Winchester (@philipwinchestr) February 8, 2018
Both Barba and Esparza's excellent acting abilities will certainly be missed, but if there's one thing that rings true about Law & Order: SVU, your favorite characters are never too far away as there is always a marathon on TV somewhere.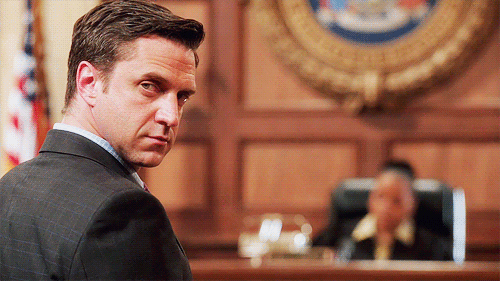 Law & Order: SVU airs Wednesdays at 9/8c on NBC!
Having studied Media & Writing at James Madison University, I always knew that I wanted to do some type of creative writing, but being able to write about zombies, Starks, and superheroes on a daily basis for Fan Fest is my actual dream. While I probably shouldn't be as proud as I am to be so similar to Nick Miller, I do hope to one day write my own "Pepperwood Chronicles'.