Ned Stark's Promise to Jon Snow Came True in the 'Game of Thrones' Season Premiere
Published on April 16th, 2019 | Updated on April 16th, 2019 | By FanFest
*This article contains Game of Thrones spoilers. Read at your own risk or suffer at the hands of the White Walkers.*
The very last season premiere of Game of Thrones aired on Sunday and it wasted absolutely no time getting into the thick of things. Being that there are only six episodes in the final season, we were prepared for plot points to be happening a lot quicker than normal, but "Winterfell" checked off quite a few boxes right off the bat. One of those boxes was something that fans have been dying to see for quite some time – Jon learning about his parents and that he is the true heir to the Iron Throne.
In the episode, Sam finally tells Jon the truth about where he came from, but it was where he told him that's worth mentioning. But first, let's do a quick rewind all the way back to season 1 episode 2. The episode marked the last time that Jon ever saw his (supposed) father Ned Stark and just before they parted ways Ned made this promise to him.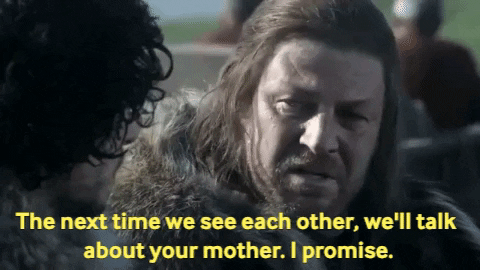 We all know that the two would never actually see each other again as Ned was beheaded later in the season, but his tomb rests in the crypt of Winterfell. Now, let's fast forward to season 8 and the scene in which Sam finally gives him the news. Where is Jon standing when he learns the truth? Well, right in front of Ned's statue.
It's worth noting that Jon had actually already visited Ned's statue before while he was in Winterfell in season 7, so this moment wasn't exactly the "next time" that they saw each other, but it is rather poetic that Jon learned the truth about his mother while standing right in front of Ned, much like he had promised. You can rewatch the scene with Jon and Ned below!
And here's the scene from Sunday's episode where Jon finally learns the truth.
What do you think Jon is going to do with this new information? Find out when Game of Thrones airs this Sunday on HBO!
Having studied Media & Writing at James Madison University, I always knew that I wanted to do some type of creative writing, but being able to write about zombies, Starks, and superheroes on a daily basis for Fan Fest is my actual dream. While I probably shouldn't be as proud as I am to be so similar to Nick Miller, I do hope to one day write my own "Pepperwood Chronicles'.