Milo Ventimiglia Joins Jennifer Lopez's New Romantic-Comedy 'Second Act'
Published on November 2nd, 2017 | Updated on November 2nd, 2017 | By FanFest
Hold on to your shoes people, Jennifer Lopez is going to star in a new romantic comedy!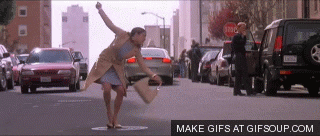 Back in the day, Lopez was the queen of the rom-com and starred in some heartwarming films such as Maid in Manhattan and The Wedding Planner.
However, in recent years she's taken on more serious roles in both film and TV and hasn't released a feel-good romance since 2010's The Break Up Plan. She also appeared in 2012's What to Expect When You're Expecting.
Well, that's all about to change as Lopez is officially starring in a new rom-com titled Second Act, which will follow her as a "big-box store employee who after reinventing herself, gets the chance to prove to Madison Avenue that street smarts are as valuable as a college degree." Of course, Lopez will need a handsome man in order to make the rom-com formula complete, so This Is Us and Gilmore Girls star Milo Ventimiglia will be stepping in to play the role of Trey, Lopez's character's longtime boyfriend.
Beyond excited 🙂 MV https://t.co/vlRUWy3B0v

— Milo Ventimiglia (@MiloVentimiglia) November 2, 2017
Vanessa Hudgens and Leah Remini will also be starring the movie, which is going to be directed by Peter Segal (50 First Dates) and written by Justin Zackham (The Bucket List) and Elaine Goldsmith-Thomas.
Related:
Jennifer Lopez and James Corden Commute in 'Carpool Karaoke Primetime Special'
Milo Ventimiglia Feels like he's "Arrived Into Complete Adulthood"
Having studied Media & Writing at James Madison University, I always knew that I wanted to do some type of creative writing, but being able to write about zombies, Starks, and superheroes on a daily basis for Fan Fest is my actual dream. While I probably shouldn't be as proud as I am to be so similar to Nick Miller, I do hope to one day write my own "Pepperwood Chronicles'.