'Mary Poppins Returns' Is A Worthy Spoonful Of Sequel Sugar
Published on December 21st, 2018 | Updated on December 21st, 2018 | By FanFest
Mary Poppins Returns
Directed by Rob Marshall
Starring Emily Blunt, Lin-Manuel Miranda, Ben Whishaw, and Dick Van Dyke
130 Minutes
Reber's Rating – A
In Hollywood these days the word "sequel" is what makes the big bucks at the box office. Original creations seem to have taken a seat on the back burner. Cinematic universes dominate theaters, colossal lush worlds of larger-than-life characters coming to life before our eyes. Of course, past all of those franchises lies a demand to make follow-ups to the movies we hold dear. Walt Disney Studios, for prime example, sure has been on a tear in the last few years. Disney already has live action remakes of Aladdin, The Lion King, Mulan, and The Little Mermaid in various stages of production. Other properties, like Pirates of the Caribbean, are facing possible reboots. (And they shouldn't be either, not when there are more tales to be told.) However, only one mere property in Disney's wheelhouse has remained in the throngs of negotiation for years. That'd be P.L. Travers' Mary Poppins.
Disney has waited years to get a crack at a sequel to the wildly clever and imaginative 1964 musical that took the world by storm. Truth be told, P.L Travers herself was not a fan of the first film. She loathed the music and animation, taking away from the characters she had created. She kept the property very close to her heart for years following Mary Poppins, only allowing a stage production by famed stage producer Cameron Mackintosh to be greenlit. (Of course, as she lacked love for the music, the famed Sherman Brothers were not allowed to be involved.) Travers passed away in 1996, yet Disney continued to work with her estate to honor the property. In 2013 the studio delivered the biographical Saving Mr. Banks, recounting how Walt Disney himself courted Travers to seek her acceptance for a film production. The film was a bit loose in some of the details but overall was a dramatic delight, shedding light into how passionately Walt yearned to make the movie. Now, all these years later, we're finally getting the sequel we've waited for and never expected.
Even in my mid-30's, sitting there front and center seeing Mary Poppins on the big screen, making us wonder if her magic is real or mere imagination, I couldn't help but beam. With all of the issues I face as an adult, for two hours I remembered what it was like to be a child lost in wonder and wishing the impossible was possible. Mary Poppins Returns is a rollicking return of the character 64 years on, Emily Blunt flawlessly picking up from Julie Andrews and whisking us away on an adventure to revive our child within. If Marc Forster's Christopher Robin was the appetizer back in August, then Mary Poppins Returns is the main course worth waiting for, a near perfect achievement in every way possible.
To take a cue from the movie, nothing's ever gone forever. Sometimes what we need more is just out of place. Out of sight and mind. Mary Poppins Returns doesn't try to bugger about and do the same schtick over again. Yes, Poppins does fly in on a blustery day to take care of the Banks children. Naturally, she's there not just for Michael's children – but also for he and Jane as well. Though children may become rankle with discord with each other, adults too can lose themselves with stresses overwhelming their minds. Poppins once again swoops in to remove chaos from 17 Cherry Tree Lane and restore a balance for all. Yes, she takes the children to the most preposterous corners of invention. Yes, there is a song-and-dance number with our characters alongside hand-drawn animation – a first for Walt Disney Studios since 2011. (That in itself is a crime.) Really though, while some of the spoonful of sugar seems a smidge old hat, director Rob Marshall keeps the charm and heart chugging along without grinding to a halt.
That name should ring a bell. Rob Marshall directed not only the Oscar-winning Chicago in 2002 but also Into The Woods for Disney a mere four years ago. Need I say more? Marshall is a visionary pioneer whose credits may be diminutive but makes up for his impeccable work ethic. Marshall helped script the screen story, direct and produce, and also assist in choreographing the musical numbers. Given his pedigree with bringing slick stylish musicals to the screen and drawing in crowds, Marshall is the only logical choice. He takes full advantage of the English locales, both on closed sets and on location, his flair for character never losing focus on what matters most. As the movie-goer we are supposed to feel empathetic for our cast of characters. Whilst some are infantile but overly mature, others too are absorbed in worriment to look around. Each one of us has been there; we can identify with their struggles. We all know what how our lives feel when we feel lost needing a sense of resolution. Sometimes making the absurd feel sensible is what we need most.
Emily Blunt, on the other hand, had Julie Andrews' full blessing to inherit the mantle she made famous decades ago. Andrews politely declined a cameo in the film, as to not distract audiences from an appearance alongside her successor. While some may have desired to see her presence, we would only be distracted from the ingenuity Blunt brings to the role. I would have never pegged Emily Blunt to pick up where Andrews left off, yet here we are. More in tone with Travers' creation than Robert Stevenson's opus, Blunt brings more of a fondness of the Banks family than just a wise nanny doting over impulsive children. Blunt knows how to sing just right now, her ability to carry a tune feeling like watching Julie Andrews for the first time all over. Her smile is infectious, her care for the company she keeps indubitable and without question. Blunt relishes every moment she's on the screen as she can, her warmth exuberant onto those watching intently. Blunt literally becomes Poppins with a blink of her eye and effulgent smile.
Really though, what brings Mary Poppins Returns together in a boisterous ball is the music of Marc Shaiman. With Richard M. Sherman's blessing and polite input, Shaiman has managed to create original songs that rival even the most infectious tunes from the 1964 original. Whereas Mary Poppins was a bit more pomp with the songs, Shaiman manages to create songs to best reflect the mood of the characters in Returns. Part of his score does carries notes from the songs we know and love, small little reminders of the wonderment Jane and Michael witnessed as children. The new songs wildly vivid and extravagant, playing with words and creating nonsense akin to "Supercalifragilisticexpialidocious" or the more mature melody of "Feed The Birds." Shaiman's songs are infectious and, over time, I feel they'll become as seminal as the 1964 classic. "A Cover Is Not The Book" is smashing but "The Place Where Lost Things Go" is probably the finest composition in the film.
[youtube https://www.youtube.com/watch?v=6TFOZF0DokE]
While there are many faces that makes appearances in Mary Poppins Returns – Colin Firth as the new president of the bank, David Warner taking over as Admiral Boom, surprise cameos, and a dynamic performance by Ben Whishaw as the torn Michael Banks – none takes center stage more than Lin-Manuel Miranda. He's already a national treasure thanks to his Broadway smash Hamilton but here he snatches the spotlight as the new Burt to Blunt's Poppins, though with none of the romantic tension between the duo. Miranda shines and puts on a show, demonstrating to audiences his showmanship that some may not have seen from him previously. Of course, much like Dick Van Dyke decades before, Miranda's faux English accent does slip here and there, though he is absolutely best suited for the part. His ability to croon and, ahem, step in time (wink) lightens Mary Poppins Returns.
This Christmas season does have many different sorts of films for one to enjoy. There's pomp action with Aquaman and Bumblebee, emotional drama with Welcome To Marwen and Vice, but then there's this clever light-hearted musical accessible to all ages. A many of us watched the 1964 original at some point in our lives. Some of us were grew up in the latter part of the century burning out VHS tapes watching the film over and over. Others actually remember watching this as youths themselves. A film as vivid and rich as Mary Poppins Returns serves as a reminder to never lose your inner child. All of the pressures of society can saddle you like you're a horse but when things are looking blue just look up. The sky's the limit. You may still allow your imagination to roam free. Rob Marshall yet again has woven gold in – I'll say it, my apologies to A Star Is Born – my most adored film of the year. 2018 has released some surprises. Mary Poppins Returns is the last marvel needed to cap the year in cinema.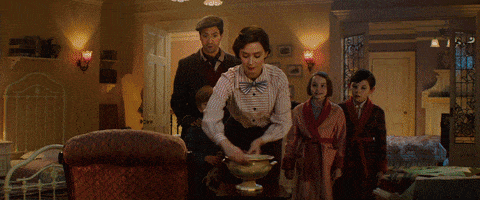 Jerrold spent his childhood in southeastern Pennsylvania ingesting far too many TV shows and movies, thus creating a stark-raving mad geek. He's a movie aficionado, binge-watches Netflix, and is a total TV junkie. His addiction has led to an unhealthy and rabid obsession of various geek pantheons – Star Trek, Star Wars, both DC *AND* Marvel,
cult 80's and 90's television, Supernatural, The X-Files, Doctor Who, and, and…holy overload. He's still waiting to run away in a 1967 Impala or a blue police box.