Marvel Legend Stan Lee Dies at Age 95
Published on November 12th, 2018 | Updated on November 12th, 2018 | By FanFest
It's a sad day in the world of Marvel as Stan Lee, the brilliant mind behind superheroes such as Black Panther, Spider-Man, Thor, Ant-Man, Doctor Strange, and the X-Men, has passed away at the age of 95. According to reports, Lee was taken to the hospital from his Los Angeles home early Monday morning. His cause of death has not been revealed as of yet.
[row]"My father loved all of his fans. He was the greatest, most decent man," his daughter J.C.Lee said in a statement to TMZ.[/row]
As the writer, editor and publisher of Marvel Comics, Lee's iconic mark on the written and cinematic world of his beloved heroes led him to become a trailblazer in the industry, a household name, and the face of the brand. The visionary began writing these iconic characters at the young age of 17 at Timely Productions, which would later become Marvel, with his first issue being Captain America No. 3. Over his eight-decade career, Lee impacted the lives of so many people, often appearing at comic-cons and other conventions where he would hear first-hand from fans just how much his stories and characters changed the entire course of their lives.
[row]"I used to be embarrassed because I was just a comic book writer while other people were building bridges or going on to medical careers. And then I began to realize: Entertainment is one of the most important things in people's lives. Without it, they might go off the deep end. I feel that if you're able to entertain people, you're doing a good thing," he once told The Washington Post.[/row]
George W. Bush presented Lee with the National Medal of Arts in 2008 "for his groundbreaking work as one of America's most prolific storytellers, recreating the American comic book. His complex plots and humane superheroes celebrate courage, honesty, and the importance of helping the less fortunate, reflecting America's inherent goodness." Other distinguished honors include an induction into the Will Eisner Award Hall of Fame in 1994 and the Jack Kirby Hall of Fame in 1995. Lee always made sure that his characters and comics were something that everyone could find escape in. He ensured that they reflected the melting pot of life and in turn, everyone could see the hero in themselves.
[row]"The one thing that will never change is how we tell our stories of heroism. Those stories have room for everyone, regardless of their race, gender, religion, or color of their skin. The only thing we don't have room for are hatred, intolerance, and bigotry."[/row]
Lee's comics eventually made their way to the big screen, introducing both Lee and his legendary characters to a new generation of fans. He was notorious for having charming cameos in almost every MCU film, a tradition that Marvel fans always looked forward to and will surely miss.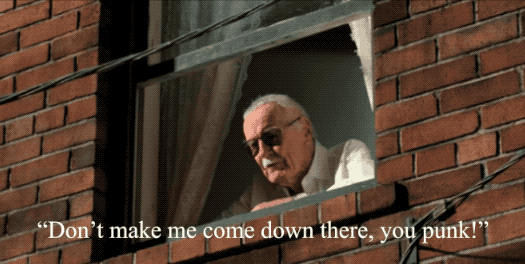 [row]"If it's a Marvel movie, I'm there for it. Whenever a new movie comes out, I hope they'll have a spot for me. I get such a kick out of doing it. The fans seem to like it. I'm going to tell you a secret, here's the reason the movies make so much money: My cameo. A man takes a girl to the movie, right? They're watching the movie and they bend down to get some popcorn. In so doing, they miss my cameo. Now the movie ends, and they say, 'My God, we missed Stan's cameo!' So what do they do? They run to the box office and buy two more tickets and see it again," Lee once said about his cameos.[/row]
After the news of his passing was confirmed, fans and celebrities came out in droves on Twitter to share their stories and reflect on the monumental impact Lee had on the world of entertainment.
There will never be another Stan Lee. For decades he provided both young and old with adventure, escape, comfort, confidence, inspiration, strength, friendship and joy. He exuded love and kindness and will leave an indelible mark on so, so, so many lives. Excelsior!!

— Chris Evans (@ChrisEvans) November 12, 2018
We've lost a creative genius. Stan Lee was a pioneering force in the superhero universe. I'm proud to have been a small part of his legacy and …. to have helped bring one of his characters to life. #StanLee #Wolverine pic.twitter.com/iOdefi7iYz

— Hugh Jackman (@RealHughJackman) November 12, 2018
Thank you Stan Lee for making people who feel different realize they are special.

— Seth Rogen (@Sethrogen) November 12, 2018
To Stan Lee: Thank you for making my childhood so much more exciting with your astonishing superhero characters. Thank you for inspiring me to think and dream big. Thank you for the Hulk, Thor, Fantastic Four and many others. You will be sadly missed. RIP.

— Gene Simmons (@genesimmons) November 12, 2018
He changed the way we look at heroes, and modern comics will always bear his indelible mark. His infectious enthusiasm reminded us why we all fell in love with these stories in the first place. Excelsior, Stan.

— DC (@DCComics) November 12, 2018
Rest in Peace Stan Lee

💙

— Letitia Wright (@letitiawright) November 12, 2018
RIP to one of the greatest creative minds of our time. Thank you for such an incredible legacy and for giving us so many icons that will continue to live on long after you are gone. Goodbye #stanlee – we love you. pic.twitter.com/nxwI1YS3OT

— Josh Gad (@joshgad) November 12, 2018
Here's a creative mind that has passed on today. After a very fulfilled life, he brought Joy, happiness and escape to so many in the world with his stories of heroism and myths. Today we lost a great mind. RIP Stan Lee. Thank you for everything you've given us and MTFBWY…❤️ pic.twitter.com/YCV1JfuaLN

— Star Wars Theory (@SWTheory66) November 12, 2018
This man led a generation of nerds into a new light where being a nerd was cool. He helped show so many people that it is ok to be yourself, and to never be ashamed of what you enjoy. He was a hero to many, and the hero's he created will serve as his legacy. RIP Stan Lee. pic.twitter.com/WiXjVD8iPE

— Amar Adatia (@amaradatia) November 12, 2018
Stan Lee changed my life forever. That's just a simple truth. His influence and impact are embedded in the threads of my life and I'm so eternally grateful. Thank You for EVERYTHING, Stan! My life is better for all you've done. #RIPStanLee

— Paul Shirey (@arcticninjapaul) November 12, 2018
Lee's wife, Joan B. Lee, also passed away at the age of 95 in 2017. He is survived by his daughter and brother, Larry Lieber. His brilliant mind, feisty personality, and kind heart changed the world of comics forever and his legacy will live on through all of the iconic heroes he created and the fans whose lives were eternally changed by them.
Having studied Media & Writing at James Madison University, I always knew that I wanted to do some type of creative writing, but being able to write about zombies, Starks, and superheroes on a daily basis for Fan Fest is my actual dream. While I probably shouldn't be as proud as I am to be so similar to Nick Miller, I do hope to one day write my own "Pepperwood Chronicles'.