Margot Robbie Explains 'Birds Of Prey' Movie Title
Published on December 4th, 2018 | Updated on December 4th, 2018 | By FanFest
What's up puddin'?
The Harley Quinn spin-off movie is happening; with Margot Robbie confirming that the production will start early 2019, we are so thrilled for it to come near! Recently she posted a picture on Instagram of the Birds Of Prey script with the new, and long, title.
https://www.instagram.com/p/Bqaj4shDKEY/
The title reads 'Birds Of Prey and The Fantabulous Emancipation of One Harley Quinn.' Now, we know that's a mouthful, but knowing our Harley, this is the perfect title for her and her personality. Our dear Harley Quinn herself, Margot Robbie was on Jimmy Fallon yesterday and explained why they went for a longer title.
"It's not a very serious movie, so we thought the title should reflect that. Birds of Prey makes it sound very serious, and that's kind of like Harley adding her, like, 'Hey, don't worry. I'm in this too. I love a long title. I said that when we were thinking of the title. I was like, 'You know what? You know what's a great title?' Did you ever see The 100-Year-Old Man Who Climbed Out a Window and Disappeared? Long title, but I love it."
The moment she said the movie isn't 'very serious' I frowned a little. Knowing that our villain is Black Mask and the comic book villain is the leader of a criminal organization called the False Face Society, who is one of the greatest criminal strategists there are in Gotham. Seeing we also have our 'official' synopsis that was released a while ago, it doesn't sound like it'll be a light movie. Knowing Harley Quinn however, we also do know she can be hilarious on the most inappropriate times. We just need to have a little bit of patience to see how this will work out in the movie.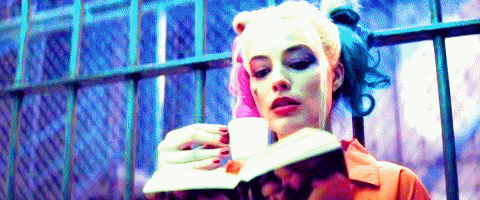 You can watch the rest of the interview below:
https://www.youtube.com/watch?time_continue=12&v=MMV__Dnbw50
What do you think about the long title? Let us know in the comments below!
Birds Of Prey and The Fantabulous Emancipation of One Harley Quinn will hit theaters on February 7, 2020.
Read the 'official' synopsis below:
"After splitting up with The Joker, Harley Quinn and three other female superheroes – Black Canary, Huntress and Renee Montoya – come together to save the life of a little girl (Cassandra Cain) from an evil crime lord."
https://fanfest.com/2018/08/06/did-we-just-get-a-birds-of-prey-synopsis/
Currently graduated with a B.A.
in music management. When she was a child you
would always see her with a piece of paper and a pencil,
drawing or writing the pages away. A daydreamer.