Mandy Moore Is Making a Triumphant Return to Music!
Published on July 18th, 2018 | Updated on July 18th, 2018 | By FanFest
We've been missing her music…. like candy! If you've been a fan of Mandy Moore since her debut bop "Candy" hit airwaves in 1999 and have been craving some new music from her, we've got good news for you. Moore recently shared a video on Instagram of her back in the studio, and the best part, you can hear her singing a brief clip of a new original song in it. She captioned the photo with a touching and empowering message that read:
Getting back to it. It's time. I miss it. I'm not scared anymore. No more excuses. No more allowing someone's else insecurities to dictate my relationship to music and singing. Boom. Also- this is just a little demo of something @themikeviola and I worked on yesterday… but still, it's a start! 
Check out the post below!
https://www.instagram.com/p/BlLl0jQAF7K/?utm_source=ig_embed
Moore has released six studio albums throughout her music career, but we haven't had anything new since Amanda Leigh in 2009. Of course, if you've been following Moore's amazing transition from music into movies and television then you have been treated to her singing on camera from time to time. When she starred in the film adaption of Nicholas Sparks' A Walk to Remember, her character Jamie Sullivan performed a song called "Only Hope" during the school play that still gives me nostalgia chills to this day.
Mandy Moore is also currently starring on a little show you may have heard of called This Is Us on NBC. While her stunning performance as Rebecca Pearson may have been overlooked by this year's Emmy Awards, she continues to shine on screen and her character has performed a few songs as she struggled to balance her dreams of being a singer and a mother. Moore has sung songs such as "Moonshadow" and "Bring it Home to Me" and she even recorded a version of "Willin'" by Little Feat for the This Is Us soundtrack.
She also performed the song live at the This Is Us "For Your Consideration" event earlier this year.
We are so excited to see Moore back in the studio and can't wait to hear any and all new music she gives us! And just because this is, in fact, a post about Mandy Moore's music career, I have to include this gif: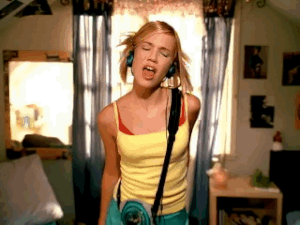 Having studied Media & Writing at James Madison University, I always knew that I wanted to do some type of creative writing, but being able to write about zombies, Starks, and superheroes on a daily basis for Fan Fest is my actual dream. While I probably shouldn't be as proud as I am to be so similar to Nick Miller, I do hope to one day write my own "Pepperwood Chronicles'.