Let's Talk About that Game-Changing Ending on Last Night's 'Walking Dead'
Published on November 5th, 2018 | Updated on November 5th, 2018 | By FanFest
This post contains spoilers for episode 9×05 of The Walking Dead. Read at your own risk!
Well, folks – the Little Asskicker is not so little anymore and it is absolutely brilliant. The final moments of last night's episode of The Walking Dead, "What Comes After", gave the series its biggest time jump ever, introducing viewers to an older (and still ass kicking) Judith Grimes. It's by far the most game-changing move the series has made and having this new beginning occur on the heels of Rick Grimes' exit provided the perfect fresh start for both the series and the fans. Let's take a look back at the scene and talk about what it means for the future of The Walking Dead.
In a scene very reminiscent of how we first met Tyrese and Sasha's group, the episode's final moments open up on a new group of survivors who we know to be Walking Dead comic characters Magna (Nadia Hilker), Yumiko (Eleanor Matsuura), Luke (Dan Fogler), Connie (Lauren Ridloff) and Kelly (Angel Theory).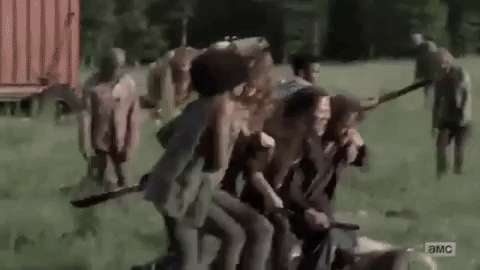 The group has found themselves in quite a pickle with a herd of walkers, and a
s the herd encroaches in on them, they take up a circle formation – a strategy that was a favorite of one Rick Grimes.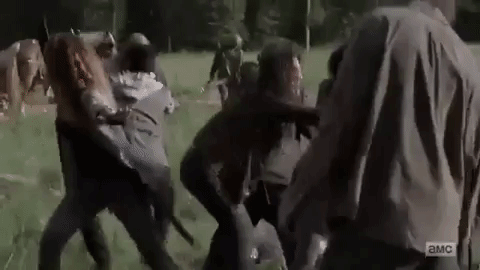 And just all hope seems lost, shots ring out, clearing a path for the group to make their exit and a young voice yells out to them.
When they encounter a young girl in the woods, she picks up Rick/Carl's iconic sheriff's hat off the ground and completely changes the course of the series, introducing herself as Judith Grimes.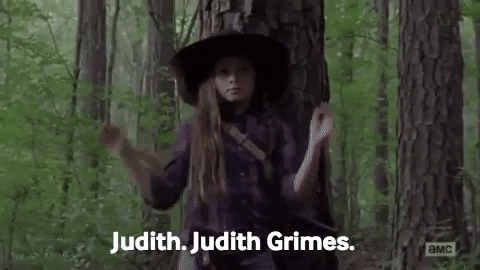 Judith Grimes will be played by Cailey Fleming.
We've got a time jump, people! Me, immediately after meeting older Judith:
Can we also take a second to recognize Judith's entire look? Not only does she look like Sarah Wayne Callies, who played her mom Lori, but she's got Rick's gun, a small katana, and the hat. She is the perfect embodiment of the entire Grimes family.
The scene was a completely surprising addition to an already action-packed and heavy episode and one that is sure to thrill fans about what's to come. Despite the season starting off with a time jump, having a second one and introducing an older Judith truly feels like a fresh start and a new beginning. It's the perfect way to continue Rick's story and keep his presence around without the actual character himself.
[row]"When people come back for episode six, they're in for another new beginning…we'll see these new characters [and how] the world has changed and not only in just the way it will look, but in the relationships of all these characters and the history that has transpired between the end of Rick's story [in] 905 and the start of 906. A lot of time has passed," Scott Gimple told The Hollywood Reporter.[/row]
On Talking Dead, Melissa McBride (Carol) revealed that roughly six years will have past in the time jump, so, it's even more exciting to think about what other advancements are on the horizon. When episode six returns, not only are the characters going to be much more evolved, but so will Alexandria, the other communities they've built, and the walkers. While none of them are aware that Rick Grimes is still alive, the preview for the episode showed that they are very much keeping his vision for the future intact. It also reveals once again that the show's new Big Bad, The Whisperers, are making their grand entrance. Check it out below!
What did you think of the Judith Grimes reveal? Are you excited about this new chapter of The Walking Dead? Let us know and tune in next week on AMC at 9/8c to see what happens next!
Having studied Media & Writing at James Madison University, I always knew that I wanted to do some type of creative writing, but being able to write about zombies, Starks, and superheroes on a daily basis for Fan Fest is my actual dream. While I probably shouldn't be as proud as I am to be so similar to Nick Miller, I do hope to one day write my own "Pepperwood Chronicles'.