Kurt Sutter Would Like to See Abel at Some Point on 'Mayans MC'
Published on August 6th, 2018 | Updated on August 6th, 2018 | By FanFest
With Mayans MC just on the horizon, fans are starting to wonder just how involved the Sons of Anarchy universe will be. Even though the series will be taking place four years after the events of the Sons finale, creator Kurt Sutter confirmed that some of the Sons characters would be appearing in the spinoff through flashbacks and that there will be plenty of Easter Eggs for fans to uncover, but now Sutter is talking about another familiar character possibly making an appearance – Jax's sons, Abel and Thomas.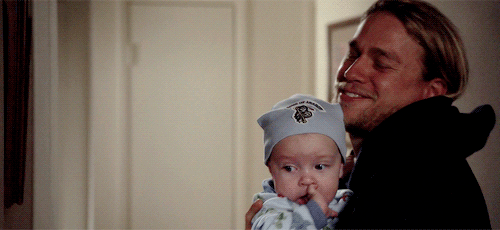 [row]"I do think it would be interesting to see Jax's sons faced with the reality of who their father was. Jax basically said to Wendy, 'Do not paint my existence and my life in any glamorous way. Tell my sons that I'm a scum, and I'm a murderer, and they should have nothing to do with me.' Because he didn't want them to face the same obstacles, the same draw to lineage that he had. To me, there's potentially something interesting to see how that may manifest. But that would be down the line," Kurt Sutter said at the FX panel for the Television Critics Assoc. summer press tour. [/row]
Throughout Sons of Anarchy's seven-season run, the narrative surrounding Abel was tightly woven into the show's main themes. Jax often struggled with finding the right path between the man he was in the club versus the man he wanted to be for his family. In season three, Abel was actually kidnapped by the Irish and taken to Belfast, which served as a huge wakeup call for Jax and in one episode Abel was minutes away from being in the clubhouse before it was blown up by their enemies. It would be interesting to see how those events and the loss of his father shaped Abel' s life these past four years, so, hopefully, Sutter is able to dive into that at some point.
Of course, Mayans MC will be a bit busy building its own world once the show kicks off in September. Starring JD Pardo, Mayans follows EZ Reyes, a former golden boy with the American Dream just within his reach until something happens that lands him in prison. Now, he's a free man prospecting for Mayans Motorcycle Club. FX released a full trailer earlier this week ahead of the SDCC panel. Check that out below or for a full breakdown head here.
https://youtu.be/tokSeISW1XQ
The series will also find Emilio Rivera reprising his Sons of Anarchy role as Mayans President Marcus Alvarez in addition to Clayton Cardena, Edward James Olmos, Sarah Bolger, Michael Irby, and Danny Pino.
Mayans MC will premiere on FX September 4th at 10/9c
Having studied Media & Writing at James Madison University, I always knew that I wanted to do some type of creative writing, but being able to write about zombies, Starks, and superheroes on a daily basis for Fan Fest is my actual dream. While I probably shouldn't be as proud as I am to be so similar to Nick Miller, I do hope to one day write my own "Pepperwood Chronicles'.