Kit Harington Opened Up About Botching His Proposal to Rose Leslie and It's Perfect
Published on October 6th, 2017 | Updated on June 19th, 2018 | By FanFest
Even though their characters didn't get a happily ever after on Game of Thrones, Kit Harington and Rose Leslie sure did.
The pair recently got engaged and even made an adorable announcement in The Times.
Harington recently appeared on The Johnathan Ross Show and opened up for the first time about the engagement and the proposal itself, while unintentionally slipping in a crude expression.
"I did have some plans to do it, I was going to string up some lights in some trees and do all the romantic stuff but we were in the country and we were under this beautiful night sky and had a log fire burning and red wine and I blew my load early. Sorry that's a really bad expression!"
Of course, he realized his mistake and laughed as he tried to clarify what he had meant to say.
"I was meant to do it the day after with the lights. What I meant to say was, I popped my question a bit early. Not blew my load."
Kit also talked about how he had to ring up George R.R. Martin to tell him that they are going to have to plan Game of Thrones around the wedding.
"I rang him up and I said, 'I'm getting married and it's your fault actually'… I think for the final season he is so stressed that he's reached that peaceful level. I was like, 'You need to factor in a Game of Thrones wedding by the way.' They (the cast) have all got to be there so the whole thing has got to shut down."
That is one Game of Thrones wedding that I'm sure we would all love to attend. The only thing that would make it better would be if it was a Game of Thrones themed wedding.
"No. There is absolutely no chance of me convincing her of that," he said.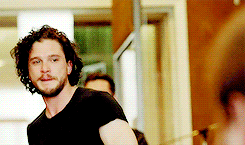 Having studied Media & Writing at James Madison University, I always knew that I wanted to do some type of creative writing, but being able to write about zombies, Starks, and superheroes on a daily basis for Fan Fest is my actual dream. While I probably shouldn't be as proud as I am to be so similar to Nick Miller, I do hope to one day write my own "Pepperwood Chronicles'.