Kate Winslet and Stephen Colbert Fix the Ending to 'Titanic'
Published on December 1st, 2017 | Updated on December 1st, 2017 | By FanFest
The ending to Titanic has been a controversial topic for quite some time. Some people say that Jack could've fit on the door, other say he couldn't. James Cameron recently came forward to say that Jack had to die… where do you stand on this matter?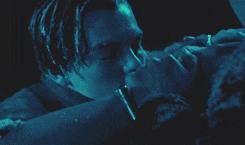 Thursday night, Kate Winslet, who played Rose DeWitt Bukater on Titanic was a guest on The Late Show. Winslet and Stephen Colbert discussed the film's re-release to theaters this month.
Colbert decided to ask a series of lightening-round questions about the film. One of the questions revolved around the ending of the film: Jack's death.
"In the famous line you say, 'I'll never let you go, Jack.' But you do!" said Colbert.
"I lie," was Winslet's response. "I fully lie. I hold my hand up, I let him go. Plus, he just should've tried harder to get on that door."
Immediately following her answer, they decide to recreate the ending of the film. Winslet plays Rose (obviously) and Colbert plays Jack.
"Come on darling, there's room for two!" exclaims Winslet as she helps Colbert onto his desk.
How would their ending effect the film? Take a look at the whole interview here.
Starting today, December 1st, showings of Titanic will be at more than 85 AMC locations equipped with Dolby Vision across the country, including 20 locations with 3D showings. Don't wait for too long though, the film is only back in theaters for a week.
source: Huffington Post
Related Articles:
James Cameron is Still Defending the 'Titanic' Ending 20 Years After the Film's Release
18 Moments That Sound Better With the 'Titanic' Music
James Cameron Shares Details on the Difficulty of Creating "Titanic"
James Cameron Stands By "Titanic" Ending
When Beth "grows up" she wants to see her creations appear on the screen and stage. In her free time, Beth blogs about her love of craft beer and writes screenplays. She received her bachelors in journalism from Youngstown State and received her masters in communication from The University of Akron. She is honored to be a part of the FanFest family.