Hey Academy, Please Give Justin Hartley an Emmy Nomination
Published on June 25th, 2018 | Updated on June 25th, 2018 | By FanFest
This Is Us received an outpouring of love at last year's Emmy Awards after it's critically praised debut season on NBC. The family drama received nominations for Best Drama Series, Best Actor for Milo Ventimiglia and Sterling K. Brown, and a Best Supporting Actress nomination for Chrissy Metz. It was the most nominations for a network television show in years. Mandy Moore, who plays Pearson Matriarch Rebecca, was one of the more shocking and talked about snubs of the nominations, but there was one Pearson who wasn't even part of the discussion – Justin Hartley.
His performance as Kevin Pearson was overlooked, and in a way, it was understandable. When compared to the likes of Randall and Kate, Kevin's story wasn't nearly really burrowed into as much. I saw him mainly as a character I desperately wanted to get to know. Hartley's performance throughout the season was nuanced, it had the heart, but he just didn't have the story to bring it to the forefront. Now, fast forward a year and the series is fresh off a fantastic sophomore season where Hartley's overall arc and performance was an utter standout, worthy of a Primetime Emmy nomination (he received a Daytime nomination in 2016 for Young and the Restless) and perhaps even a win.
Season 2 of This Is Us migrated away from Kevin's often cliched stories of romantic tribulations and trying to become a serious actor and instead focused more on his role in the family, the guilt he carries about his father, as well as his alcohol and drug addiction. Slowly, Kevin started to become one of the most intriguing characters on the show and eventually we hit the Big Three Trilogy episodes where Hartley's individual episode "Number 1" allowed him to deliver not one, but two, emotionally charged and game-changing monologues.
After suffering from an injury on the set of his latest film and becoming dependant on alcohol and painkillers, Kevin finds himself back in his hometown accepting an alumni award from his high school. The episode is also intercut with flashbacks to teenage Kevin who receives a very similar injury, which results in him having to say goodbye to football forever. Despite that, it's the relationship he had with Jack and the emotional pain and regrets he carries from his younger years that is weighing heavy on him in the present day. After the ceremony, he ends up drunk on the football field where he delivers the first of his two award-worthy speeches. Check it out below!
It was a powerhouse performance that allowed Hartley to not only show his incredible acting abilities but also just how many layers there were still to uncover with Kevin. Both Randall and Kate's main arcs have been very evident since the beginning, but Kevin's has been a slow burn. This monologue offered a glimpse into not only how he views himself but how others perceive him as well.
"And he tries so hard to be strong…and…he needs painkillers to get…through it. And then when he tries to tell people how pathetic he is, they just…they don't hear it.
They just cheer."
Shortly after the football field scene, Kevin ends up having a one-night stand with a woman who was also attending the alumni event. He's officially hit rock bottom as he rummages through her cabinets looking for pills before he ends up stealing her prescription pad and leaving without saying goodbye. While standing in line at the pharmacy we flashback to Jack talking to Kevin in the hospital after his football injury. Jack gives him a necklace he had from Vietnam and tells Kevin that the day he was born was the moment he knew what his purpose in life was and that one day Kevin will find his, even without football.
Kevin then realizes he doesn't have the necklace on and rushes back to the woman's house and helplessly begs her to give back the one piece of his father he still has. It was probably one of the most gut-wrenching moments from the season, which is saying a lot considering Jack died in season 2, and is absolutely Hartley's best performance from the series.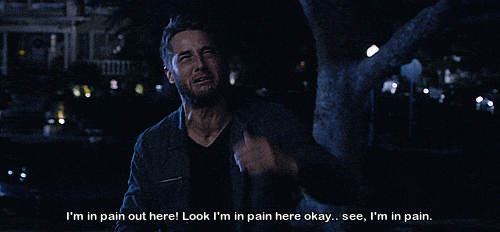 The moment is vulnerable and it's heartbreaking to watch. A can of emotional agony that Kevin had bottled up for so long was finally opening. It's almost as if you aren't even watching the same character we met in season 1 and that's why he deserves this recognition. Hartley elevated this brilliant material he was given to show that Kevin wasn't anything like we expected and that he has so much story to tell. These speeches were just the two standouts of the season for me, but Kevin's arc and Hartley's performance was consistently strong throughout the entire season.
The entire cast on This Is Us is amazing and they all obviously deserve nominations, but its Hartley's turn and his performance deserve to be included in the Supporting category. With Westworld's Ed Harris and Jeffrey Wright both vying for Lead Actor nominations and last year's winner The Crown's John Lithgow not being eligible, it really is the perfect time for Hartley. At this point, if he gets the nomination, the only people standing in his way from the win would be returning winner Peter Dinklage for this past season of Game of Thrones and Stranger Things' David Harbour who both had solid performances, but even then I truly believe that Hartley raised the bar even higher.
Did you enjoy Hartley's performance as Kevin Pearson this past season? Do you think he deserves an Emmy nomination? Let us know!
Having studied Media & Writing at James Madison University, I always knew that I wanted to do some type of creative writing, but being able to write about zombies, Starks, and superheroes on a daily basis for Fan Fest is my actual dream. While I probably shouldn't be as proud as I am to be so similar to Nick Miller, I do hope to one day write my own "Pepperwood Chronicles'.