'Jumanji' Just Passed 'Justice League' at the Global Box Office
Published on January 15th, 2018 | Updated on January 15th, 2018 | By FanFest
Welcome to the top of the box office, Jumanji! It was avatars vs. superheroes and the Rock's Jumanji: Welcome to the Jungle just surpassed DC's Justice League at the global box office. It turns out that moviegoers were just a little more into a group of misfits teaming up to battle it out in the jungle than some of DC's most popular superheroes.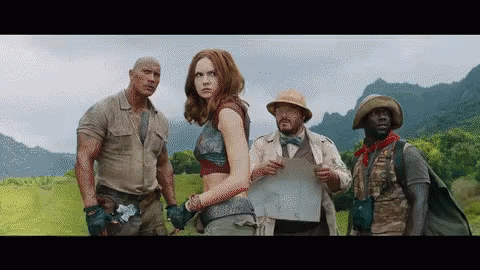 While Justice League has had a decent performance since its November 17 release, sitting with $654.4 million, Jumanji managed to finish out the weekend with $666.17 million after a little more than 3 weeks. The sequel to the 1995 Robin Williams film has continued to overperform every weekend since its initial release where it lost out to Star Wars: The Last Jedi. However, while The Last Jedi began to drop significantly after its opening weekend, Jumanji only continued to grow. This past weekend the film stayed at No. 1, earning around $27 million domestically.
Even though we are almost three weeks into the new year, Jumanji is easily the highest grossing film of 2018 and with 12 Strong and Den of Thieves opening this weekend, it looks like it will most likely remain on top for the third week in a row.
Fans and critics had a lot of optimism when it came to Justice League, but with a director shake-up and some pretty subpar reviews, the film really struggled to bring in the audiences and dollars that it had hoped for. However, there is still a lot of interest in the DC solo films, and with a pipeline full of new heroes, as well as the upcoming Aquaman installment, and the Wonder Woman sequel in the works, DC will likely find more success with a Justice League sequel as well.
Have you seen Jumanji yet? What did you think and what are your thoughts on comparing it to Justice League performance wise? Sound off!
Related:
It Looks Like the Box Office Was Ready for 2017 to End Too
Whedon, Snyder's Styles Clash In Fun But Flawed 'Justice League'
'Wonder Woman' Sequel Sets a Release Date in 2019
Having studied Media & Writing at James Madison University, I always knew that I wanted to do some type of creative writing, but being able to write about zombies, Starks, and superheroes on a daily basis for Fan Fest is my actual dream. While I probably shouldn't be as proud as I am to be so similar to Nick Miller, I do hope to one day write my own "Pepperwood Chronicles'.