Joe Russo May Have Revealed Which 'Endgame' Trailer Scene is Not in the Final Film
Published on April 7th, 2019 | Updated on April 7th, 2019 | By FanFest
When it comes to Avengers trailers, it's hard to know what to trust. For example, in the trailer for Avengers: Infinity War, there was a scene of Hulk running alongside the heroes in Wakanda that ended up not being the actual movie.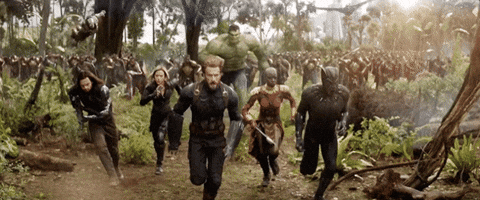 The film's directors, Joe and Anthony Russo, also recently confirmed that they do put scenes in the trailer that are not in the film so as to give fan's two different experiences.
[row]"We use all the material that we have at our disposal to create a trailer. We look at the trailer as a very different experience than the movie, and I think audiences are so predictive now that you have to be very smart about how you craft a trailer because an audience can watch a trailer and basically tell you what's gonna happen in the film…at our disposal are lots of different shots that we can manipulate through CG to tell a story that we want to tell specifically for the purpose of the trailer and not for the film," Joe Russo said in an interview with Empire Magazine. [/row]
Well now, we may have confirmation from the duo that one of the more buzzworthy moments from the most recent Avengers: Endgame trailer is actually not in the film. The moment in question? The scene between Steve Rogers and Tony Stark.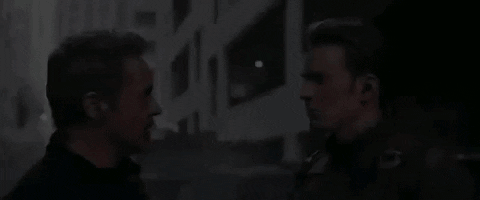 In a recent interview with Fox's Kevin McCarthy, the directors were asked what it was like being behind the camera for such a meaningful moment between Steve and Tony after everything they've been through together over the years…and Joe Russo just went for it.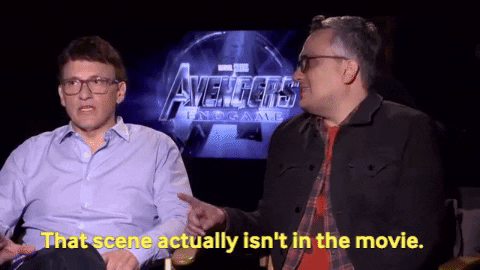 The face your brother gives you when you just messed up big time:
[row]"You know that we tell people that we manipulate the trailers in order to obfuscate what happens in these films…that actually is not in the movie," he continued. [/row]
McCarthy asked if Russo was joking to which he coyly replied: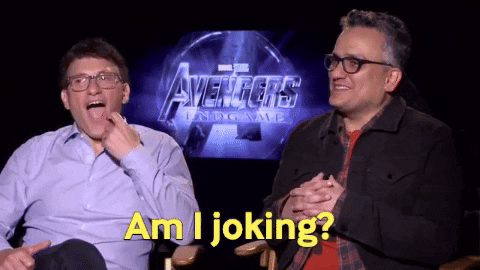 [row]"The relationship between Tony Stark and Steve Rogers, that is a relationship we have been following very closely for a long time…that is a very special story arc," Anthony interjected, bringing the conversation back on track. [/row]
You can watch the full interview below!
Avengers: Endgame hits theaters on Friday, April 26th! You can watch the trailer featuring the scene in question below.
Having studied Media & Writing at James Madison University, I always knew that I wanted to do some type of creative writing, but being able to write about zombies, Starks, and superheroes on a daily basis for Fan Fest is my actual dream. While I probably shouldn't be as proud as I am to be so similar to Nick Miller, I do hope to one day write my own "Pepperwood Chronicles'.