Jeremy Renner Gives Update On Recovery, Strengthens Muscles After Being Crushed in Snowplow Accident
Published on February 19th, 2023 | Updated on February 19th, 2023 | By FanFest
Jeremy Renner is keeping his fans in the loop as he progresses on the road to recovery following a harrowing snowplow ordeal.
On Saturday, the Marvel actor shared a video of his leg in treatment after it was crushed by a massive 14,000-pound vehicle. The clip showed him using an electric stimulation device to aid with muscle strength and pain relief. Inscribed over the video were words that read: "Electric, stimulation, workout out and muscle strength."
After a traumatic snowplow accident, Jeremy Renner reveals what brings him 'hope' and strength +19/02. The actor provides an enlivening update on his current recovery process by strengthening the muscles that were crushed in the incident.
"Lady Madonna" by The Beatles was playing in the background of Renner's video with the lyrics — "Lady Madonna, children at your feet. Wonder how you manage to make ends meet. Who finds the money when you pay the rent? Did you think that money was heaven-sent?"
For the past year, the fifty-two-year old celebrity has kept his fans and followers up to date on his recovery progress after a near fatal accident occurred on New Year's Day.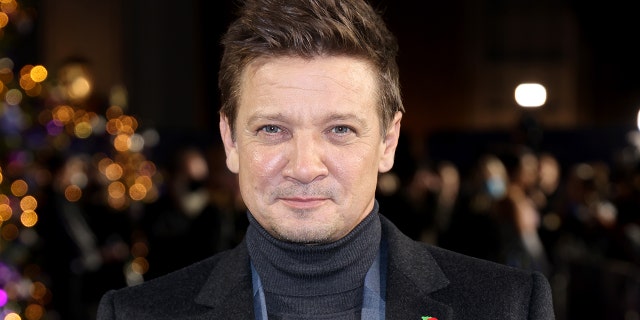 This Valentine's Day, the "Hawkeye" actor chose to spread a little love.JEREMY RENNER WAS Desperate Attempt to Rescue Nephew from Imminent Snowplow Crash: Sheriff's Account
"Cherish the healing power of love," he captioned a cozy snapshot with his pup. "Wishing everyone a beautiful Valentine's Day!"
Even while Renner updates his supporters on his health status, he also revealed a few projects that had been in progress prior to the unfortunate snowplow crash — including Disney Plus' "Rennervations" and Paramount Plus' "Mayor of Kingstown."
After his snowplow accident, Jeremy Renner shared an "ICU Spa Moment" on social media as he thanked his mother for her love and support.
On January 1st, after a snowstorm had left approximately three feet of powder in the Reno area near Lake Tahoe, where Renner has his residence; authorities reported that he was attempting to help out one of his family members whose car got stuck and caused an accident.
Renner employed his massive, 14,000-pound snowcat PistenBully to clear away the vehicle blocking his driveway. Conversing with a family member afterwards, he was shocked when the snowplow started rolling unexpectedly!
Covering superheroes, anything dark, horror, and more! Lead writer for Fan Fest