James Roday Gives an Update on 'Psych: The Movie' Sequel
Published on August 7th, 2018 | Updated on August 7th, 2018 | By FanFest
Due to scheduling conflicts with both James Roday, who is currently working on ABC's new dramedy A Million Little Things, and Dule Hill, who recently joined Suits, USA chose to put Psych: The Movie's sequel on hold, but James Roday has given Psychos an update that is certainly worth a pineapple cheers!
[row]"We'll figure out a way to do it. All the pieces are still there, and everyone wants to do it. We've got to get [co-star] Tim Omundson back to his Psychos," Roday told reporters at the TCA summer press conference where he was promoting A Million Little Things. [/row]
Fans will recall that Tim Omundson, who played Detective Lassiter on the show's eight-season run, suffered a stroke during the production of 2017's Psych: The Movie, which allowed him to still make a cameo but not the starring role fans would have liked. The film premiered on USA last December to some fun and well-received reviews and brought the whole gang back together during the holidays after a mystery killer targeted one of their own.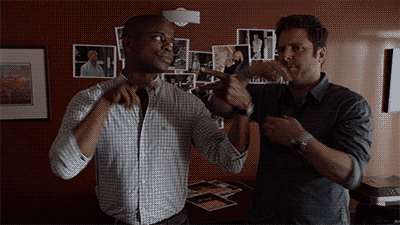 Last year at San Diego Comic-Con, both Roday and Hill spoke fondly of their desire to keep Psych alive for many many years.
[row]Roday: "If [series creator] Steve Franks has his druthers it will be an annual thing until we're all living in assisted living."[/row]
[row]Hill: "As long as the Psychos have a yearning for it and a desire for it, we'd be down to keep delivering them."[/row]
Psych ran on USA for eight seasons from 2006-2014 and followed a super-observant Shawn Spencer (Roday) and his best friend Gus (Hill) as they used Shawn's sleuthy abilities to convince the Santa Barbara police department that he was a psychic and aided them in solving many murders and crimes. The series also starred Maggie Lawson, Timothy Omundson, Corbin Bensen, and Kirsten Nelson. It's currently streaming on Amazon for Prime members.
Psychos can find Roday starring in A Million Little Things on ABC later this fall, Dule Hill on season 8 of Suits on USA, and Maggie Lawson on the upcoming season of Leathal Weapon. You can watch the latest trailer for A Million Little Things below!
Do you still want a Psych sequel? What was your favorite nickname Shawn ever gave Gus? Let us know!
Having studied Media & Writing at James Madison University, I always knew that I wanted to do some type of creative writing, but being able to write about zombies, Starks, and superheroes on a daily basis for Fan Fest is my actual dream. While I probably shouldn't be as proud as I am to be so similar to Nick Miller, I do hope to one day write my own "Pepperwood Chronicles'.