James Lafferty & Stephen Colletti on Their New Show and The Power of 'One Tree Hill' Fans (Interview)
Published on June 29th, 2018 | Updated on June 28th, 2018 | By FanFest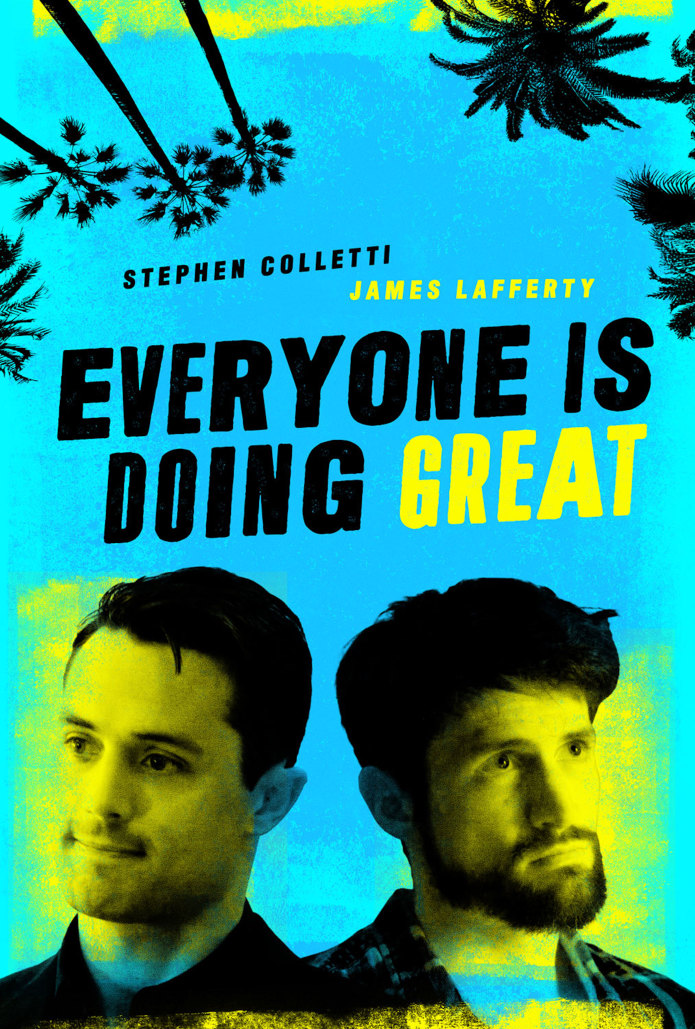 It turns out that friendships you make in Tree Hill, NC can truly last a lifetime. James Lafferty and Stephen Colletti first met on The CW's One Tree Hill, which ran for an impressive 9 seasons, and have remained close friends long after the series wrapped in 2012. In fact, they've recently paired back up both in front of and behind the camera to develop a new original series called Everyone Is Doing Great – a project that has taken them to festivals around the world to screen the pilot and introduced them to the captivating world of crowd-funding.
Everyone is Doing Great follows Seth (Colletti) and Jeremy (Lafferty), two actors who found early success on a television vampire drama called Eternal, five years after the show has ended, struggling to reclaim that level of success and relevance while awkwardly navigating their everyday lives amongst a comedically tragic backdrop.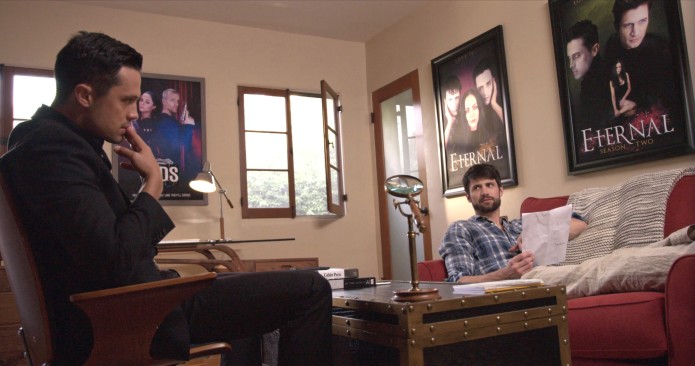 With their completed pilot episode in hand, the guys have been traveling the world to screen it for audiences at festivals such as ATX festival in Austin and the FTV festival in Monte Carlo. It's been on the receiving end of some extremely positive reviews and they recently took home the award for Best Comedy Writers at Series Fest! Each festival provides the opportunity for more fans and more audiences to discover Everyone is Doing Great and hopefully become a backer on their Indiegogo campaign so that they can expand the series to a six-episode season.
https://www.instagram.com/p/Bki9QTrgmsL/?taken-by=jameslafferty
Having had the opportunity to view the pilot, it's safe to say that Everyone is Doing Great is unlike anything fans have ever seen the Lafferty and Colletti in before, so we were really excited to get the chance to talk to them about stepping out of their comfort zones, the incredible journey they've been on to get to the show to this stage, and just how monumental the One Tree Hill fanbase has been. Check out the interview below!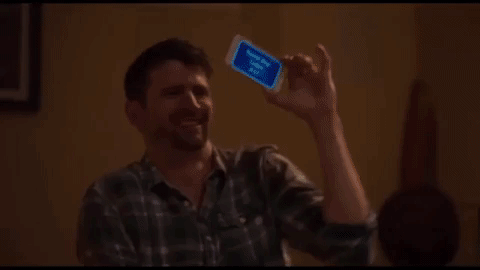 So, you guys just were at ATX and in Monte Carlo and now you've got Series Fest and the New York festival coming up. What's been your favorite part about being so involved in the festival scene?
Stephen: It's been unexpected. James and I think that it's almost like the dream didn't go this far ahead. We just wanted to make this show and have it come out the way we envisioned it. I never even thought about going out to festivals, and then all of the sudden here we are walking up to a screening in this beautiful theater in Monte Carlo. We are just like 'wait how did we get here all of the sudden?', and it's all over the course of 16 months. I guess those are the kind of results that can happen when you put your head down and grind for a while. It's definitely pretty cool to get out there and get feedback from people other than mom and dad.
James: When we set out on this journey, we were just taking it step by step. We had a really clear vision of what we wanted to do creatively, but in terms of what we were going to do on the business side of things to get this project out there and to get a season going, it was really an open-ended question. We never considered the power of the festival circuit, and we really weren't that educated about TV festivals in general. It's been incredible to be accepted into them in the first place, but then to actually go and screen it for audiences has just been the most rewarding part of this. There's always a sort of fear right when you're putting it up on the screen in front of an audience, but every single audience has responded really positively.
Yes, I'd say the fans are clearly enjoying what you're showing them because your Indiegogo campaign started off with a real bang. Were you surprised with how quickly it took off?
Stephen: The fans, especially from One Tree Hill, that have backed James and me for so long are a force to be reckoned with. They always come out and they're a huge part of getting the word out about the show. The one thing we feared was that we were not trying to do an Indiegogo campaign for a One Tree Hill Movie or remake. It's a project that nobody knows about, so we needed the people that are showing up to the screenings to then go out and share what they feel about it or just help create some buzz and we are so grateful that they've been doing that.
James: I have to say we've been pleasantly surprised, but I almost think that surprised isn't the right word. We really felt empowered to do this and to take the crowdfunding route because of how generous the One Tree Hill fan base has been to us with their encouragement and their time. They have always been supportive of the projects we've done outside of the show. That's one of the things that really made us say 'if we can offer this to that core fan base at these festivals and we get them talking to each other, we can get a conversation started' and if they like it then hopefully they will come along on this ride with us. We really enjoy feeling like we are part of a community with the One Tree Hill fan base, so it's hard to say that we are surprised by the success of it this far, because like Stephen said, they are a force to be reckoned with and we're reminded of that every day and are so appreciative of it.
Absolutely, I was a fan of  One Tree Hill it was certainly one of the most passionate fan bases out there. I had the opportunity to watch the pilot episode for Everyone's Doing Great and you guys are playing characters unlike anything One Tree Hill fans will have seen you play before. How far out of your comfort zones did you guys have to go when creating and shooting the pilot?
James: If our comfort zones were a basketball court we would be outside the stadium.
Stephen: We were mid-flight making decisions down the cliff.
James: We came up with this idea because we really loved comedies that walked the line between tragedy and comedy. Those are the projects that we were really influenced by and so we knew that if we wanted to achieve that, if we wanted to go out and make something together,  we were going to have to take risks and we were going to have to show people going through human experiences. We were going to have to be bold.
There were a lot of times when we thought  'is this going to be too much for an audience that is used to something completely different in One Tree Hill?' but at the end of the day, we figured our audience has grown up with us. We weren't really watching the shows that we love now when we were in our early twenties, and so we figured that as the fans who watched One Tree Hill have grown up, they are probably ready for more honest and raw adult storylines, and it turns out that we were right. They are ready for these more adult themes and storylines, and they love the fact that it's done from a place of humor and comedy.
The comedy in the pilot was really sharp and subtle. It was effective because of the way you guys acted off of each other and peppered throughout it were heavier themes and stories that could carry on throughout an entire season. What was your process for trying to find a good balance between that tragic and comedy?
James: Thanks for saying all of that because that's exactly what we were going for. Starting out, we knew what kind of show we wanted to make. We knew we wanted to make a show like Doll & Em on HBO or Catastrophe on Amazon, but we aren't trained comedians, so we wanted a show that was about finding the humor in the real-life struggles you're going through. We were going to have the humor come out of these awkward little moments of people just trying to figure each other out, so we figured the only way to get that was to totally strip down the process that we were used to and go more towards the spontaneous and almost unscripted. We did have a script, we had an outline and dialogue, but we left a lot of those little moments to be created by the actors that were in the scenes.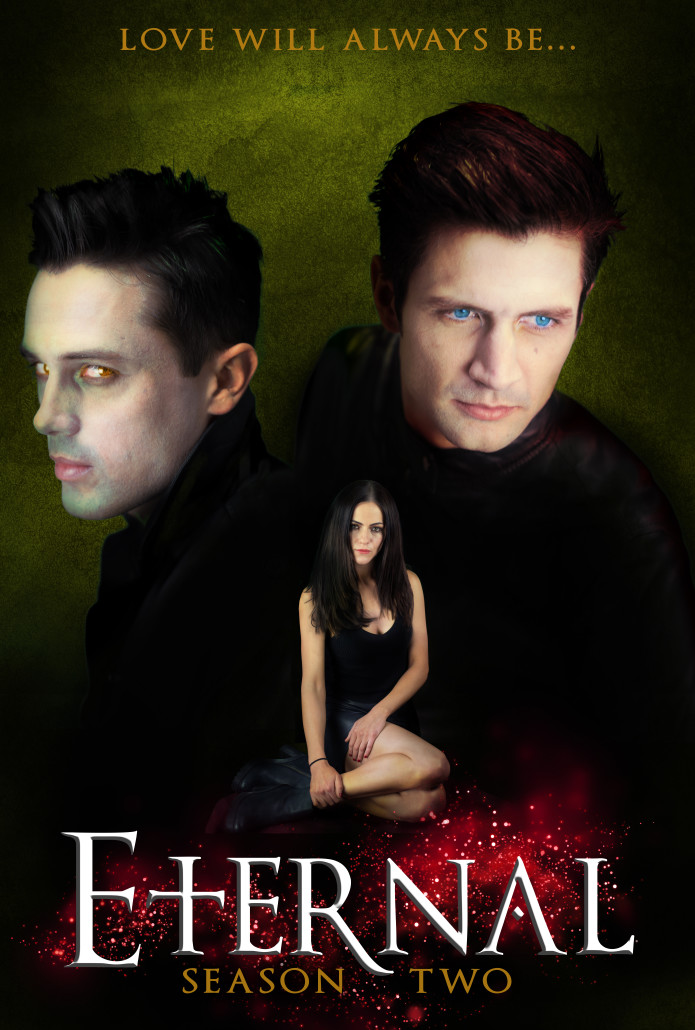 The show also has a really strong supporting cast including Alexander Park from The Royals. Was she someone that you knew you wanted to be a part of the show?
James: Oh Absolutely, she's been a friend of mine and Stephens for a really long time and she's so incredibly talented. She is one of those actors who is always bringing something new and spontaneous to whatever she's doing. I think a big part of the reason her character on The Royals is so beloved is because she brings a level of authenticity to each and every moment. She's doing things that are unexpected all the time. She's constantly surprising us and whenever you're surprised the first reaction is a laugh. Her comedy muscle is so strong and we knew when we were looking for somebody to play Andrea, the character that was on the show Eternal with Seth and Jeremy, that we would be lucky to have her. Thank goodness we got her to help us out for a couple of scenes.
Her part is really intriguing so I'm hoping that we get to see the rest of the season to see how it plays out. The pilot definitely takes audiences into a more real and darker side of Hollywood than what is typically shown in a comedy. How much of that is based on real-life moments you guys have encountered?
Stephen: We've been in the business for a little while so there is just a treasure trove of inspiration to go off of. It's inspired by experiences that we've endured or our friends have endured. You kind of begin there, but then you want to see how far you can take it, and that's what we've done in the pilot. If we didn't have the time that we spent in the industry in the last decade then we wouldn't have this show, so we are thankful for that.
James: While this is a world we are really intimately familiar with it and are drawing experiences from, we wanted to make sure that we were far away from this story enough to actually tell it. We didn't want this to be about ourselves.  We really wanted to create characters from scratch that we could map on to this world and circumstances that we knew about, but would also have these really interesting conflicts and funny, absurd ways of bouncing off of each other. That's where we started with Seth and Jeremy.
Stephen: We really feel that we have a unique perspective to tell this story. You're going to see people that maybe have had success at one point and then what they're doing now. We constantly joke about what if our time on One Tree Hill was it, and that's all that we did. What would it be like at 30 years old? That's where we decided to run with these characters.
The parallels are definitely there when you just read the synopsis of the show, but that's why I hope that everyone gets a chance to see the pilot because once you get to watch it you see how unique it is and how very different it is. 
James: We know that if you just read the synopsis you're going to kind of wonder how much of this is a pseudo-reality show, but we've embraced that conversation. We have the confidence of knowing that what we set out to do is a total work of fiction. We want people to be drawn to this and would like for them to be surprised when they click play thinking they are going to see one thing and they see another. It has been interesting to see how that conversation has served us.
So you guys have worked together on One Tree Hill and you guys had that mini-YouTube series Wildlife, which I had to mention, and now Everyone's Doing Great. What's been your favorite memory from working together, do you guys have a moment that stands out?
Stephen: I'm laughing right now because we had a moment in Monte Carlo where we were supposed to go to this cocktail reception. We thought we had to wear tuxedos and James and I don't run around in tuxedos all the time, so we spent about a week before we went out to this festival making sure that we had all the pieces of a tuxedo together. Then we find out when we got there that you actually don't need to wear a tuxedo. So what are we going to do? We are going to wear our tuxedos for the screening. We found ourselves, in our screening in Monte Carlo, wearing our tuxes together cracking each other up, and taking photos with fans afterward. It's not some sort of fancy event, so they were all there in normal clothes and there we were are in our tuxedos. It was straight comedy.
James: We knew we were swinging big with that moment, but we were, fortunately, going for the comedy so the fact that it ended up being hilarious was good.
https://www.instagram.com/p/BkJUKVcAupD/?taken-by=everyoneisdoinggreat
Casey: That is amazing! Okay, so my signature sign off question – if snow could fall in any flavor what would you guys choose?
James: Chocolate.
Stephen: Man, dark chocolate or grape.
James: You had to one-up me there with dark chocolate didn't you.
Stephen: You stole chocolate from me first, so yes, and I got to throw in grape.
James: Then I am going to say 72% cocoa dark chocolate from Trader Joe's.
Stephen: I'm gonna say 85% cocoa.
To know more about the project or help Everyone Is Doing Great get that full season made, head to their official Indiegogo page for more information!  You can check out their Indiegogo pitch video and an exclusive look at the pilot episode below!
Having studied Media & Writing at James Madison University, I always knew that I wanted to do some type of creative writing, but being able to write about zombies, Starks, and superheroes on a daily basis for Fan Fest is my actual dream. While I probably shouldn't be as proud as I am to be so similar to Nick Miller, I do hope to one day write my own "Pepperwood Chronicles'.