Jackson Rathbone Reflects on a Decade of 'Twilight', New Music, and 'Heart,Baby!' (Exclusive)
Published on October 23rd, 2018 | Updated on October 23rd, 2018 | By FanFest
It's been ten years since Twilight hit theaters and the ripples of its unprecedented success are still being felt today. The movie created a perfect storm, completely changing the lives of everyone involved and for the past decade, Jackson Rathbone – who played Jasper Hale  – has taken that change in stride. Now, Rathbone is on the brink of another powerhouse year. He's starring in a new movie called Heart, Baby!, releasing a new album called American Spirit Blues, and he's celebrating the 10th Anniversary re-release of Twilight, which is available on October 23rd.
While Rathbone's fans may be accustomed to seeing him donning those vampire contacts and pale complexion, his new role in Heart, Baby! is extremely different and one of his most challenging parts yet. Heart, Baby!, which hits select theaters in November and on VOD, tells the true story of George Lee Martin, an undefeated boxer in prison who shockingly turned down the chance to become a free man in exchange for fighting in the 1984 Olympics. Rathbone is stepping into the role of an inmate named Doc, who is Martin's best friend and corner man in the ring.  The role of Doc not only gave Rathbone his first opportunity to tell the story of a real person but it also connected him back to his roots in music as well as he prepares to release American Spirit Blues in the coming year.
We had the pleasure of speaking with Rathbone about all things Twilight, music, and Heart, Baby!, including the jaw-dropping twist that even Rathbone didn't see coming. Check it out below!
Casey Perriccio: I wanted to start by talking about the new movie you have coming out called Heart, Baby! which follows the tale of George Lee Martin. How familiar were you with his story before joining the project?
Jackson Rathbone: I had actually never heard of George Martin before I jumped onboard this project. When I read the script, I was blown away. I can't really reveal the big plot twist in the movie, but once I got to it in the script and found out what the heart of the movie is, I was astounded. This is a story from 1984 and even though we're really only hearing about it in 2018, it's a story that resonates with the times now. Honestly, the reason why George turned down the Olympics…it will f–king blow your mind!
CP: It does seem like such a captivating story, yet it was hard to found almost any information about him. So, I'm sure that a lot of audiences will be wanting to learn more about Martin well after the movie comes out.
JR: That's what we hope. It's an incredible story. It was somewhat buried for a long time because of the prison system and the powers that be, but our fearless writer and director Angela Sheldon uncovered this tale and went back to verify it all. This entire project is something I'm really passionate about.
CP: You're playing a character named Doc. What can you tell us about him?
JR: They call him Doc because he can get you any prescription you need within the prison system. I actually had the real Doc there on set to rely and lean on for advice or recommendations. Sometimes I would say 'I don't feel like this line is sounding great. Let me hear you say it.' So he would say and I would go 'Okay, let me try it like that.'
It's the first time I've ever played a real person. Previously I've challenged myself to create my own biography and my own backstory to draw from, but this time I'm playing an actual living man and I wanted to make sure I did him justice and I did him correctly. When I first met him we both vibed. We both like a lot of the same music. He's a singer/songwriter and I'm a singer/songwriter. Plus, I actually got to sing and play his songs in the movie, so, that was such a pleasure.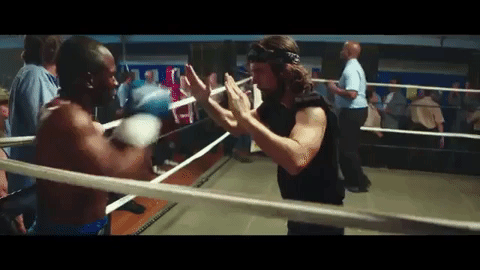 CP: Did he give you any tips or did you do any other research on being a corner man for a boxer? Was there anything you were surprised to learn about taking on that role in the sport?
JR: I made sure I practiced with Gbenga [Akinnagbe, who plays George Martin]. We would actually practice on camera sometimes and then Angela would go 'Wait, why isn't this in the movie? We should put this in the movie.' One of those times you can see in the trailer – it's where he's warming up and he's slapping my hands. As for being a corner man, when I asked Doc 'What's a corner man do?' He said 'hype 'em up. Keep 'em happy, and warm 'em up before the fights.'
CP: What was the most challenging part of your role in the movie? The most rewarding?
JR: This is a true story, so, the most challenging part was that some of the language was very explicit. It was definitely hard to say and do certain things with the level of violence. I remember one time I was doing a scene, which is based on true events, where a guy was coming to kill Doc and he had to defend himself. I don't want to give anything away, but after we were done with the scene Doc came up to me and said "Hey man. Are you okay?" I thought he was asking how I was feeling physically, so I said "Yeah man, I'm fine. You know it went great. The stunt went great." Then he said "No, how are you emotionally? Did that take a toll on you?" That's when I saw the emotion in his eyes and noticed that he seemed more concerned with having to face his own demons. He told me that the worse things he ever did in life were in prison.
CP: I'm sure that must have been a very surreal moment for him to watch being filmed. 
JR: He said he absolutely deserved to be in prison. He had to do things in there just to stay alive. It was such a moment for me where I was like 'Holy, Damn. This guy is so brave that he is coming forward and telling us this story – even showing us the raw parts and things he's not proud of from his history.' Often while filming the movie and working with him, I would take a step back and admire the fact that he was brave enough to open up his soul and let us dive into his past and hopefully tell a story that will start a conversation.
CP: So, you said that you were able to perform some songs in the movie, which seems like perfect timing as you have a new album coming out called American Spirit Blues. What was it like getting back into the studio to record?
JR: This record I went back to Austin to record at Cedar Creek Recording Studios. I wanted to do something where I had to go back to Texas and give it a Midland influence. It's an Americana style record, so I'm playing guitar, banjo, mandolin, harmonica and really telling stories through songs. I hired some local Austin musicians and I had my wife singing backup to make it a family affair.
CP: What was it like having her with you throughout the experience and being so involved in the project?
JR: It's amazing. I'm blessed to have such a loving family. To have her come in and sing with me, it was just so much fun.

CP: Your new single "Young and Tragic" seems to be more personal than some of your previous music. What was your inspiration behind the song and the album in general? 
JR: This is the most 'me' that I've ever been able to put into my music. It was something that I really worked with my producer, James Jones, on – being a bit more vulnerable. Sometimes in previous albums, I felt as though I was hidden behind a silly voice, being wackier. In this one, I wanted to open myself up a little bit. I took a cue from Doc's page – be vulnerable. That's what "Young and Tragic" is all about. It's about a time in my life where I was partying too hard and then I took a minute and re-examined the path I was on. I wrote this as a note to myself to say "Hey, this is a dangerous path there. There is a litany of things you just don't want to do.
CP: You were just at New York Comic Con commemorating the 10th Anniversary of Twilight. What's it like being a part of something that is still so beloved nearly a decade later?
JR: It's kinda of a trip! I've often said it, it but these aren't just my fans, they are my employers. These are the people who have really helped me make my career. They've been so supportive of my many different endeavors from TV, independent films, and the music I've put out over the years. We've had such an incredible fan base. It's like Paul Simon says "Go crazy after all these years, man." It's like crazy in love. I'm in love with our fan base. They're the sweetest people on earth.
Comic-Con was a really fun time and for the re-release of the 10th Anniversary box set, Catherine Hardwicke [Twilight director] and I went back down to Portland, Oregon to retrace our steps and talk about the film. It was such a crazy walk down memory lane.
CP: It must feel like so long ago but at the same time as though it was yesterday.
JR: Yes, but you know how when something happened a long time ago and you start talking about it with someone else who was there and all these memories start flooding back? That's exactly what happened. It's been intense but in a good way. It's good nostalgia.
CP: Are there any memories from that first movie that stick out to you? 
JR: Really just all of us being so young and hanging out in hotel rooms together, playing music and partying it up a little bit. We were unknowns back then and were able to be anonymous, wandering around the city of Portland. We definitely got into a little bit of mischief, but it was a really fun and innocent time where we didn't know the juggernaut that Twilight was going to become. Looking back to those days, I always have a fondness in my heart.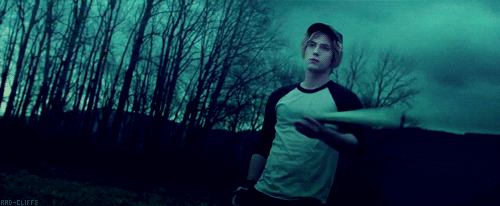 CP: Looking back at your experience with the Twilight films would you ever want to do another movie franchise?
JR: Yes, I think I could do another franchise. I like to choose my work and can be fairly picky about the jobs I take on. There are a few nutty gigs, but then there are jobs I'm really passionate about like Heart, Baby! But I'm a comic book geek myself. I grew up on X-Men, Superman, Batman, Deadpool and seeing all of this stuff that's coming out now is so exciting. So, I would definitely be into joining a franchise or starting a new one!
Be sure to catch Rathbone in Heart, Baby! which hits VOD and select theaters this November and check out his new single "Young and Tragic" on Spotify! You can also purchase the 10th Anniversary Edition of Twilight on DVD on October 23rd!
Having studied Media & Writing at James Madison University, I always knew that I wanted to do some type of creative writing, but being able to write about zombies, Starks, and superheroes on a daily basis for Fan Fest is my actual dream. While I probably shouldn't be as proud as I am to be so similar to Nick Miller, I do hope to one day write my own "Pepperwood Chronicles'.