It's Been a Wild Week for 'Walking Dead' Fans, Did You Survive?
Published on June 1st, 2018 | Updated on June 1st, 2018 | By FanFest
To say that it's been a rough week for fans of The Walking Dead would be a huge understatement. It seemed like everywhere you looked there was some sort of news breaking that simultaneously was breaking hearts of fans all around the world.
Walking Dead fans heading into Monday:
Walking Dead fans by Friday: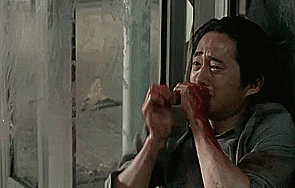 It all started with Lauren Cohan:
Lauren Cohan has been on quite a journey heading into season 9. In the midst of some lofty contract negotiations with AMC that even had her own co-stars speaking out, Cohan booked a new ABC pilot titled Whiskey Cavalier. That news alone sent fans into a tailspin, but many were still holding out hope that she would sign her new Walking Dead contract and all would be okay. Unfortunately, news soon broke that Whiskey Cavalier was picked up to series, making things much more difficult for Cohan and Co.
Amongst many rumors and reports, Cohan finally spoke out and confirmed her return saying that "There's a lot more Maggie story to tell" but it was confirmed this week that Cohan would only be appearing in 6 of the 8 episodes in the first half of season 9. That news wasn't as hard to swallow since there was still the back half of season 9 to consider, but it now looks like her deal with AMC fell through due to her shooting schedule for Whiskey Cavalier being too cumbersome, and she will officially be leaving the series after her six-episode arc.
Take a deep breath people, because we are just getting started:
Then tragedy struck – Andrew Lincoln is leaving the show:
So, while we were all mulling over the Lauren Cohan news an even bigger storm was brewing. Later that day it was announced that series star Andrew Lincoln would be leaving after season 9.
Emotions ranged from sadness:
To anger: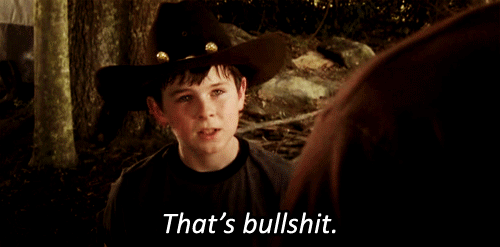 To disbelief: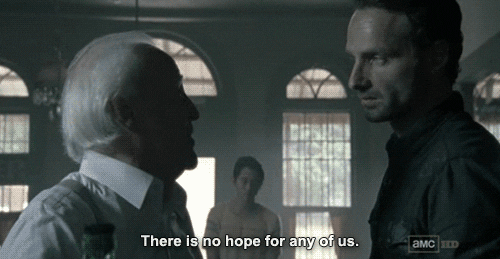 While there had been musings that Lincoln may be wanting to leave the show, we never thought that it would actually happen, but after nearly nine years of playing Rick Grimes, Lincoln is ready to hang up his sheriff's hat. There certainly seemed to be a shift in both the show and Lincoln after the decision to kill off Carl Grimes who is alive and a huge character in Kirkman's comic book series.  Showrunner Scott Gimple said multiple times that the decision to kill Carl was meant to reboot Rick and the show, but it appears fans won't be getting that opportunity afterall.
Lincoln has also been very vocal about wanting to spend more time with his family who live in the UK while he is filming in Atlanta, GA and when Fan Fest spoke with him about his future on the show last year he definitely led on to the fact that Rick may not be there at the end.
Out of respect to the fans and everybody myself, I want to have stock in this extraordinary story, but how do you do that in a comic book and a show that never ends? That's what's exciting and formidable about the show is that I would love to see Rick grow old and look like Mount Rushmore, but I have a feeling that's not gonna be the case. We've built such an extraordinary fan based on a story that is painful. Beautiful but painful-which is life. I like to think that we're going to continue to do that.

What that means is that at some point Rick's going to have to fall, probably. But the short answer is, I don't know
There aren't many details surrounding Lincoln's exit as AMC has not released an official statement, but he will most likely follow Cohan's suit and appear in a limited number of episodes in the front half of season 9. Norman Reedus confirmed the news on his Instagram recently with a sweet throwback photo of the two.
After Lincoln's News, Norman Reedus Says "Hold My Beer"
Shortly after Andrew Lincoln's departure was announced and confirmed, Norman Reedus came out with some news of his own. We like to think that he was trying to help take some of the heat off of Andy because they are bros and that's what bros do.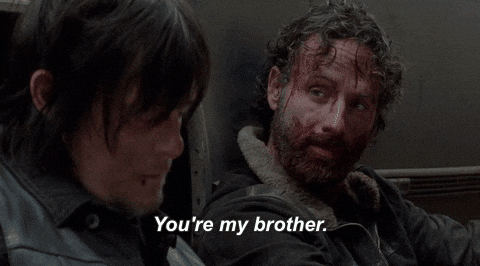 So, after Cohan and Lincoln it was definitely time for some happy news – Norman Reedus and his girlfriend Diane Krueger are expecting a baby!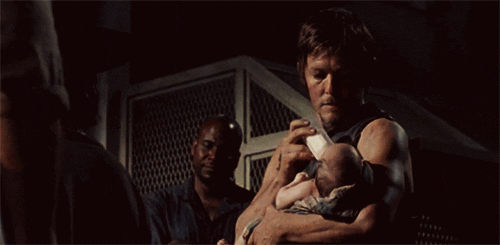 The pair met in 2015 while filming the movie Sky and while the rumor mill swirled about the two being romantically involved, we weren't officially introduced to them as a couple until the 2018 Golden Globes and Critics Choice Awards. To make things even cuter, fans were treated to an adorable photo of Reedus holding Walking Dead co-star Jeffrey Dean Morgan's new baby George earlier that day before the news broke.
Can't wait to meet the future Lil' Asskicker!
No rioting necessary! Norman Reedus to be the new Walking Dead lead
Despite no official announcement from AMC about Lincoln's departure and the future of the series, reports are already going around that Norman Reedus is in extensive talks to secure a $20 million deal that would keep him on board the series as the new lead. With new showrunner Angela Kang stepping in for season 9, it seems like the perfect time for the show to reinvent itself and start fresh with Reedus at the helm. While he may not be everyone's fan-favorite, Reedus has been an integral part of the show since season 1 and his character Daryl Dixon is long overdue for some meaty stories of his own.

Thankfully, no other earth-shattering news came out of The Walking Dead fandom this week because we don't think our apocalyptic loving souls could handle anything else. For now, we will leave you with this gif of the whole crew together, because no matter who stays and who goes, the Walking Dead is and always will be family.
Having studied Media & Writing at James Madison University, I always knew that I wanted to do some type of creative writing, but being able to write about zombies, Starks, and superheroes on a daily basis for Fan Fest is my actual dream. While I probably shouldn't be as proud as I am to be so similar to Nick Miller, I do hope to one day write my own "Pepperwood Chronicles'.