Is 'Dumbo' Standing on Captain America's Shield?
Published on June 14th, 2018 | Updated on June 14th, 2018 | By FanFest
Yesterday, Disney released the first trailer for the upcoming live-action Dumbo film and the stunning trailer became an instant hit with fans who can't wait to see the lil' guy come to life on screen and fly!
Of course, since Twitter exists it only took a few hours before the internet was flooded with the hilarious notion that the platform Dumbo is being raised up on looked very similar to one Marvel staple – Captain America's shield.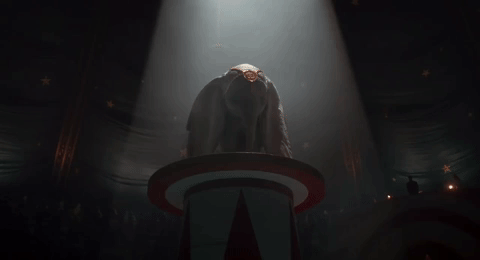 The red and white circles definitely look like Cap's shield, and while we know Dumbo isn't connected to the MCU, it's still a fun detail for all of us Marvel fans.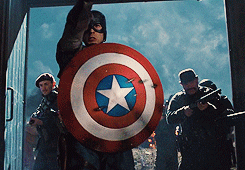 Here are some of our favorite tweets about the Dumbo/Captain America similarities!
#TJPhotTAKE Disney finally mashed up Marvel with classic Disney by having Dumbo stand on Captain America's shield pic.twitter.com/ZceGk7so7P

— Trailer Junkies Podcast (@TJunkiesPodcast) June 13, 2018
Cap's shield goes missing. Again. Turns up in some random show. Again. #policeyourgearcap #lostandfound #crossover #TimBurton #dumbo@Marvel @CaptainAmerica @JamesGunn @Disney @Dumbo pic.twitter.com/0z9kTGdTWD

— Robert W. Perkins (@RobertWPerkins) June 13, 2018
Is #Dumbo standing on #CaptainAmerica's shield?!? Is this the crossover event I've been waiting for?!?!?

— Josh Lasser (@tvandfilmguy) June 13, 2018
Seems that vibranium in Wakanda is like a cheeseburger at McDonald's. #Dumbo #Dumbo2019 #CaptainAmerica #AvengerInfinityWar #vibranium #adamantium #Wakanda #WakandaForever #McDonalds pic.twitter.com/QVhOpek2lI

— Kalecgos (@piousbrony) June 13, 2018
IS DUMBO STANDING ON CAPTAIN AMERICA'S SHIELD???? pic.twitter.com/AyRHv5zxeS

— Ben Behrens (@benb_21) June 14, 2018
Directed by Tim Burton, Dumbo follows "Circus owner Max Medici (Danny DeVito) who enlists former star Holt Farrier (Colin Farrell) and his children Milly (Nico Parker) and Joe (Finley Hobbins) to care for a newborn elephant whose oversized ears make him a laughingstock in an already struggling circus. But when they discover that Dumbo can fly, the circus makes an incredible comeback, attracting persuasive entrepreneur V.A. Vandevere (Michael Keaton), who recruits the peculiar pachyderm for his newest, larger-than-life entertainment venture, Dreamland. Dumbo soars to new heights alongside a charming and spectacular aerial artist, Colette Marchant (Eva Green), until Holt learns that beneath its shiny veneer, Dreamland is full of dark secrets." The movie is set to hit theaters next March!
So, what do you think? Is this a crossover in the making?
Having studied Media & Writing at James Madison University, I always knew that I wanted to do some type of creative writing, but being able to write about zombies, Starks, and superheroes on a daily basis for Fan Fest is my actual dream. While I probably shouldn't be as proud as I am to be so similar to Nick Miller, I do hope to one day write my own "Pepperwood Chronicles'.