Here's How Hulu Got 'Friends' on 'The Handmaid's Tale'
Published on May 9th, 2018 | Updated on May 9th, 2018 | By FanFest
The Handmaid's Tale is one of the darkest and most chilling shows on TV right now, and while it is technically set in the near-present day US, the look and premise of the show make that easy to forget. Oftentimes the show has used songs such as "Don't You Forget About Me" and "Feeling Good" to remind you that June/Offred's plight is happening right now, but most recently they used another technique.
In the episode "Unwomen" June found herself hiding out in the old office of the Boston Globe and as she is perusing the deserted desks of the journalists who once worked there she discovers a season 4 DVD box set of Friends. Later in the episode, she is seen watching that hilarious moment where Rachel and Monica are explaining the seven erogenous zones to Chandler. The specific episode was "The One With Phoebe's Uterus" (season 4, episode 11).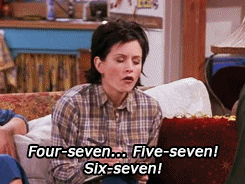 So, just how did one of the most popular sitcoms of all time end up in the dystopian world of Handmaids?
"We knew how dramatic and powerful and important that story was, to show how horribly the press could be treated in the fascist world of Gilead. But June's also going to be exploring people's desks and all that stuff, so we said, 'How do we lighten it up a little bit?' It may have been me, I think I said, 'I don't know, a DVD of Friends?'" said Executive Producer Warren Littlefield.
Showrunner Bruce Miller liked the idea, so the writer's room had to pick which scene out of the series 236 episode run would be the best fit, and if you're a fan of Friends, you know that is no easy task.
"I believe there was a rapid-fire bounding around the room of memorable [Friends] moments, and what was the perfect juxtaposition to being in the world of Gilead, And ['The One With Phoebe's Uterus'] is what stuck for Bruce, and that was in the script. Then we had to acquire it," Littlefield said.
However, what should have been a simple call to Warner Bros., the studio behind the sitcom, to acquire the rights turned into more of a challenge then what they had originally thought.
"Uniquely, the actors on Friends have control over every clip that's licensed on Friends. So Ashley [Kravitz, handles clearances for THT) went, 'Oh, well this is interesting. What should we do?'"
Thankfully for them Littlefield once served as president of NBC entertainment during the 90's so he left a pretty large footprint behind when it came to Friends.
"I said, 'I'll just call their reps,'" Littlefied recalled. "So I picked up the phone, and I called the reps for Jennifer [Aniston] and Courteney [Cox] and Matthew [Perry], and I said, 'Hey, I'd like to use this clip from Friends in The Handmaid's Tale.' And I said, 'Send my love.'"
Seeing that the show is one of the most popular and important series on television, the actors all gave the thumbs up and June was able to find a fleeting moment of distraction and happiness amidst her horrible situation.
"June is sitting with her back against the wall, and she's watching the episode, and there's a smile that comes to her face. I think we all get that feeling. It's Friends. Who doesn't love Friends?"
What were your thoughts when you saw June watching Friends? Do you ever forget that The Handmaid's Tale takes place during the present day?
Having studied Media & Writing at James Madison University, I always knew that I wanted to do some type of creative writing, but being able to write about zombies, Starks, and superheroes on a daily basis for Fan Fest is my actual dream. While I probably shouldn't be as proud as I am to be so similar to Nick Miller, I do hope to one day write my own "Pepperwood Chronicles'.