Happy Birthday Topher Grace! An Ode to His First Acting Role – Eric Forman
Published on July 12th, 2017 | Updated on July 12th, 2017 | By FanFest
I'm sure most of you are somewhat familiar with this handsome fella, Topher Grace.
He's an American actor who had roles in movies such as Win a Date With Tad Hamilton, In Good Company, Interstellar, Valentine's Day, and Spider-Man 3.
None of those ringing a bell? Then you probably know him from this:
Topher starred on FOX's hit sitcom That 70's Show for about 8 years, appearing in 179 episodes from 1998-2005. He left the show before its final season in 2006 but made a special appearance in the show's series finale.
In his first big acting role, Topher starred as Eric Forman, the witty ringleader of his group of friends with a deadpan sense of humor and a knack for always finding his way into trouble.
Well, today is Topher's 39th birthday so I thought that it would be fun to take a look back on the role he was born to play- Eric Forman.
1. First, we have Eric to thank for the show's most notorious set.
2. And for constantly being on the other end of this classic Red threat.
https://www.youtube.com/watch?v=pjhU-UWnxBM
3. He always had a good comeback, especially when it came to his family.
4. He always made you feel better about your addiction to sleeping as a teenager.
5. And then completely figured out adulthood.
6. Even though he constantly took a lot of shit from his family…
7. He always had Donna…
8. And his best buddies with him every step of the way.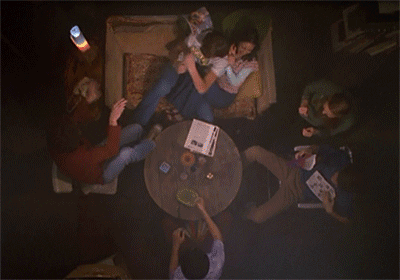 So, Happy Birthday Topher Grace! Thanks for being the perfect Eric Forman.
Having studied Media & Writing at James Madison University, I always knew that I wanted to do some type of creative writing, but being able to write about zombies, Starks, and superheroes on a daily basis for Fan Fest is my actual dream. While I probably shouldn't be as proud as I am to be so similar to Nick Miller, I do hope to one day write my own "Pepperwood Chronicles'.