Happy Birthday, Tim Burton! Here Are 5 of our Favorite Movies
Published on August 25th, 2018 | Updated on August 25th, 2019 | By FanFest
Today, we are celebrating the life of an extraordinary man. The man that for me changed the way I think or see the world. His movies inspired to be the best version of myself, and he keeps inspiring me every day. To this day I still believe he is the reason I love watching movies so much. Here are five movies that I grew up with, not necessarily ordered in what my favorite Burton film is. I could never decide which film is my favorite because I love each movie on its own.
5. Batman Returns (1992)
The Burton Batman films started in 1988, close after Michael Keaton starred in the Beetlejuice movie in 1987. Many people were surprised and didn't see Michael Keaton as a Batman. Even though that's the first Batman movie we got (except for Adam West's Batman movie from in 1966), I still think that Batman Returns shows more of the Burton style I love so much. We see everything that screams 'Burton-esque' or 'Carnivalesque' with the big scenes, and clowns. I also have a special love for the (in my opinion) best Catwoman there is. Our queen, Michelle Pfeiffer.
4. The Nightmare Before Christmas (1993)
This movie is the second movie I ever saw, and I know all the words by heart. Just by seeing this GIF you'd want to belt out 'What's This?' I remember watching this at Christmas on tv (as it was on tv every year around Christmas here in Belgium). I know this isn't a Burton-directed movie, but he did write the plot and drew all the characters out himself. It's the perfect mix for the people that love Halloween and Christmas equally. Of course, this is also seen as the classic love story of Jack and Sally.
3. Beetlejuice (1988)
The first movie I saw as a young child. Now, one must think my mother was insane to show me this movie when I was a kid. Weirdly enough, I wasn't freaked out about Beetlejuice; I was more intrigued. This movie holds a special place in my heart as this is where my love for film started. Yes, I do own a Handbook for the Recently Deceased where I can draw everything I want.
2. Sweeney Todd (2007)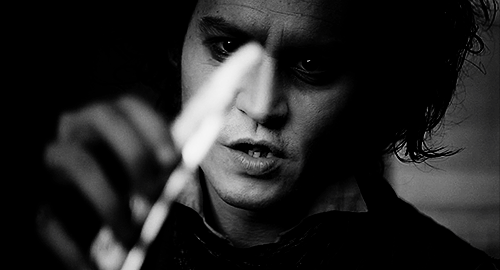 Another one of my favorites (I know, I have been saying this too much in this article). Who doesn't love a singing Johnny Depp AND Alan Rickman though? For someone that doesn't like musical movies, I've been proven wrong by this movie. The story is so dark and heartbreaking, and slightly disgusting at one point. Meat pies, am I right??
1. Edward Scissorhands (1990)

Even though I said I couldn't really pick a favorite, this movie is very high on the list and maybe even my 'general favorite' movie. Edward Scissorhands is a story I hold close to my heart; he is a misunderstood outcast, something which I could identify with in my teen years.
What is your favorite Tim Burton movie? Let us know in the comments below.
Happy birthday, Tim Burton! May we have many more of your movies!
Currently graduated with a B.A.
in music management. When she was a child you
would always see her with a piece of paper and a pencil,
drawing or writing the pages away. A daydreamer.