Happy Birthday, Karen Gillan!
Published on November 28th, 2017 | Updated on November 28th, 2017 | By FanFest
Who knows if they celebrate birthdays out in the galaxy, but we sure do down here and we want to wish Karen Gillan a happy birthday! The Scottish actress turns 30 today and certainly has so much to be proud of in her career thus far.
Gillan starred as Amy Pond, the first friend of the Doctor's eleventh incarnation (Matt Smith) from 2010-2013 on Doctor Who, collecting a huge following of fans as proven from her packed panels at Walker Stalker Conventions in the past.
"To be honest, I wasn't really a huge follower of Doctor Who before I got this part. I mean I knew it was huge, but … I was nothing like my mum, who's a proper diehard Whovian. She's got a Tardis money-bag, and Dalek bubble-bath. But having read the first episode I was utterly smitten, and with the character. Amy's a sassy lady, funny and passionate, and her relationship with the doctor has a really interesting dynamic."
She then went on to star as Nebula, the intergalactic assassin, and often a pain in the ass sister of Gamora, in the Guardians of the Galaxy franchise. Gillan was able to take on the role of Nebula flawlessly, making it so easy for you to despise her in the first film, but was easily able to redeem the character and show much more depth and humor than we ever realized in the film's sequel.
She may have taken off at the end of Guardians 2 to go track down Thanos but we certainly haven't seen the last of Nebula. Gillan will be suiting up again for Avengers: Infinity War and an untitled 2019 Avengers film.
"She's on a clear mission, as everybody is, to deal with someone with a glove, and I think that's the most important issue," said Gillan to Fandango. "I think people are grouping together to take care of this task."
You can catch Gillan on the big screen soon though as she's starring in the upcoming Jumanji reboot as Ruby Roundhouse, an adult avatar in the Jumanji game that a group of high school kids get literally sucked into. Jumanji: Welcome to the Jungle is giving you an early Christmas present and hitting theaters on December 20th!
Gillan is clearly extremely talented and totally versatile when it comes to the roles she plays so it's safe to say that she has a long career ahead of her. Happy 30th Karen, we are so happy to have you as part of the Fan Fest Family!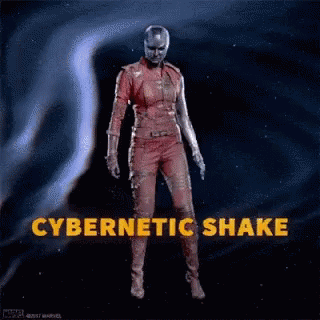 Having studied Media & Writing at James Madison University, I always knew that I wanted to do some type of creative writing, but being able to write about zombies, Starks, and superheroes on a daily basis for Fan Fest is my actual dream. While I probably shouldn't be as proud as I am to be so similar to Nick Miller, I do hope to one day write my own "Pepperwood Chronicles'.