Grant Gustin Wrote a Heartfelt Post About 'Arrow' Ending And We are Not Okay
Published on March 11th, 2019 | Updated on March 26th, 2019 | By FanFest
Last week, Stephen Amell and The CW announced that Arrow would return for a 10-episode eighth and final season. While fans had an idea that the long-running DC series would soon be on its final chapter, the news still came as quite a shock to the fandom.
I'm so deeply saddened by the news that #Arrow is ending in Season 8. However I am so proud of the cast and crew and how far the show has come in these eight years, I wish everybody the best for the future and want to thank them for giving me my favourite TV show of all time ❤️ pic.twitter.com/VGpEW2Xe0R

— Declan Mckinney (@DeclanMckinney) March 6, 2019
A majority of the cast and crew have been posting touching messages and tributes to the series that kicked off the iconic Arrowverse, but it was Grant Gustin's post that really pulled at our heartstrings. If you'll recall, Gustin appeared as Barry Allen on Arrow before becoming the lead in the first of many spinoff series with The Flash.
So, you can imagine that seeing the flagship series and the place where his journey began heading into its last lap made Gustin quite emotional.
[row]"It's just absolutely bananas to stand around with that many people in super suits, and get paid to play make believe on tv. It's something that wouldn't happen year after year if it weren't for the groundwork that Arrow, Stephen, and the whole cast and crew laid for us," he said during the post. [/row]
He then went on to speak about something that long-time Arrow fans already know – that Stephen Amell is the leading man that any show would be lucky to have. His passion and dedication are truly something special and have been integral in Arrow's long lifespan.
[row]"Not just that, but Stephen has always brought a different kind of passion to his show and the whole Arrowverse. It's always been clear to me how much it means to Stephen to have the privilege of getting to go on this journey as Oliver Queen. And how much care he's always put towards it."[/row]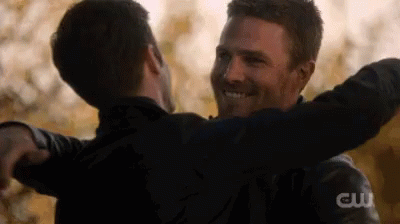 His message also touched on how their grueling filming schedules makes it difficult for them to see each other, but that only results in their annual crossover episodes being all the more special. Gustin concluded the message by recounting his first day on Arrow and just how intimidated he was to be with Team Arrow in person.
[row]"Thank you to everyone who was a part of making Arrow for letting me come on this journey with you all. Congratulations on a badass show that will live on forever. I'll never forget binge watching season one and being scared shitless my first day on set, seeing you all in person. Stephen, you're a legend. Maybe this means we can hang out more?"[/row]
The best part? The post clearly made Amell emotional too.
You can check out the full post below!
Gustin then shared another quick post featuring some photos taken at their latest crossover episode.
Has the news about Arrow ending sunk in for you yet? What are you going to miss the most? Let us know!
Having studied Media & Writing at James Madison University, I always knew that I wanted to do some type of creative writing, but being able to write about zombies, Starks, and superheroes on a daily basis for Fan Fest is my actual dream. While I probably shouldn't be as proud as I am to be so similar to Nick Miller, I do hope to one day write my own "Pepperwood Chronicles'.