'Gotham': Bruce Wayne's Transformation as Batman Begins
Published on April 3rd, 2017 | Updated on April 3rd, 2017 | By FanFest
It's finally April, which means it's getting closer to the day that Gotham will return! With it being closer to the date, Fox has released a short trailer. The title of this trailer is 'the Transformation Begins', which tells us exactly what we want to hear! You can watch the trailer below:
This gave us chills! We are finally seeing the effects that Jerome (Cameron Monaghan) left on Bruce (David Mazouz). This is one of those moments you really see what way Jerome sent Bruce too. He was the final push that Bruce needed to head on the path that he needs to go to become the Batman. This trailer shows where he'll be going and he's going to have training and become really good at it too. Not only Bruce will go through changes, but I also think that the city Gotham will go through changes itself. After Jerome, nothing will be the same.
What is really interesting is that a man in robes (Raymond J. Barry) is talking to Bruce and saying:
"I've been waiting a long time for you to begin your journey. People are afraid. And fear breeds hopelessness. Gotham needs something that you can provide."
After Bruce asks "What?" the man answers, "A protector, Bruce". It makes me think of the movies we've seen Batman in. With this I mean the Dark Knight of course where Jim Gordon says Batman is a protector. It's exactly what Gotham will need, especially now that it'll change.
Gotham season 3, will come back with its season premiere on April 24. The first episode to be back on TV will be called 'How the Riddler Got His Name'. Do not miss out on this episode, it's going to be crazy!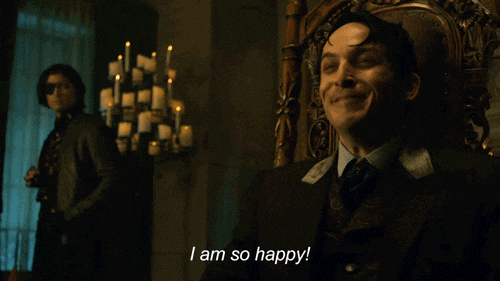 Credits to Fox for the trailer and images.
Currently graduated with a B.A.
in music management. When she was a child you
would always see her with a piece of paper and a pencil,
drawing or writing the pages away. A daydreamer.