'Glee' Turns 10! Here are the 20 Best Performances from Season 1
Published on May 24th, 2019 | Updated on May 24th, 2019 | By FanFest
May 19th marked the day that Fox's Glee Pilot episode aired in 2009 – 10 years ago! Talk about an O-M-Glee. At the time of its premiere, a musical comedy was extremely unprecedented on network TV, but showrunner and now TV legend, Ryan Murphy knew that he had something special on his hands. With an ensemble cast of relatively unknown actors and Broadway singers, Glee took over the entertainment world by storm shooting stars like Jane Lynch, Lea Michele, Chris Colfer, and Darren Criss into the spotlight.
Just a small town girl… #Glee10thAnniversary ❤️ pic.twitter.com/OULxkozijs

— Lea Michele (@LeaMichele) May 19, 2019
Over the years fans followed the New Directions through their many triumphs such as winning Nationals to some of their darkest moments. When Cory Monteith who played the adorable goofball Finn Hudson passed away it was a loss that was felt all throughout the Glee fandom, but like Finn always said "onwards and upwards" and "the show must go…all over the place…or something" and that it did. Glee lived by the mantra that being a part of something special makes you special and that's how it felt for the shows six-year run. It provided a spotlight and an outlet for a lot of people that never felt they were truly represented on screen.
Glee was such a special show and we are stoked to take a look back at its impressive first season, featuring a musical catalog of over 130 songs and rank the top 20 performances. Let's get to it!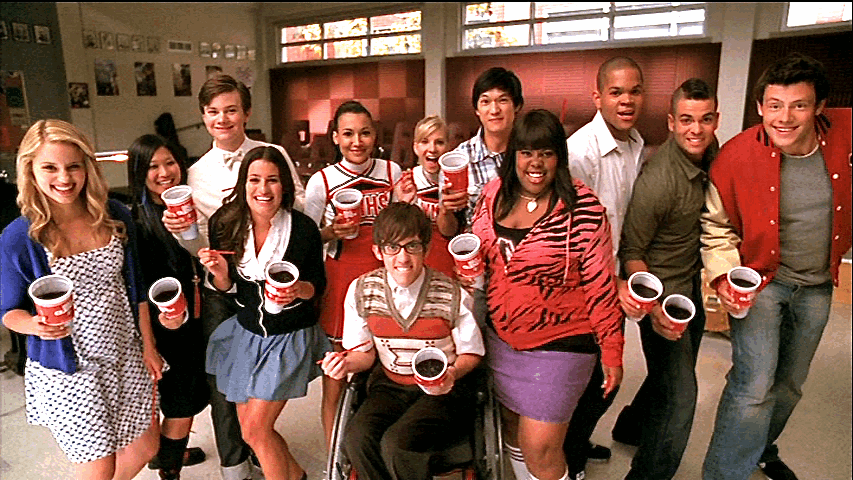 20. "Give up the Funk"
There's nothing better than the New Directions getting together for a musical throw down. Here they showed Vocal Adrenaline that New Directions could do the one thing they couldn't…funk.
19. "Gold Digger"
Did you really think that Mr. Schuester would let me make a list without including him rapping? This was the song that started a series long gag joke and while yes, Mr. Shue's rapping did go a little too far throughout the series, "Golddigger" was always a super fun performance.
18. "Halo/Walking on Sunshine"
The girls Mash-Up performance didn't fall as low on the list as their male competitors, but it's still a really fun combo and was a really bright performance for the season…literally.
17. "Over the Rainbow"
The first season ended on a subtle note with Mr. Shuester's ukelele version of "Somewhere Over the Rainbow" but it worked for the scene and was a great way to reflect and wind down the season and look ahead to Season 2.
16. "Jessie's Girl"
It was hard to pick which Finn song to feature on this list, but I felt that Jessie's Girl was a really good showcase of Monteith's voice, drum playing, and stage presence.
15. "Run Joey Run"
Okay, Run Joey Run is kind of a controversial pick, but I'm sorry, this song is iconic. The whole performance is truly one of a kind and peak Glee. Not to mention this performance becomes kind of a running joke throughout the series so of course, I had to include it.
14. "Dream On"
Long before Glee went a little overboard with the guest stars, Neil Patrick Harris appeared as Bryan Ryan and sang this duet with Matthew Morrison. Mr. Shuester always got way too into his solos, but this one is on a whole new level. It's great!
13. "Defying Gravity"
"Defying Gravity" would be an important performance for Kurt and Rachel through the seasons, but in this performance, Kurt decides to throw the final note allowing for Rachel to completely nail it. Anytime these two sang Wicked or sang together, in general, it was always beautiful.
12. "To Sir, With Love"
This love letter to Mr. Shuester never fails to pull the heart strings.
11. "I Dreamed a Dream"
Lea Michele and Idina Menzel singing Les Miserables, need I say more?
10. "Somebody to Love"
"Somebody to Love" was a run of the mill and solid \ New Directions performance. It had a really pretty arrangement and some good ol' classic dancing, and those costumes are on point – yee-haw!
9. "Total Eclipse of the Heart"
Any time that IRL BFF's Jonathan Groff and Lea Michele got to sing together was a true treat for audiences. "Total Eclipse of the Heart" shows off their great on-screen chemistry in addition to their vocal chemistry.
8. "Like a Virgin"
Every once in a while Glee would have a story line or a song that would remind parents that it wasn't a kids show and "Like a Virgin" was definitely a performance that did just that. However, it was a Madonna episode so, of course, they're singing "LIke a Virgin" and they did a great job with it, plus it gave us our first glimpse at Santana's singing chops.
7. "Keep Holding On"
"Keep Holding On" was one of the more emotional group numbers of the season as it showed the New Directions all rallying around Quinn after the news breaks that she is pregnant. Also, if you were a super Glee fan like me and watched The Glee Project then you will recognize this song as the one they played whenever someone was eliminated.
6. "It's My Life/Confessions, Pt. II" Mash-Up
Mash-Up episodes were always a fun staple on the series and were true testaments to the power of Glee's music team. The boy's first mash-up of "It's My Life" by Bon Jovi and Usher's "Confessions, Pt. II" was pure musical enjoyment. Not to mention the boys were "high" on Vitamin-C so their energy levels are hilariously epic.
5. "Bohemian Rhapsody"
Honestly, we are not worthy of Jonathan Groff.
4. "Don't Rain on my Parade"
Lea Michele's voice only got stronger as the series went on, but there was something about this performance that was chill-inducing. If she didn't give you Baraba Streisand vibes prior to this song, then "Don't Rain on My Parade" definitely sealed the deal. Michele's an incredible talent and watching her completely own this stage was a wonderful surprise for a last minute set change.
3. "Journey Medley"
Ah, the Journey medley. Their combination of Journey's "Faithfully", "Any Way You Want It / Lovin' Touchin' Squeezin" and "Don't Stop Believing" is by far the best New Directions competition performance.
2. "Like a Prayer"
The first Madonna episode was filled with a lot of great numbers, but there's something about "Like a Prayer" that really culminated Glee's ability to do a themed episode while still (somewhat) grounding itself with group numbers. The song gives almost everyone a chance for a solo as they don their signature converse and red accents, plus it's got Jesse St. James and a choir, making the song a well-rounded Glee bop!
1. "Don't Stop Believing (Pilot Version)"
Is there any song more iconic on Glee than "Don't Stop Believing"? It was performed on the show multiple times, often at huge turning points for characters or the New Directions in general, but nothing stood out more than the song's introduction. It was sung by the original New Directions of Rachel, Finn, Archie, Kurt, Tina, and Mercedes and left the audience wanting more. After the Pilot episode featured a lot of older or unrecognizable songs, this performance solidified Glee's ability to have a soundtrack that everyone would love.
What's your favorite Glee number from season 1 or the entire series? Let us know!
Having studied Media & Writing at James Madison University, I always knew that I wanted to do some type of creative writing, but being able to write about zombies, Starks, and superheroes on a daily basis for Fan Fest is my actual dream. While I probably shouldn't be as proud as I am to be so similar to Nick Miller, I do hope to one day write my own "Pepperwood Chronicles'.