'Game of Thrones' EP Says Season 8 Will Be "Emotional, Haunting, Bittersweet"
Published on November 1st, 2018 | Updated on November 1st, 2018 | By FanFest
As we near the end of 2018, people tend to have the holidays and family on the mind – but for us, nearing year's end only means that we're getting closer to 2019 when season 8 of Game of Thrones is set to premiere!
While there haven't been too many details revealed about the specifics of the season, Game of Thrones' co-executive producer Bryan Cogman spoke with Entertainment Weekly and dropped some minor hints for fans about what to expect from the farewell season.
[row]"It's about all of these disparate characters coming together to face a common enemy, dealing with their own past, and defining the person they want to be in the face of certain death…It's an incredibly emotional haunting bittersweet final season and I think it honors very much what [author George R.R. Martin] set out to do — which is flipping this kind of story on its head."[/row]
Seeing that the final season is only going to consist of six episodes, that seems like quite a lot to pack in and wrap our heads around, but Kit Harrington has assured us that they will definitely deliver.
[row]"Scenes that would have been a one-day shoot five years ago are now a five-day shoot. They want to get it right…they want to shoot everything every single way so they have options."[/row]
Other members of the cast have also been teasing some little nuggets about season 8 over the past year as well. Sophie Turner, who plays Sansa Stark told Digital Spy earlier this year that the season is certainly "unpredictable".
[row]"It really is so unpredictable the way that [the series] ends up. For me, without giving anything away, I was satisfied with how unpredictable the show's ending really is."[/row]
Jamie Lannister's Nikolaj Coster-Waldau told The Wrap that after reading the series finale script, he was pleased with how everything came together:
[row]I read it, and I wrote [creators] Dan [Weiss] and David [Benioff] and said I don't think they could have done a better job…and when I read it, some of the parts of it I'd get, and other parts of it were just completely shocking and surprising… Here all the pieces fit into this massive jigsaw puzzle."[/row]
Emilia Clarke, who plays Daenerys Targaryen, had a bit more of an ominous comment about the finale:
[row]"It f–ked me up. Knowing that is going to be a lasting flavor in someone's mouth of what Daenerys is…"[/row]
But, one piece of definitive good news? Ghost will be back!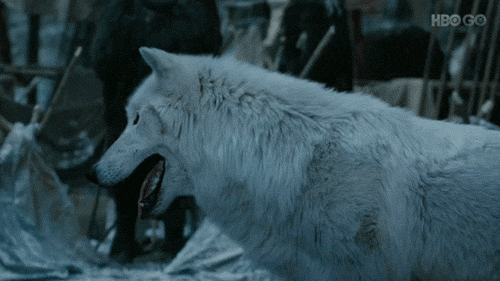 Are you ready for season 8 of Game of Thrones? What are you expecting to happen come the series finale? Let us know!
Having studied Media & Writing at James Madison University, I always knew that I wanted to do some type of creative writing, but being able to write about zombies, Starks, and superheroes on a daily basis for Fan Fest is my actual dream. While I probably shouldn't be as proud as I am to be so similar to Nick Miller, I do hope to one day write my own "Pepperwood Chronicles'.