Fan Fest News Exclusive Interview w/ Luke Cage's Deliciously Delightful Jade Wu!
Published on November 28th, 2017 | Updated on November 28th, 2017 | By FanFest
Jade Wu, recently known for her role as no-nonsense restaurant owner/landlord Genghis Connie Lin on Marvel's hit Netflix series Luke Cage, made her comic convention debut at Rhode Island Comic Con (RICC) earlier this month. Ms. Wu was one of several Luke Cage cast members in attendance at RICC. She gratefully greeted excited fans and took part in a panel alongside her Luke Cage family. Being a big fan of the entire Defenders Universe, I was thrilled when Jade agreed to spend a few minutes to speak with me about her life, her passions, and working in the entertainment industry. There is more to Ms. Wu than meets the eye and I feel honored that she shared a small part of her fascinating life with Fan Fest News.
Linda: So, this your first fun convention. Are you having fun so far?
Jade Wu: I am having fun. I love all the fans and I love all the people that come up to the table. I made these little chocolates.
Linda: I saw that. And those are for charity. What's the charity?
Jade Wu: Half of the proceeds will go to Cook Children's Hospital, they have a campaign called, Erase Kids Cancer. The other half will go to an organization called Womankind and it's a non-profit that supports women's survivors of violence.
Linda: That's awesome. I've been finding more and more charitable activities going on at these conventions. I love that celebrities are helping to promote them.
Jade Wu: I think this is a good platform to do it. That's why I wanted to do the con. Not only to build the fan base but also to give back to the community. I've met some great people doing some great things.
Linda: I want to help everyone. At the very least I can hopefully provide visibility.
Jade Wu: Absolutely. Absolutely. I also have a cookbook, because I'm a major foodie. I actually proposed a cook-off show to Marvel at Genghis Connie's Restaurant. You know they're not into cooking shows, so they said well, I don't know. So, I thought, well let me do the cookbook; if it takes off they might consider doing a show with heroes and villains.
Linda: Oh, that would be fabulous!
Jade Wu: I think it's fabulous, but I don't make the decisions. I love the idea. A cook-off show, right? The fans think it's a great idea. Because a lot of us who are doing these shows, these superhero shows, and the villains, we're foodies. So, if we have a cook-off show and it's the heroes versus the villains… I think it's a great idea. But even if that doesn't work out, the cookbook is a great vehicle to raise money. It's called The Gourmet Actor.
Linda: Would you cook with almond butter? (Note: During the Luke Cage panel at RICC, Mike Colter made it clear that he could not survive without his almond butter. He was teased relentlessly for this by his castmates.)
Jade Wu: Almond butter is banned! (laughing) We have banned almond butter.
Linda: Let's talk about your acting career. Where did that passion begin?
Jade Wu: I probably have it in my blood. My maternal grandfather [Yuanlong Wang] was a very famous actor, producer, director in China. He actually pioneered silent films with Charlie Chaplin. He was one of the first to have major production studios in China. He created the whole genre of martial art films.
Linda: Wow, that I did not know.
Jade Wu: Nobody knows that. So that is sort of in my blood. But originally I was not going to be an actor or be in the entertainment field because all of my undergraduate studies was in pre-med and so I did one year of medical school and then I did an apprenticeship with Johns Hopkins. They had me do these crazy experiments, these medical experiments and I just dropped out. I got accepted into medical school and I dropped out and I went back and I got an MFA degree in theater. And that's how I got into the industry.
Linda: That is so interesting. Then you just kept going down that path. You found it.
Jade Wu: Yeah, and it's not just acting because I'm also a screenwriter. Mostly it started out with documentary films, now I have narrative films, I have a whole television series and that I created.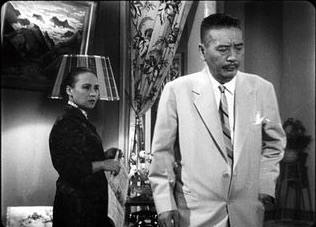 Linda: I was going to ask what you have coming up in 2018.
Jade Wu: I have a lot of things. I've become a Jill-of-all-Trades. So, I do mostly everything in every field in the entertainment business. Mostly acting because that's my mainstream, that's what I'm known for. But I have quite a few things coming out. A couple of episodes of Billions. HBO's Divorce is coming out next year. An episode of Elementary is going to air next year. I have a film that's going to be airing at Sundance [Film Festival]. I'm one of the leads in that film, it's called Snakehead. It's about human trafficking in Chinatown. I'm the Snakehead. (smiles) I'm waiting to hear on some television series. And then also Season 2 of Luke Cage.
Linda: That is what I wanted to talk to you about as well. How did that opportunity come about? How were you approached?
Jade Wu: I was doing the US premiere of a play called Chimerica which was a hit in the West End and they wanted a whole new cast for the US premiere. So, I was doing that in Washington, DC and I got the opportunity to audition for Luke Cage, but I couldn't go back to New York to do it because I was opening the show [Chimerica] so, they said to do a self-tape. So I did a self-tape on my iPhone. It was 53 seconds, 3 scenes, I didn't think I would get it because it was a self-tape; I wasn't in the room, I didn't meet anyone, I didn't meet Cheo Hodari Coker the creator. I didn't see anyone except for this 53-second self-tape that I submitted to my agent. The next day I got a phone call from the agent saying that I booked it. So they booked me off a 53-second self-tape on my iPhone. When it came for the first day of production, I didn't know anyone because I'd never been in the room, I never met anyone. When Cheo came up to me he gave me a big hug; I turned to one of the PAs and said, who is that? (laughing) And so when they told me, then I became part of the family.
Linda: Did you know anything about….
Jade Wu: The comics?
Linda: Yeah. Any of The Defenders?
Jade Wu: I wasn't a super Marvel or DC comics fan. In my day it was more like LuLu and Little Richie and so I didn't know the whole superhero world at all or the villains or any of that. When they told me about Ghengis Connie, I thought she was going to be some sort of superhero.
Linda: I heard you say that in the [Luke Cage] panel. That woulda been cool!
Jade Wu: That would have been cool. And I really did not know because they don't tell you what the scripts are. You have to sign this nondisclosure agreement. So, I didn't even see the whole script before I go and shoot. I only get the scenes.
Linda: Once you got the role and you knew kind of the world you were in; did you then go and research The Defenders?
Jade Wu: No because it's difficult to do the whole research because the comics and the TV shows are totally different, so the storylines are different. There is no Genghis Connie in the comics. But I did contact the Marvel offices and I met with the comic book editors and, so I said, you should put Genghis Connie in the comics. (laughing) They don't intercept at all [comics and TV series].
Linda: Are you now watching the series?
Jade Wu: You kind of have to watch because now the actors and the characters are crossing into the other shows. They've done it really well so that everyone is a part of the whole cinematic universe. It's part of the family. I don't think I've ever had a scene with Frank [Whaley] or Theo [Rossi]. But we know each other.
Linda: I was going to ask you what it was like to work with Mike Colter.
Jade Wu: All my scenes are with Mike. I've never worked with Simone [Missick] but, we're all good friends.
Linda: Are there any moments that stand out during filming?
Jade Wu: Well in Season 1, I don't wanna do any spoilers for anyone who hasn't seen Season 1, but most people have. I think the most challenging scene is when the restaurant gets bombed, and we're in the rubble. Because that rubble was an interesting re-creation in the studio. So, we literally were in this claustrophobic space in manufactured rubble for about 12 hours shooting in this tiny little space.
Linda: That's a long time.
Jade Wu: Yeah. So, that was a challenge. And then just wearing all of the bloody makeup.
Linda: How long did it take to apply?
Jade Wu: We shot that [scene] over four days. So, every day I had to put on new makeup… it would be about 4 hours. Other people had even longer. Longer hours because they were a lot more bloody than I was.
Linda: Clearly you guys all get along. Do you get together outside of shooting?
Jade Wu: No. (laughing) I don't think anyone does because we spend so much time together on the set, all you wanna do is go home and be with your family. The most challenging thing also is that most of these four series in the Marvel television on Nextflix [is that] they are overnight shoots. So, by the time we go home, I usually never got home until 10 in the morning, it was a full 12 hours on set. We have a trailer but it's not the same and also your body clock has to stay up and when the show wraps at the end of the season everyone gets sick because they're so tired. At the time that I was doing Season 1 [Luke Cage], I was also doing the show in DC [Chimerica]. So, if you know anything about theater, you have 5 shows per weekend.
(Note: Interview is paused as fan approaches Jade to tell her how fantastic she looks. Jade thanks him.)
Jade Wu: So, where were we? Shooting at night. It would be nice to get a sit-com. (laughing)
Linda: Is that what you would like to get into [sit-coms]?
Jade Wu: Well my manager and agent said we need to get you into comedy because all of these things [roles] are very serious.
Linda: In the [Luke Cage] panel you seemed very funny. The role is clearly not the person.
Jade Wu: Well they're typecasting. They do typecast. So, they [manager and agent] are trying to get me into comedy. It would be great.
Linda: It would be awesome. Just from seeing you during the [Luke Cage] panel, you would be so good at that. You are charming, witty and funny.
Jade Wu: That would be great. There are a couple things coming down maybe next year. So future comic cons I think will have a more diverse range of characters that I will be portraying.
Linda: I look forward to seeing your future endeavors.
Jade Wu: There's a lot going on next year. About 5 or 6 things being released. So we'll see. Big things too. I feel very lucky. I know I haven't been as busy ever. Most of my friends, the same. Everyone is working and it's great.
Thank you!
Many thanks to Jade Wu for taking the time to speak with Fan Fest news and to Amy Sundberg from ZSC Entertainment for introducing me to the lovely Ms. Wu. It was an absolute honor having the opportunity to speak with a woman that is so much more than an actress; a woman with incredible depth and passion. Be sure to follow Ms. Wu on online for all her latest news and appearances. Website: www.jadewu-artist.com and Twitter: @jade8everything
Full-time fangirl and part-time manager. A comic-con junkie with a passion for writing and great artwork. Catch me… if you can!