Fan Fest Exclusive: Jeremy Brown and Jason Brooks WILL deliver with 'Vengeance'
Published on August 30th, 2018 | Updated on August 30th, 2018 | By FanFest
Last week, I spoke to you all about the upcoming Friday the 13th fan film that has been trending across social media – Vengeance. 
Vengeance is going to be unlike any other film we have seen before, as Director Jeremy Brown has taken it to the next fan level by not only bringing in the Elias Voorhees story-line, which has been escaping fans for so long, but also by bringing on board some Friday the 13th alumni. C.J Graham, Army Veteran who played Jason Voorhees in Part 6, has been casted as Elias Voorhees and I honestly could not think of someone better suited for the role.
CJ knows the character of Jason like the back of his own hand, so I have no doubts that he will absolutely kill it as Elias. Well, or 'Slash' it I guess you could say. Another thing that is absolutely inspiring about this film, is that once they reach their Kickstarter goal that is required for filming – all proceeds following will be donated to the Shriner's Children's Hospital Burn Victim Ward in addition to CJ Graham's salary, which he is donating entirely.
I said it before and I will say it again, this film is going to be off the charts. There is truly a lot of heart going into this film, and I have the utmost confidence that Vengeance is going to be the Friday the 13th film that we have long been searching for.
I recently had the pleasure of speaking with both Jeremy Brown, Director, and Jason Brooks, who plays the character of Jason Voorhees. During my conversations with them, I could hear how passionate they both are about this film. They really want to honor and pay a homage to the series, as well as bring something a little bit new to the fandom:
Jules: How did you come up with the title of 'Vengeance'?
Jason: That was the original working title of the project when Jeremy first started it, and then as he began to develop the story he changed it to 'Mythos' because the basis of the plot revolved around the mythos of Jason. It focused on the Jason character and why he looks different in every movie and why he always leaves one person alive, so that is what Mythos was going to be about. Once we decided 'let's go bigger with this' we brought in CJ Graham and decided to go a little bit darker and grittier. I told Jeremy 'you know your title Vengeance was much cooler – I think we need to go back to that.; rebrand us – and we did!
Jeremy: The title 'Vengeance' was one we started with before Mythos believe it or not, but we didn't feel we had the right elements in that script so we scrapped it, felt like more of the same and I personally wanted something different. So we reworked it and called it Mythos. The title Mythos is because of the idea of the different myths we've all come to know about Jason Voorhees and a hidden legend about the famed killer. We then set off on our first fundraising campaign but it failed, we knew there was something missing, fan feedback. Once we started gathering fan feedback we knew where to take this film. A saying that I've been using a lot lately is "Mythos may have failed, but we're coming back with a Vengeance.
Jules: In your storyline, you've chosen to include the character of Elias Voorhees – a character that has escaped the Friday world for so long. What made you decide to bring the character to the screen?
Jason: That was Jeremy also. We were just basically throwing the idea around back and forth and talking about it. Jeremy mentioned that he really wanted to bring the Elias story in at some point and I said that if we were going to do this, we had to do it right. Fans have their own idea of what Elias is like we can't just have it there for the sake of throwing it in. It was June 12th, Thursday, and we were looking to see what we could do the next day for Friday the 13th – make some sort of announcement or do something. While talking that night Jeremy said 'why don't we roll in the Elias story and wouldn't it be cool if we got CJ Graham?' and so we reached out to CJ and he got back to us right away. Then on Friday the 13th he gave Jeremy a call and said he would love to do it. He'd love what he'd seen so far and so that all came together on Friday the 13th. So, that was pretty cool.
Jeremy: A lot of the drive to bring Elias back was re-watching Camp Crystal Lake Memories for the 100th time. I remember Tom McLoughlin talking about having to cut Elias's scene from Jason Lives. The storyboards are what I remember so vividly and how excited Jason and I got about the prospect of bringing our own iteration into it. Plus seeing the fans talk about how much they'd like to see the character was another thing that motivated us.
We then followed up with our screenplay writer, Mike Meade, who had recently written a short film about Elias Voorhees. With him on board to realize this stoyr and a solid base to build around, we were on our way. Since then, it's been quite the development. I shit you not,  the screenplay is one of the best I've read horror wise in sometime. I truly say that unbiased.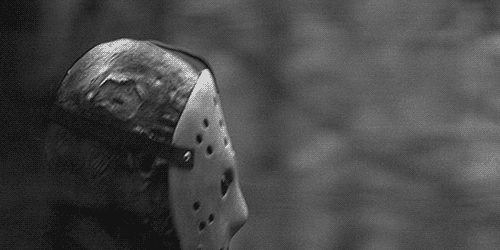 Jules: In the comics Jason vs Leatherface, there is a lot of focus on the relationship between Jason and Elias. Elias is seen as a 'mad man' father who views Jason as a monster. How vitally do you personally view the relationship between Jason and his father?
Jason: I think that we are going to honor that story as well as what was written for Friday the 13th: Part 6 Jason Lives. We are going to stay true to the unused Part 6 Elias but take from the novel as well, and maybe expand on that dynamic a bit. Why does he think Jason is a monster? What does he do about it? And why was he abusive. What has that relationship become today? All things we are exploring.
Jeremy:  Well for one, when you consider the films, there is absolutely no relationship spoken of with his father, so you have to explore the different fictions out there to get a grasp on Elias. We have not had nearly the amount of study as Mike Meade, our screenplay writer has and he had written a short film about him specifically. So after learning much more about the relationship I find many aspects in which someone like Elias would take advantage of Jason, use him to his own ends, a brutish psycho of a father with an unstoppable weapon that is Jason.
Jules: Tell me a little about your casting of CJ Graham as Elias Voorhees! How did that come about?
 Jason: We had been talking on and off about how cool it would be if we had someone who has played Jason to play Elias. I mean we couldn't just pull a random actor. It adds more weight to the character – somebody who knew the character of Jason.
Jeremy:  After we had found new motivation for our story, we reached out firstly to Mr. CJ Graham as he was the obvious choice to play that role. We sent him the trailers to our film 'Mythos' to look at and explained to him what we were up to and what role we wanted him to play. He responded and said he'd give me a call. Funny enough, he did call, and it was on Friday the 13th. Now to me, that's what you call destiny. Anyway, so we spoke and had a great chat and he then accepted to be on board. We were beside ourselves. Still are, he's a wonderful guy who really cares about this franchise. Not to mention, he's donating all his pay to our charity, The Nile Shriners  Childrens Burn Unit.
Jules: In regards to your Kickstarter project, the Shriner's Children's hospital Burn Unit, what made you chose their particular hospital?
Jason: There is a Haunted House that I work at here, The Nile Shriner Haunted House, and they do a lot of work for the Shriner's Children's Hospitals as well. I have been donating time and money to them already, so I just thought we could do a continuation on that Hospital and Charity. I talked to Jeremy about it, and going in that direction. It's a great cause.
Jeremy: Jason is a volunteer at the Nile Shriners of Seattle at their annual haunt. Ironically he has played the role of Jason for many years there. The haunt raises money for the Shriners charity to help the kids. Being as we're both fathers, helping kids grow and find excitement by films, and stories is so important to both of us.
Plus the Shriners are well known for their medical service for children from disadvantaged families. It's one charity that I've seen do the good work. A friend of mine got their help for his child and it saved his sons life. So it has even more special meaning for me.
We chose the burn unit as an obvious homage to Mr. Kane Hodder while still helping out the kids at the same time. Plus we have a promise that every dime raised beyond the Kickstarter goal, will be matched dollar for dollar.
Jules:  Where did you draw the inspiration for your mask? It looks like it has a little bit of everything with a perfect touch of aging. 
Jason: With Mythos we had the Part 6 mask that was just a little bit more aged and worn. When we decided to go Vengeance we all kind of agreed that we would make our own version of Jason. Wanted to tie it to the basis of the plot and how Jason wound up looking different with every film. What I wanted to do was make this mash-up of the different Jason costumes including the hockey mask. It's the telephone game where someone describes the mask and then they pass it on and they pass it on and they pass it on and it winds up being the combination of every element from every movie. That goes for the full Jason costume as well as the mask. It took us a while to get to the final design and we put our mask maker Brian "Splat Voorhees" through hell with all of our changes and indecision. But I think we all feel it was worth it in the end.
Jeremy:  The inspiration for the mask came from the idea of mixing up all the details from the first 6 films. We wanted to have elements right up to the very end of Part 6. So our mask maker, Brian Hargrave of Splatt Voorhees Creation Studios got an earful of ideas. The poor man had to constantly reset as we kept adding ideas as we went. However, once we finally got there, we knew we had it. It's iconic and unique. We wanted to avoid similarities to other fan films and give our Jason his own unique identity.
Jules: What was your favorite Friday film in the series?
Jason: I'm saying Part 6 is still my favorite. I also love Freddy vs Jason, I saw it in the theater and there was a lot of energy and excitement so I will always appreciate that experience. Part 6 is definitely has a little bit of everything, a little bit of darkness and a lot of fun. A lot of great kills.
Jeremy: Part 6 hands down is one of my favorite of the series. The reason for this I felt that it had so much more going on for it than most of the other films. There was classic 80's through it all. Car chases, stoners, gun fights. It was like an action adventure film mixed with horror and it really captured my imagination. I also love The Final Chapter as well because who doesn't love Ted White? He epitomizes the grumpy old Jason to me, the whole "Get the hell of my lawn vibe!"
JASON BROOKS
Jules: All of the Jason's have done their own thing when it comes to the filming. They all have their own take. Is there a Jason in particular you have in mind that you are going to be projecting when you step into this role?
Jason: I am definitely taking a little bit from everyone. When Mythos first started and it was based on the Part 6 Jason I did a lot of CJ Graham research. Jeremy wanted to have a lot of Kane Hodder aggression added so I threw some of that in there as well. I went and based it off of the two actors. Now that we are expanding to Vengeance it makes more sense to go back and look at all the performances and try to incorporate a little bit of everything.
Jules: You've done a lot of work behind the scenes in addition to being in front of the camera. Do you have a preference as to which you prefer?
Jason: In the last year I've realized I like being in front of the camera a little bit more, but once I get behind the camera and start doing a little bit of work in the production side, it is very exciting as well. It would be really hard to give that up. I definitely like doing both.
Jules: What are some challenges in the past you've faced with either stunt work, or playing different types of characters?
Jason: Playing the character you kind of get in your own head when you move. Stunt work is very mechanical but you have to stay in character, be the character while also looking convincing and being safe. Having a bad back and having a few disc issues like I do, I have to take some extra precautions there to make sure I keep myself safe as well. With the costume itself, there are plenty of challenges. There is limited visibility with the mask, it's uncomfortable wearing it for 10 hours with full silicone sitting on your face. It restricts your breathing. It's physically draining to wear a costume for a long time and to act through all the layers is a challenge. That being said, I would not trade it for anything.
Jules: What is your routine when it comes down to getting into character? Do you do a lot of research? Go stand alone in the woods somewhere? What do you do?
Jason: So with Jason, like I alluded to you earlier, I went back and watched all the different movies again. I spent a lot of time working on the Kane Hodder performance and after I watched all the Friday's with him in it, I went back and started watching interviews with him. I watched over 20 hours of documentaries and behind the scenes with Kane Hodder, not just to see how he moves but to hear what's going through his head so I can understand what it is like being his version of the character. With this I can connect the dots to leverage whatever his mind-set is when I do mine. I have my own body with my own movements that are natural to me, so I have to work against that at times. There are a lot of mechanics that go into the performance, I'm always thinking 'What Would Kane Do?', 'What Would CJ Do?', 'What Would I Do?' And which is best for this moment? – so just before we yell 'action' I get in my head for a few seconds and starting focusing on the mechanics to play it out.
I'm essentially mimicking other actors portraying a character. You have Kane who will go out into the woods and bang his head against a tree and start pacing to try and get angry and all aggressive before he goes on. He defined his Jason. His Jason comes naturally to him, and it works so well that fans recognize not only what Jason's movements look like, but also what they don't. I can't be completely natural in my performance. I have to go out there and think about what they would do and add that to what comes naturally to my Jason.
JEREMY BROWN
Jules:  What are some Horror Directors that have inspired you?
Jeremy: Well firstly and kingly would be George A. Romero. The Godfather of Zombies. I was such a huge fan of his. I genuinely wept when he passed. He was scheduled to come to Crypitcon in Seattle and I was finally going to meet my icon, but he had to cancel because he was sick, and not even a few months later he was gone.
Secondly I would have to say Lucio Fulci, his dark and brutal films made me sleep with a light on through most of my formative years.
Thirdly would have to be Wes Craven and his unique take on horror brought him to the forefront of my very own nightmares.
Finally I have to say John Carpenter and you then have horror perfection. Halloween, The Thing, and for god sakes I better not forget one of my favorites, They Live.
Jules: What made you decide to step into the world of Directing? Everyone has their own story?
Jeremy: Well for me it was as simple as the desire to make films and tell stories. I live in the city of Boise, Idaho and around here at the time, there wasn't a lot of horror filmmakers. I decided I was going to try to make a film. I knew nothing about it, but that wasn't about to stop me. So I went on to make a film called "The End – A Zombie Survivors Story" with a very talented crew, and it did well. We ended up winning an award for Best Idaho Film and after that, i was hooked.
Jules: How does it feel to you to be stepping into the world of Friday the 13th? The series means a lot to horror fans across the world – and it has maintained such a large fanbase over the years and is continuing to grow.
Jeremy: To step into this world is frightening, I will say that. There is a lot of expectations and a lot of fans who don't' put up with half-assed efforts. So I knew going into it that I would have to do a lot more than just make a film, I would have to make a film that the fans would love.. Even great fan films still have a lot of hate. I know we're going to have some of that, but we're doing everything we can to make this a fan driven story while listening to our fellow fans.
Jules: How do you serve both sides of the fandom – by coming up with something new and fresh, but still satisfying Friday fans with their classic view of Jason?
Jeremy: I think you have to serve your story first. Friday fans are smart and they have a very precise image in their head. I think that the key elements have to be there. A badass Jason, stupid teens, sex, drugs, rock and roll, and brutal onscreen deaths. However you have to approach those things with a good story in tow and give them things they have always wanted in the studio films but were never given, all while staying true to the franchise. If you can do that then you can go out and have some drinks with your new Friday fans!
As you can tell from my interview with them, there is no one more passionate about being true to the series and honoring the fans other than Jason and Jeremy. I am super excited, and I cannot wait to see Vengenace make its grand debut. This is certainly one for your record books, Friday fans!
You can join the official Facebook here, where you can check back for updates in regards to filming and their incredible Kickstarter project in addition to their IMDB Page.
Julia recently published her first novel, titled; Anomic. She is currently co-authoring a novel called 'Snow Falls'. She has a B.A in Communications with concentrations in Professional Writing and Public Relations. She is also in the United States Army Reserves as a Military Police Officer, and is currently in the process of going back to school for her Masters Degree in Business. When she isn't writing, she is co-owner of a film production studio called 'Valentine Productions LLC' and she frequently spends her weekends acting in films, or being a stuntwoman.