Fan Fest Exclusive Interview: Walton Goggins Talks Tomb Raider's Villain
Published on March 15th, 2018 | Updated on April 12th, 2018 | By FanFest
Walton Goggins has been no stranger to playing the villain throughout his impressive 28-year Hollywood career. From his breakout role of Shane Vendrell on The Shield to Quentin Tarantino's Django Unchained and The Hateful Eight, and FX's Justified,  Goggins has relished and shined in his more sinister and evil roles. This month Goggins will star in the Tomb Raider reboot as Mathias Vogel, and while he certainly comes off as the film's villain – a title Goggins is more than happy to bear – he's also just complex enough to blur the lines.
Tomb Raider, which hits theaters this weekend on March 16th, also stars Academy-Award winner Alicia Vikander, Daniel Wu, Dominic West, and Hannah John-Kamen. Adapted from the critically acclaimed 2013 action-adventure video game, the film follows the fiercely independent Lara Croft (Vikander) as she embarks on an uncertain and dangerous journey to a mysterious Japanese island where she hopes to find some answers to her father's disappearance seven years prior.
Goggins' character Vogel is a man who once set out on a year-long expedition to uncover a mythical tomb on that same Japanese island only to discover that he nor anyone else on the island is permitted to leave until the mission is complete. For seven years Vogel's been trapped on Yamatai, stripped away from his family and the life that he left behind for what he thought was a short adventure. So, when Lara Croft washes up on his island searching for answers about her father, he sees her as a small beacon of hope, a ticket home, and is willing conquer anything and anyone who stands in his way to get there.
We had the pleasure of speaking with Walton about all things Tomb Raider, but of course, we had to take some time to discuss his hilarious HBO series Vice Principals for which he won the Critics Choice Award for Best Supporting Actor, and whether or not his beloved Sons of Anarchy character Venus Van Dam would be making an appearance on the upcoming spinoff Mayans MC. Check out our interview below!
Casey Perriccio: A lot of people are really looking forward to the movie because the video game was such a huge success. I understand that you didn't play the video games, but what exactly was it about the script and your character, Vogel, that drew you in?
Walton Goggins: It was the story that Geneva wrote, which I'm sure was a collaboration with Alicia [Vikander] and Roar [Uthag, Director] and Graham King [Producer]. I just read it, and I felt, my god. This isn't Indiana Jones, I'm not saying that, but I am saying that there are parts of it that seem so real and so accessible, and the story of a person, regardless of gender, coming into their own power was so intriguing to me.
And I found this guy, Mathias Vogel, to be instrumental in Lara Croft's evolution as a person, and I thought that his struggle was grounded in reality and that I understood his struggle. I have a son. I'm married, I have a seven-year-old child, and Mathias has a couple of children who are roughly around the same age as Lara Croft in the story. And he misses them deeply, and I understand that pain, what that would be like. I have left my little guy for a couple of months at a time to work, and I can only imagine, after seven years, how those feelings would be amplified."
CP: So, Vogel's been on this island for seven years, and when he first left, he had a mission, he had a goal in mind. After seven years, I'm wondering, has his motivation shifted? How has his endgame changed by the time Lara comes onto the island?
WG: That's a great question, and the answer to it is, yes, absolutely. I don't know that anyone, even the most static among us, can go seven years without fundamentally changing, and especially given this particular set of circumstances. Once Lara Croft lands on my beach, you can bet the only thing I'm thinking about is getting home, and there isn't a person that I won't do what I have to do to in order to achieve that end.
And I think that that's just an amazing set of circumstances. What a great way to tell a story. You have two people who have so much in common, but yet have different goals, and eventually, they're going to come to a head, and one person will be left standing.
CP: He's in a situation where he needs to find this tomb so he can get back to his family, but obviously, they don't want what's in the tomb to come out, so he's kind of the villain no matter what ends up happening.
WG: That's exactly right, yeah, and I'll take that. I'll be that person in any story if the greater good is something that is a metaphor for life in general, right? In a very positive way, and I believe this movie has that in spades. It was such an international experience. I believe that when we were filming in South Africa, I was the only American there. Everybody else was either British or South African or from Zimbabwe or from Norway, like Roar, our director. Graham King is from the UK, and so many people were from so many different parts of the world that it was so refreshing to hear and to collaborate with so many different world views. I just loved it. I really did, and the whole experience was something that I'll never forget.
CP: I know that you have a huge passion for photography, so while you were on location, did you get a chance to explore?
WG: I did, yeah. I had a couple of breaks, and one break I went to see my family- we met in London. On another break, I stayed, and I went all over Namibia and wound up making my way to the Angolan border. I spent five days with the Himba tribe, and I took quite a few pictures. It was a remarkable experience. I made my way over to Mozambique and did some scuba diving.  I was able to go on a safari at one point, and spent time with Shangani tribe members and hung out in their village and went to some orphanages. It was a great life lesson on many, many levels.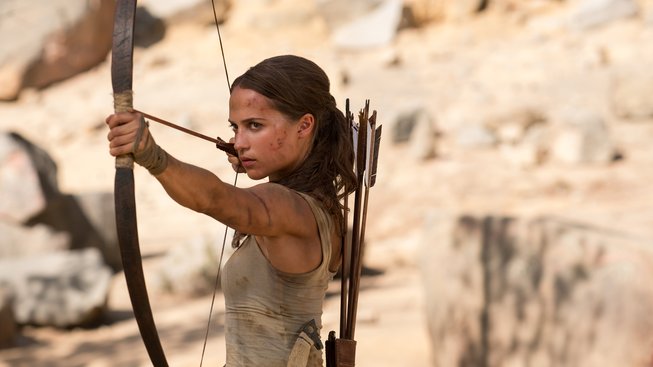 CP: It's a perfect time for a movie like Tomb Raider to come out because you've got Lara, she's a strong female hero, but she doesn't have any superpowers. She's kind of grounded in her own strength and her own mind, so it must've been really special for you to be able to watch Alicia bring that to the stage.
WG: What's so iconic about this character, Lara Croft, is she doesn't belong to any one culture, she belongs to the world. I mean, people all over the world have played this game, and people all over the world have seen Angelina Jolie's interpretation, and now they're going to get to see the magnificent Alicia Vikander's interpretation, and it's really something. It's really, I don't know – a new action, heartfelt, earnest star is born.
CP:  We can't wait! Going back to your character, Vogel, I'm so intrigued by the fact that he's been on this island for seven years and we're meeting him seven years in. So, what three words would someone who was close to Vogel prior to his expedition have used to describe him?
WG: A very good father, passionate about his work, and very tenacious.
CP: I'm curious as to what the stunt work was like in the film. I did get to watch some of the B-roll and saw some fun scenes of you and Alicia just kind of dangling in the air, so I was wondering if you did a lot of stunt work? Was something that was new to you? 
WG: I've been doing stunt work since the beginning of my career. I've been doing it a very long time, and I've been in a lot of fights in my life. I feel I've played a number of villains on the small screen and the big screen, but this was different. Maybe it's because I'm 46 years old and whatever you read in the prose of a script, that this is going to happen and this is going to happen, it's a very different response for a 46-year-old than it is for a 26-year-old. So, you just don't look forward to it in the same way.
It's not just the physical kind of interaction between two characters, but the emotional interaction in those moments, and the way that the story is crafted, when we get to that part of the story, you have two people that are so desperate. They're so desperate, one to get away and the other to stop you from doing something, that it requires a lot of emotional energy, and a lot of hatred and a lot of anger was poured into that fight.
Certainly, after we got past the technical aspects of, how do we really stage this? It was very important to Alicia, by the way, for this to be grounded in truth. How does this play out? How would it really play out? So once we got past the technical aspects of that, then you bring the anger into the room, it's a lot. It's a lot to kind of carry in your body, but we did it and I'm really, really, really proud of it.
CP: What's one thing that Vogel probably wishes he had brought with him if he knew he was going to be there for seven years?
WG: A raft to get off. A boat to get off the island. Maybe an inexhaustible iPhone charger so that he could listen to his music. I don't know the answer to that question. His daughters.
CP: There we go, fun family vacation.
WG: If he would've brought his daughters, you would've met a much nicer Vogel. And they would've just had a seven-year beach vacation.
CP: I'd be remiss if I didn't ask you a question about Vice Principles. We're all huge fans here and are wondering if there's one thing that you could share, a memory that stands out from your time filming that series?
WG: It's not just one memory, it's memories kind of in the aggregate. I suppose I took a lot of things from that experience, but none more precious than my friendship with Danny McBride and Jody Hill and David Gordon Green, and I genuinely mean that. They're like brothers to me, and I just think that their comedy and their worldview is really special. I was so grateful for the invitation to come and play with those guys, and I'll do it anytime, anywhere with them.
CP: I'm sure many people would love to see that because it was a phenomenal show.
WG: You never know, man. Lee Russell and Neal Gamby might not be done. You never know… with a man like Danny McBride. We'll see.
CP: I personally am a huge fan of Sons of Anarchy, and your character, Venus Van Dam, on that show, in addition to your comedy work,  showed the amazing amount range that you have. I'm wondering if you'd be willing to revisit that character in Kurt Sutter's new spin-off for the series, Mayans MC?
WG: That's a great question, no one's asked that either, and the answer is no. I think that we told her story, and I think that that moment and time and that journey for both Kurt and I, and for Kim Coates from Sons of Anarchy, was so special and so sacred. And you must know that I personally have never seen it. I never saw it. I never watched it, and I never spoke to any of those guys, even though Charlie's [Hunnam] a friend of mine and Kim is a really good friend of mine, but when we were working, I never spoke to them as Walton, so I personally don't even feel like I did that show.
I feel like Venus just exists in that very, very special place, and it's not for me to get me, Walton Goggins, to get too close to her, have ownership over. It was something that was transcendent for all of us personally, and we said what we wanted to say with her. I'm just going to leave it at that because she held such a place in my memory. It's not like I had an opportunity to play her; it's more akin to she's a really good friend of mine that I just haven't seen in a long time.
CP: I just have one final question that I'd like to ask just for fun – if snow could fall in any flavor, what flavor would you choose?
WG: Pimento cheese. I'm from the South. If I get any flavor, I would walk outside and just lap up a bunch of pimento cheese, put it on two pieces of bread and call it a day, I'll take that. Sure, why not?
Marvel
In addition to this weekend's Tomb Raider, Goggins has a plethora of other amazing projects on the horizon in both film and TV. He will soon be on the big screen again as Sonny Burch, a crucial character in Marvel's latest MCU installment Ant-Man and the Wasp alongside Paul Rudd and Evangeline Lily, which is set to release this July.
History Channel
Goggins also recently landed a leading role in CBS' latest drama L.A. Confidential, based on James Ellroy's novel about three homicide detectives, a reporter, and a Hollywood actress whose paths all cross in 1950's Los Angeles. He also plays the one-time leader of the SEAL team SIX squad, Rip Taggart, on History Channel's Navy SEAL drama Six, which was just announced to be returning for season 2 this Memorial Day.
Check out the trailer for Tomb Raider below and be sure to grab your tickets to go see the film this weekend! 
Having studied Media & Writing at James Madison University, I always knew that I wanted to do some type of creative writing, but being able to write about zombies, Starks, and superheroes on a daily basis for Fan Fest is my actual dream. While I probably shouldn't be as proud as I am to be so similar to Nick Miller, I do hope to one day write my own "Pepperwood Chronicles'.