Fan Fest Exclusive Interview: Lily Ji talks 'Pacific Rim: Uprising' and working with John Boyega!
Published on March 23rd, 2018 | Updated on May 4th, 2018 | By FanFest
Today, Pacific Rim: Uprising hits theaters and based on the trailers and early reviews – it is going to be a really good one.
Based on the trailer, we can absolutely expect some intense fighting sequences and unlimited suspense. This sequel stars John Boyega, Scott Eastwood, Cailee Spaeny, Jing Tian, and Lily Ji. Charlie Day and Burn Gorman have also returned from the original film Pacific Rim.
Set in the year 2030, the plot follows humanity once again fighting against the Kaiju, the giant alien monsters set on destroying the world.
I recently had the pleasure of speaking with Lily Ji, who plays Cadet Meilin in the film. Prior to starring in Pacific Rim: Uprising, Lily starred in films such as Transformers: Age of Extinction, Skip Trace and Qiang Hong. She also studied for 5 years in Australia, becoming the first Chinese international study at NIDA Acting in 2012. She is also trained in MMA, Chinese Kong Fu, Martial Arts and Tai-Chi!

Check out our exclusive interview with Lily below:
Jules: What can you tell us about your role in Pacific Rim: Uprising?
Lily: I play Cadet Meilin! She is from China and she is one of the new generation of cadets from China, and she's very independent, strong and determined. She worked really hard to get there, and she's kind of like a tom boy!
Jules: What was it that originally drew you to the film and the role that you are currently in? Were you a fan of the first movie when it came out in 2013?
Lily: Well, first of all I did absolutely love the first one. It was amazing! The reason why I really drawn to it was the multi-cultural talents really. We had the three brothers, the triplets, to represent us. I think that is just great. Also, I got to see Rinko she plays the lead. It's really rare for Hollywood films. Especially now, its more about diversity and multicultural on screen, like a representation off screen. I think that is great.
When they announced the audition information I was just lie 'oh my god, that is great!' At the beginning I didn't want to do it because they were looking for real 17 or 18 year old girls. But then I was like 'you know what, I'm just going to try anyways' …. so I did it! I'm really glad that I got in!
Jules: You have been a part of two iconic robot films now- Transformers: Age of Extinction and now Pacific Rim: Uprising. What does it mean for you personally to be a part of these series?
Lily: Just being very lucky, I guess! The Transformers: Age of Extinction was just after I returned to China when I finished studying in Australia right after I graduated. It was the first one I got into the industry, even though it was just a tiny little role. Seeing myself moving forward step by step, its really great!
Who would have thought I would have gotten into another big robot movie after that! Maybe next time I'll get to play the robot like in Ex Machina next time or something! (laughs)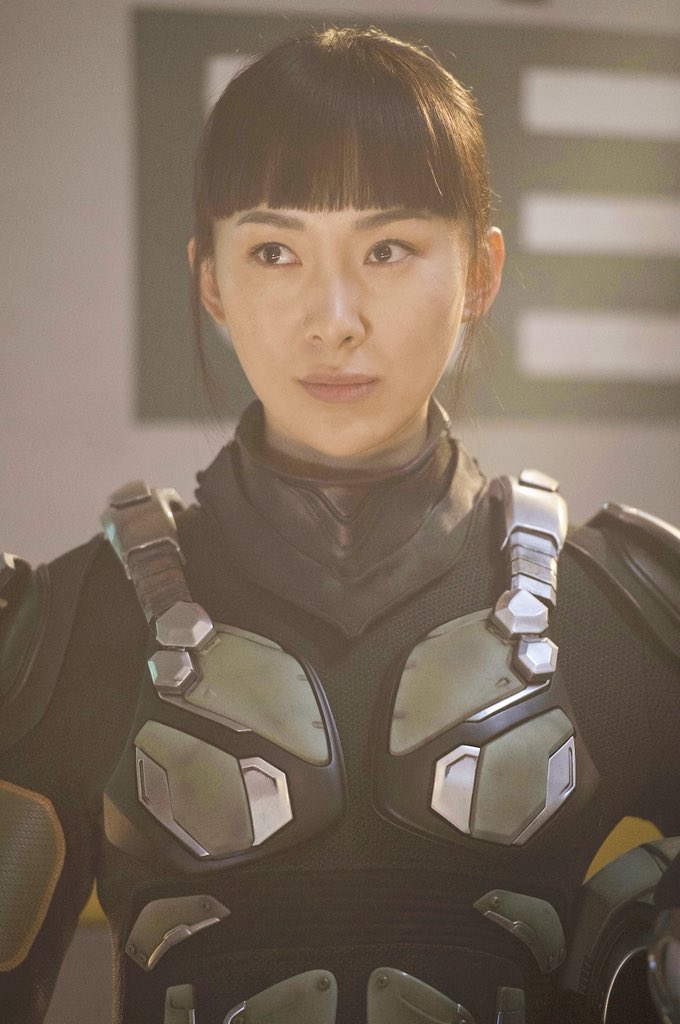 Jules: That would be awesome! Speaking of Australia, what was it like studying there? It's on my bucket list to travel to!
Lily: Oh! It was absolutely amazing and life changing, definitely! I improved in my language, and now I can do three different accents not including my Chinese which would make four. Just in general the experience of understanding cultural like Eastern and Western Culture, really helpful for working in both areas really. That's really how I got in as well, with the understanding of how it works.
Jules: Even though the Yeagers are CGI, did you feel like you were really piloting one when you were in the 'academy'? What kind of prep work did you do to prepare for the role?
Lily: Well, it is a very action packed film. We did a lot of training. We basically trained every single day for that half year. We spent a lot of time together working on that. Before that, I had been training in Martial Arts like Chinese Martial Arts just to get the movement down and the muscle memory.
This way when I actually had to do anything, like those actual routines, I could be really quick and it would be easy to do. So yeah, a lot of martial arts training to get ready for her! Also, working out A LOT! (laughs)
Jules: If you could design your very own Yeager, what would your weapon of choice be?
Lily: Ohhhh! Good Question! Hmm… I would feel like probably the Chinese Sword or something! (laughs) That would be pretty cool!
Jules: What can fans of the Pacific Rim franchise expect from this sequel? Based on the trailer, it looks like there is a lot of action and awesome fighting sequences!
Lily: We have new generations of Yeagers, they are all different. Now, technology is quite different. We actually have much bigger Kaiju's and some surprises actually, you will see very soon! But yes, a lot of action!
Jules: Do you have any insight as to whether or not there will be a third movie installment in the series?
Lily: Well, currently not much right now. However, for this film I do have to say that there will be a lot of fun memories on the set from when we trained together, and the half year that we were together we did have a military-like lifestyle. We hung out together, ate, and watched films together. That's something really memorable and really great for me personally. Now I have those friends forever. We all got very close and we bonded alot.
Jules: I love hearing stories like that!
Lily: Me too! (laughs)
Jules: What was it like working with John Boyega and Scott Eastwood in this film?
Lily: They were so much fun to work with! They were both very down to earth and very humble. John sometimes would just all of a sudden dance and we would be like 'oh wow!'. It was so much fun! Scott as well! We would always have group things together with them though, so I was sometimes a bit too shy to talk to them (laughs) but they really were so much fun to work with!
Jules: Did you have a favorite memory from your time on set?
Lily: Hmmm… yeah! First day shooting on set. First of all, Steven was like 'hey congratulations, and you're the one (the only one) we actually cast from an audition tape!' Then he told me to not be too nervous, and that we were actually going to do a rehearsal that we were going to walk through a few times. He told me that if I said something wrong, don't worry about it and we can just do it again. He let me know that he was there for me and they just wanted us to have fun!
There were three or four of us and we were all really, really nervous! After that, it was fine!
Jules: Speaking of your audition, what was that process like? What did you have to do?
Lily: I didn't do much. I think we all get the same audition material, and I was shooting something back in China and it was a really busy time. I actually only had one friend with me who could speak English to help me out. We just filmed it in my hotel room late! So I sent it out and I got it! (laughs)
Jules: You've trained in several forms of hand to hand combat! Between MMA, Chinese Kong Fu, Martial Arts and Tai-Chi which one is your favorite?
Lily: I think MMA, because it is Mixed Martial Arts all together. It is just really fun to do, and even though I'm not particularly good at all of that it is just really great to learn all of them together so that if I really needed to single any of them out to use, I'm actually ready! Yeah, I would definitely have to go with MMA!
Jules: Here at FanFest We are For the Fans, By the Fans! Do you have a fandom of your own? Or something that you love to fan girl over?
Lily: Game of Thrones! Recently, I've really been enjoying This is Us!
Jules: Game of Thrones really is the best!
Lily: Yes! I would love it one day if maybe we could potentially be in it. (laughs)
Jules: If you could travel to any place in the world for a dream destination, where would it be?
Lily: Oh! There are so many places I want to go see! If I had to pick one, I would have to go with Egypt!
Jules: If you could be the sidekick to any superhero, who would it be?
Lily: Black Widow! She's really good!
Pacific Rim: Uprising debuts in theaters today!
Julia recently published her first novel, titled; Anomic. She is currently co-authoring a novel called 'Snow Falls'. She has a B.A in Communications with concentrations in Professional Writing and Public Relations. She is also in the United States Army Reserves as a Military Police Officer, and is currently in the process of going back to school for her Masters Degree in Business. When she isn't writing, she is co-owner of a film production studio called 'Valentine Productions LLC' and she frequently spends her weekends acting in films, or being a stuntwoman.