Everything We Know About 'Stranger Things' Season 3 So Far
Published on January 25th, 2018 | Updated on January 25th, 2018 | By FanFest
The breaks in between Stranger Things seasons are rough. Thankfully, we've been able to see the cast at all of the awards shows this year, including the Golden Globes and the SAG awards where the totally dominated the red carpet.
And while you will never find us complaining about a picture of Joe Keery and Dacre Montgomery, what we really want are some details about the upcoming season! Thankfully, executive producer Shawn Levy stopped by Glamour to provide some much-needed scoop! Here are some of the things we learned from the interview.
How many episodes will there be?
Expect season 3 to follow the suit of its predecessors in episode count with Season 1 with eight episodes and Season 2 with 9. Stranger Things never tries to meet a predetermined episode count, what they care the most about is telling the story at the most organic pace possible. They already have the season all mapped out the whole season so now it's about figuring out the scene details of each of the episodes.
"It'll be an eight or nine-episode season. The number of episodes will be dictated by the amount of story that excites us. We now know what is going to happen in season three to every character."
What terrible thing will happen to Will this season?
Stranger Things hasn't bode well for young Will Byers these past two seasons, but thankfully he's finally getting the break that he deserves in season 3.
"We're going to give Will a break. We're not going to put him through hell for the third season in a row. He'll be dealing with stuff but he won't be at rock bottom the way we forced the amazing Noah Schnapp to play."
Hop spent quite a lot of time in the Upside Down this past season, so could he possibly be next in line?
You might assume that, but you would probably end up being wrong. We're going ot be dealing with forces of evil that are new"
New evil forces?? 😱😱
Okay, but what about Steve?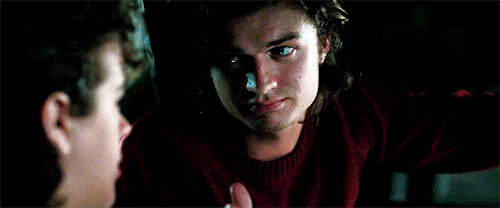 Season 2 introduced the best bromance of our time – Steve and Dustin, and Levy says that we can definitely expect to see them pairing up some more in season 3.
In season two, it was all very cute and there was a funny factor to it because it was unexpected, but now that it is expected, I want to see them connect more and be more familiar with each other. I want them to have a connection like they've really had a connection for a year – like they're brothers."
Expect some more… Mrs. Wheeler?
She may be one of the most clueless moms in Hawkins, but she sure was paying attention when the new bad boy Billy came knocking on her front door. Could there be something happening with them in season 3? Most likely.
There was clearly a connection there. Karen has some unhappiness that is brewing. I think that makes her vulnerable to all kinds of things in season three.
While we will have to wait until either the end of 2018 or early 2019 for the new season we can only hope for Levy and the Duffer Bros. to continue giving us hints about what to expect! Stranger Things is currently streaming on Netflix.
Related:
SAG Award Red Carpet Looks: Casts of 'Stranger Things', 'Handmaid's Tale' and More!
The Heartwarming Hopper Moment Cut From 'Stranger Things 2'
The Small Yet Moving Detail You May Have Missed in 'Stranger Things' 1 & 2
'Stranger Things' Star David Harbour Promises to Officiate a Fan's Wedding for 125,000 Retweets
Having studied Media & Writing at James Madison University, I always knew that I wanted to do some type of creative writing, but being able to write about zombies, Starks, and superheroes on a daily basis for Fan Fest is my actual dream. While I probably shouldn't be as proud as I am to be so similar to Nick Miller, I do hope to one day write my own "Pepperwood Chronicles'.